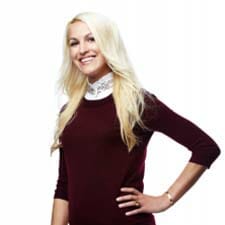 Meet Kaitlin Roig-DeBellis, today's Daily Point of Light Award winner and a 2013 Women of Worth honoree. Read her story and nominate someone you know as a Daily Point of Light.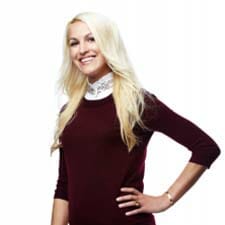 Kaitlin Roig-DeBellis
When Americans learned of the school shootings at Sandy Hook Elementary School in Newtown, Conn., in December 2012, one of the first and most gripping accounts came from first-grade teacher Kaitlin Roig-DeBellis, who told her story to Diane Sawyer of ABC News.
Roig-DeBellis, whose classroom was next door to the shooting, huddled together for safety with 15 students in a bathroom measuring 4 feet by 3 feet. She explained to her students that they had to "wait for the good guys," and fearing the worst, added that she loved them.
In the wake of the Sandy Hook tragedy, Roig-DeBellis sought a way to teach children kindness, empathy and a genuine concern for the well-being of others. In 2013, she launched a website and organization, Classes 4 Classes, that encourages K-5 students to undertake kindness projects that meet specific needs of students in other classrooms.
A sponsoring class and teacher select a receiving class from anywhere in the nation and identify a gift that will benefit that class. Gifts, typically ranging in cost from $250 to $2,000, might be school supplies, technology, books or a field trip.
"Starting the nonprofit was initially my way of healing; it was my way to find purpose once again," says Roig-DeBellis. "After enduring this tragedy, there was a lot of time spent searching for answers – of which there were none – seeking a new normal, and trying my best to heal. Classes 4 Classes was my way to come out on the other side, a way to acknowledge that this happened, but not to let it define my or my students' futures."
Each kindness project is posted online at Classes 4 Classes, where donors can pledge support. Once a financial goal is reached, the gift is delivered to the receiving class – on the condition that the receiving class will "pay it 4ward" by starting its own Classes 4 Classes project for another classroom.
Now in its second year, Classes 4 Classes has grown rapidly. The website is now fully interactive, enabling donors to browse and pledge money for any kindness project they choose, and more than 2,500 people follow news of the group at Facebook. The organization has achieved national recognition and drawn high praise from, among others, the president of the National Parent Teacher Association.
Roig-DeBellis, who has taken a leave of absence from teaching in order to devote herself full time to Classes 4 Classes, has been featured in People Magazine and was a commencement speaker for the University of Connecticut education department. She is also writing a book, "Choosing Hope: Moving Forward from Your Life's Darkest Hour," which is scheduled for release in 2015.
Roig-DeBellis says her ultimate goal is to spread Classes 4 Classes kindness projects to every classroom in the nation.
"It is at the core of everything I believe; it is so important to me that I spread this mission far and wide," she says. "At a much more personal level, I choose now to live every day of my life in honor of the 26 angels who lost their lives because I am acutely aware that it could have been my own life. And I would want someone to have done the same for me."
Help Kaitlin Roig-DeBellis and Classes4Classes by voting in the "4:inspiration" competition from unite4:good, which works to inspire positive, global change through acts of kindness.
Share this post