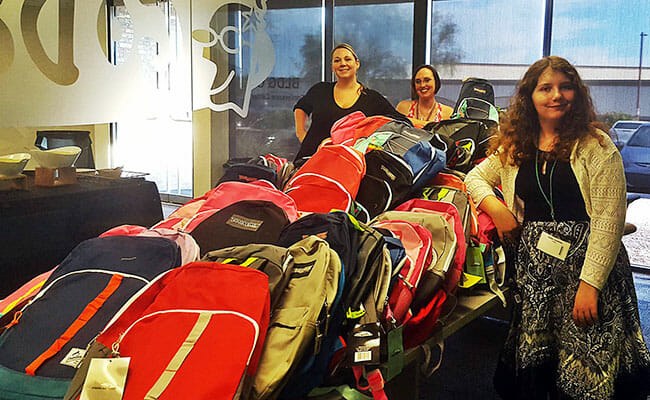 When Kaitlyn Martinez heard that one of her friends failed a homework assignment because she didn't have the simple school supplies of a pencil and paper at home, she wanted to do something to help.
"At first, I didn't really think that there was anything I could do," Kaitlyn said. "[My friend] didn't feel comfortable asking for that help."
But now, two years later, 14-year-old Kaitlyn is CEO of nonprofit Backpacks 4 Kids AZ, providing students across Arizona with backpacks full of the school supplies they need to succeed.
With the help of her mom, Kaitlyn started collecting supplies and backpacks by setting up donation boxes around her school and church. In the first year, she was able to provide school supplies to 175 students. This year, Kaitlyn is working with local businesses, schools and organizations, and has already collected 1,000 backpacks to be given out for the school year.
Backpacks 4 Kids AZ focuses on giving backpacks and supplies to students enrolled in Title 1 schools, which have high numbers of children from low-income families.
"There are a lot of single parents here," said Michele, Kaitlyn's mom. "When you're trying to live off one paycheck and support a family, it makes it really difficult."
Kaitlyn and her team deliver backpacks to schools, other organizations and even directly to students' homes. But wherever they are, they make sure that the students get the chance to choose their own backpack, rather than being handed one.
"They get to shop, you know?" Michele said. "They get to feel like any other kid and not like they're getting a handout."
Backpacks 4 Kids AZ also runs a program to deliver "Love Bundles" – bags filled with a blanket, toy and basic hygiene supplies for children entering the foster care system.
Kaitlyn is not only CEO of her own nonprofit, but also sits on the board of the Phoenix Youth and Education Commission where she is creating a youth task force to empower other children and young adults to become entrepreneurs.
"People tend to forget her age," Michele said. "She'll get invited to events and I'm like, 'She has school. She can't go.'"
Even with all her accomplishments, Kaitlyn stays humble.
"When I started, I didn't think this was going to become what it is now," Kaitlyn said. "But because we were able to talk to so many people and meet so many new people, it kind of snowballed just because of everyone who was willing to help."
Kaitlyn's goal now is to have a branch of Backpacks 4 Kids in every state, and to grow the number of backpacks given out every year.
To help Kaitlyn and Backpacks 4 Kids AZ, visit their website to purchase supplies that will be donated to local disadvantaged children throughout the school year.
For volunteer opportunities in your area, search All for Good.
Share this post