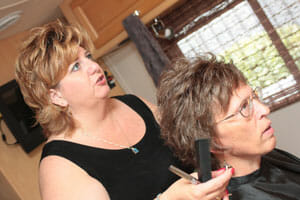 Lost for many women in their battle back from cancer is the confidence and poise that used to come easy in front of a mirror. When you're preoccupied with fighting a disease that has no known cure, who has time to enjoy applying rouge and eyeliner or running a brush through your hair?
One woman is volunteering her time to help cancer survivors with hair styling, hair substitution, skincare and cosmetic techniques that can help them to return to their jobs, their families, their friends and the general public eye with confidence. Kim Becker's efforts in South Bend, IN empower ladies to step back out into the world, repairing some of the confidence that has been eroded by their struggle
Kim's "Hello Gorgeous! Of HOPE" cause provides complimentary surprise professional makeovers and cosmetic education to women battling cancer. Before departing one of Kim's events, women cancer patients and survivors learn how to replicate their new "look." Women receive at no cost a supply of cosmetics, skincare and nail products used to complete her services.
The effort has branched out further than Kim's hometown. The red-carpet concept has been brought to affiliated salons across the U.S. And Kim has a mobile day spa that brings her surprise makeovers to where the beneficiaries live.
The chance for a female in the U.S. to develop cancer during her lifetime is now one in three. That is why volunteers like Kim Becker are needed to help restore the self-esteem of women fighting for their lives.
Share this post