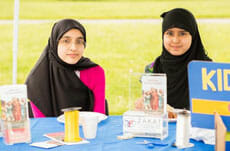 In honor of Family Volunteer Day, Nov. 22, Points of Light and Disney are recognizing the exceptional work of volunteer families with the Daily Point of Light Award. Meet today's winning family, the Kose Family of Delaware, and nominate someone in your community.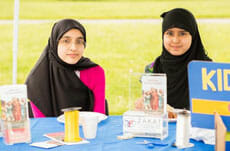 Nur Kose (left) volunteers at a booth with a friend. Nur and her mother, Nayma, help high school students study for the SAT.
For high school students, scoring high on the Scholastic Aptitude Test (SAT) means more choices for higher education. A mother-daughter duo from Newark, Delaware are volunteering their time to help hopeful scholars increase their test scores and get into college by offering SAT tutoring sessions at a local community center.
Nayma Kose and her daughter, Nur, have volunteered in a wide range of programs through the Zakat Foundation, a U.S.-based, Muslim-run charity organization, leading programs that reach the destitute, of all faiths, both at home and abroad. Both Nayma and Nur have been able to use this mission as their own and work with Zakat Foundation to establish their own initiatives supporting youth and education.
Nayma regularly holds 6-week PSAT and SAT sessions throughout the year to help students increase their scores on the two nationwide exams. She reaches out to professionals in the community in order to find volunteers to tutor students for two hours during each session.
"You don't have to have a degree to teach someone, you just have to have the willingness to give up some of your time," says Nayma.
Nayma has witnessed many success stories come through the tutoring program including one student who scored in the 99th percentile range on the PSAT, becoming a semi-finalist for the National Merit Scholarship awarded to high PSAT scorers.
Students who have gone through the SAT tutorial sessions have raised their scores by 200 to 400 points, and PSAT students have raised their scores by 10-20 points. Both Nayma and Nur lead these sessions and work hard to give students all the help they need to succeed academically.
At age 16, Nur Kose has followed in her mother's altruistic footsteps, and in 2013 initiated the 99 Orphans project, which sponsors 99 orphans in poverty-stricken areas where children without parents live without access to necessities like housing or food. Each sponsorship is a donation of $600 per child. Nur's project has spread to other states including Pennsylvania and South Carolina, which contributed to reaching her fundraising goal for 2014 of $59,400.
"I thought a fundraising project for other kids like us would really encourage us as young people to work hard, and would be fun at the same time," says Nur. "I really wanted the kids to be in charge rather than the adults telling the kids what to do. I wanted the youth members to show more responsibility and to feel like this was their project."
Nayma is supportive of her daughter and explains that volunteering isn't necessarily something others can learn by being taught, but by being shown through action.
"When families participate in volunteer activities with their kids, they're actually teaching them lifelong skills." Nayma says. "We appreciate others who volunteer. You appreciate the hours people give to make something happen in the community."
Share this post