The Monday before Christmas, his most recent emergency call, 89-year-old volunteer firefighter Landon Reid Worsham of Chatham, Va., and his crew saved part of a family's house from flames.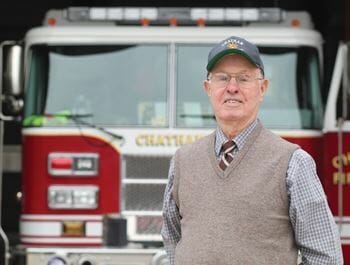 It was all in a day's work – one of many. Worsham, who will turn 90 on May 1, has been battling blazes as a member of the Chatham Volunteer Fire Department for 60 years. For 50 of those years, he has served as fire chief.
"It doesn't seem like it's been that long," says Worsham, a native of Chatham who joined the department shortly after returning from military duty in the South Pacific during World War II. "I wanted to serve the community and firefighting seemed like something I could do."
More than a half century later, he's still going strong. The Chatham Volunteer Fire Department receives between 250 and 275 emergency calls each year. Worsham goes out on around 80 percent of these calls. He also helps train new recruits.
When he's not volunteering, Worsham works full time, six days a week, at an appliance store he owns.
"I guess some people see my age as elderly or too old to work, but I don't feel old," says Worsham. "The Lord has blessed me, and I feel as strong as ever."
Because of his longevity with the department, Worsham is often asked how many fires he has helped put out.
"I have no idea," he says. "I've never tried to count them."
For his commitment to service, Worsham has been honored on multiple occasions. Seven years ago, when Chatham built a new firehouse, Worsham was surprised to find that it featured a plaque engraved with his name. This past November, he was surprised again when he was summoned to a town meeting. He arrived to discover the meeting was actually a party in his honor at which he was presented lifetime service awards by the state, county and city.
"I appreciated it so much," says Worsham. "It was an honor to know that the community is thankful to me."
For decades, Worsham's community service work has extended beyond firefighting. Together with Mildred, his wife of more than 65 years, Worsham is an active volunteer at the Chatham Presbyterian Church. Worsham has been superintendent of the church Sunday school for 50 years. He has also been active for almost 50 years in the Chatham Lions Club.
"I've always enjoyed helping people," says Worsham. "If you enjoy helping, you'll get paid for it. Because when you help someone and they are grateful to you, that is its own reward."
Share this post