"LEAF" IT TO SERVICE TO BRING STUDENTS WITH DISABILITES AND GARDENING TOGETHER
Meet Daily Point of Light Award honoree Dani Mendell. Read her story, and nominate an outstanding volunteer or family as a Daily Point of Light.
Dani Mendell, a senior at North Oconee High School, has a lot of pride for her hometown of Watkinsville, Ga. Since she was young, she realized how the town integrated people with disabilities into the community. This approach inspired her to get involved in a summer camp and a nonprofit after school program that works with kids and students with disabilities.
Dani is also active in environmental causes, and when she noticed her school didn't have an environmental club, she started North Oconee High School (NOHS) Eco Club. Then, with the help of fellow students, started a school gardening club, NOHS Gardenerds, which Dani was very eager to join as well. Dani's work with the Gardenerds club motivated her to apply for a grant to get a hydroponic garden for the school. Dani explained that a hydroponic garden grows plants directly in water, eliminating the need for soil and is more eco-friendly in the long term.
When she was awarded that grant, she saw it as an opportunity to unite both of her volunteer passions. She connected Gardenerds with Eco Club members, , bringing everyone together to grow plants and produce for the school.
What inspires you to volunteer?
What inspires me to volunteer is the community support of people with disabilities here in my town. It's really cool and unique and something that when I was younger, I didn't realize other towns weren't like this. A big part of our community – not just the people I volunteer with – we all sort work together to support the people with disabilities in our area. Growing up that had a really big influence on me, and that's what made me want to volunteer. For example, at the local Publix and Kroger they employ people with disabilities as checkout employees, and there is a business called Lovecraft, a craft studio, that sells art made by kids with disabilities. Then there is the afterschool program, Extra Special People (ESP) that I work with. So, I just think it's the way that our local community rallies for that population that made me want to volunteer.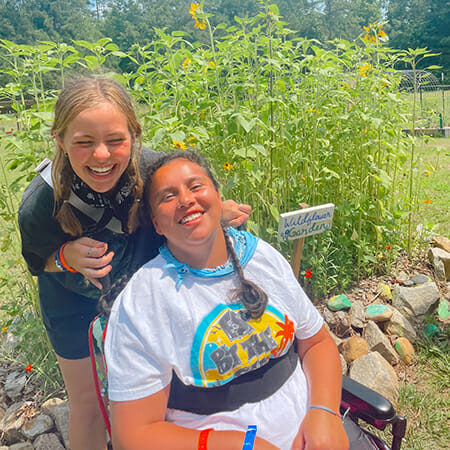 When did your passion for gardening start?
My dad studied forestry, and when we go on family trips, he likes to plan to go to places that are environment-focused. When I was younger, we went to Costa Rica for two summers and we stayed at an eco-lodge and there were gardens there. Later, in sixth grade for my engineering class project, I built a raised garden bed with my dad. We built the garden bed in our front yard and started gardening as a family. Then I thought I would love to garden at my school, so I helped start the gardening club, Gardenerds.
Describe your volunteer role with Gardenerds.
With Gardenerds, it's all student-led, we have an outdoor garden and hydroponic gardening. My role is getting the students with disabilities involved. They help us plant the seeds outside, package up grown lettuce from the hydroponics and distribute it to teachers. We have a really cool program that we started last year called Veggie Valentine's, where around Valentine's Day, the students with disabilities and I decorate bags, package up lettuce and give them to teachers for Valentine's Day. This develops the students with disabilities communication skills and job skills, which is really cool.
What's been the most rewarding part of your work?
I really think that the most rewarding part of my work is that I get to spend time and interact with the same kids and fellow students throughout the organizations I'm involved with. I volunteer with the same kids at a summer camp, the ESP after school program and in the gardens at school. For example, there is a student, Cindy, who has autism, and we have been hanging out together since my Freshman year. She attends the summer camp, she comes to the afterschool program, then this year on the first day of school, we were walking into school together and she told me how excited she was to start gardening. She's also excited because last year she designed a poster for the club and some artwork for a gardening event we had.
It's really rewarding because a lot of the kids have varying levels of ability, but they all remember me and the other students that work with me in the club. And it's really great to see that they get excited because they don't get to leave their classroom for a lot of other activities.
What have you learned through your experiences as a volunteer?
I feel like I've learned so much. The most important thing I've learned is to have patience when volunteering because it can be difficult when things do not go the way that you planned. But having patience really helps because if you aren't patient and you give up, then there's no one there to do the work.
Last year, we had some issues with the water circulation in the hydroponics garden. By readjusting and being patient with each other and the garden itself, we were able to figure out the problem and fix it. I have the same mindset when volunteering with students with disabilities because it takes them longer to communicate with us, but we really want to make sure that we treat them the way that they should be treated and give them the time that they need. If it takes a student longer to do a certain activity, we just would wait instead of trying to rush them and put them on our own timeline.
Tell us about future partnerships, programs or events that you are excited about.
The Garden Table is a new event that Gardenerds puts on in the school garden. The first one was last spring, and we are going to do our second one this fall. The plan is to do two a year. The fall Garden Table will be Halloween-themed, which we're really looking forward to because we just planted pumpkins in the garden outside. So, we may be able to do pumpkin carving, and we can base our crafts and food around pumpkins. The whole club is looking forward to it, and Halloween is also my favorite holiday.
Why is it important for others to get involved in causes they care about?
This is something that I'm super passionate about, so I really love that question. I think that sometimes it can be overwhelming because there are so many causes, and so many things that you want to fix in the world and find ways to make a difference, but sometimes a particular cause is just not your thing or there are too many people involved. By picking something that you're really passionate about and then focusing on getting really involved with it makes a difference on a local scale.
Then, if we all get involved with something we're passionate about, that helps to make the world a better place overall. By doing all our projects we are individually interested in it makes a larger global difference. I'm very passionate about working with kids with disabilities, so I put in a lot of effort and come up with new ideas, whereas if someone else is passionate about a different cause, they would put that same level of care into it.
What do you want people to learn from your story?
I want people to learn that there's always something you can contribute, and that you don't always need to go into everything with a plan. I would've never thought that me volunteering with kids with disabilities would somehow turn into also getting to garden with the kids, because I never would've thought those two things would go together. But dream big – if you have an idea and you work for it, even when isn't easy, it's definitely possible to make it happen. Also, get other people involved. If you're passionate about something, it attracts people that want to help out.
Do you want to make a difference in your community like Dani? Find local volunteer opportunities.
Share this post