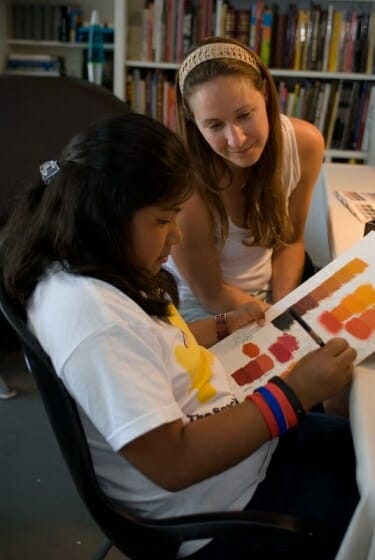 Meet Leah Bernthal, today's Daily Point of Light Award honoree. Read her story and nominate someone you know as a Point of Light.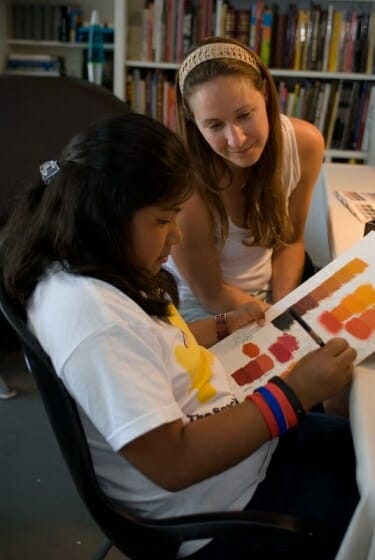 Leah Bernthal, right, works with an art student on a color palette.
"When children are chronically ill, the first thing they lose is their freedom and self-esteem," says Leah Bernthal. "I wanted to change that."
Bernthal co-founded CoachArt in 2001 in response to a profound need for support and enrichment programs for chronically ill pediatric patients outside the hospital. The organization offers free services to these children and their families, including scholarships, hospital events and even lessons in the child's home.
The name of Bernthal's program was inspired by Art Lurie (1935-1996), a gregarious friend of Bernthal's family who worked as a cardiac surgeon, and the father of Bernthal's co-founder Zander Lurie.
Bernthal remembers Art Lurie as a cheerful man, staying positive even when he was diagnosed with cancer. Despite his own illness, he thought only of young people in his situation who had not yet had a chance to realize their potential. Bernthal vowed to never forget the positive impact he had on young people.
CoachArt creates a transformative arts and athletics community for families affected by childhood chronic illness. Founded in partnership with Children's Hospital Los Angeles, the organization is designed to meet the complex emotional, psychological, education and wellness needs of under-served children in the Los Angeles and San Francisco Bay areas.
CoachArt pairs people with shared passions. Art coaches give in-home lessons to young artists for everything from piano to painting and photography. Sports coaches conduct clubs and leagues for young athletes who play soccer, tennis, golf and other sports.
So far, 1,000 volunteers have contributed a total of 15,000 hours, enriching the lives of thousands of children.
Bernthal remembers at age 23 knocking on countless doors at medical offices to gauge interest and pitch her idea. She knew she would have to convince doctors of the value her idea could add to outpatient care. Advances in medicine were helping chronically ill children live longer. They needed more support at home.
Bernthal's organization helps address a gap in community health care. Chronic illness affects 15 percent of California's pediatric population – but upwards of 20 percent live in under-resourced communities.
About 80 percent of the children reached by CoachArt live in low-income households, where access to extracurricular activities is limited. Bernthal has found it easier to attract volunteers to her cause by appealing to their strengths as subject matter experts in art and sports – if a musician is already teaching piano lessons to kids and wants to tap into community service, why not do it with CoachArt?
CoachArt now collaborates with 117 community program partners and 47 local hospitals and health care providers.
As Bernthal explains, young people coping with chronic illness encounter challenges with maintaining a positive self-image. She recounts the story of a young boy dealing with spinal cancer who took piano lessons through CoachArt. Over the years, he excelled and formed a strong bond with his piano instructor, and now the boy attends The Colburn School, one of the most prestigious music schools in Los Angeles, with a full scholarship.
Bernthal grew a tribute to an influential person from her childhood into a full-fledged community program, making a difference in the lives of young people battling illness. She says: "I couldn't imagine my life without it."
Share this post