Longtime Activist and Volunteer Works to Revitalize Neighborhood and Create a 'Beloved Community'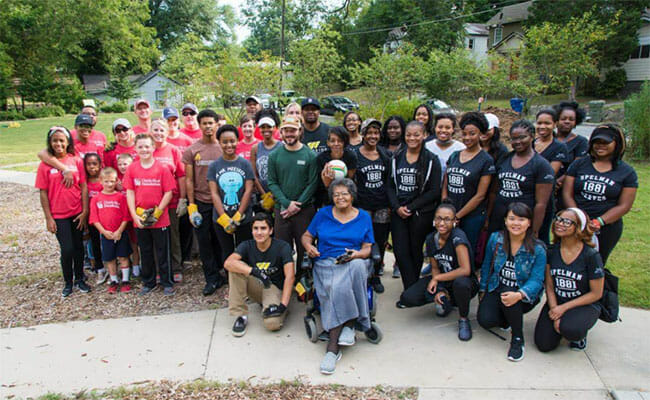 For Annie Moore, Dr. Martin Luther King's vision of a beloved community didn't die when he was assassinated. A long-time community volunteer and activist, Annie's passion is to revitalize her Atlanta neighborhood, bringing to life Dr. King's vision of a strong, thriving, resilient community.
The English Avenue neighborhood in Northwest Atlanta is located only a half mile west of Georgia Tech, the World Congress Center, the World of Coca-Cola, and the Georgia Dome, but suffers from crime and the threat of gentrification. Annie is active in the neighborhood association and volunteers with a group that maintains the community's parks. In the Moore household, volunteerism is a family affair. Annie cares for her disabled mother, who taught her about community activism, and is now passing those lessons along to her young grandsons, ages 2 and 4. Annie is also part of a new Resilient Communities Impact Program, a whole-community effort engaging local changemakers to take individual and collective action to ensure all neighborhoods are thriving places of opportunity.
The Resilient Communities Impact Program, a collaboration between Southwest Airlines, Points of Light, Hands On Atlanta and other local partners, seeks to strengthen cross-sector participation and connections, instill a greater sense of identity and pride, increase quality of life, and support the livelihood of residents. The initiative works to address a variety of needs in the English Avenue community – including programs designed to minimize hunger and malnutrition, alleviate poverty and deter crime, and leveraging the community's historic and cultural arts focus to bring beauty to the community.
We talked with Annie to learn more about her neighborhood advocacy work, why she believes it is important to fulfil Dr. King's vision of a beloved community, and the important role volunteers play in creating community connections.
Can you tell us how long you have lived here in English Avenue and what you love about your neighborhood?
I have lived on the Westside for 11 years, only a few blocks from the English Avenue borders and actually in English Avenue for seven years. As a corporate archivist/historian, the location alone is rich in African American history and what I consider to be a part of the center of Atlanta. All you need to see in Atlanta is easily accessible by foot, bike and public transportation. And the people, my neighbors, from the impoverished to the disempowered – I just see my friends that have shown me love and hope.
How did you get involved as a volunteer?
I have been involved in activism since I was about 7 or 8 years old, because of my mom. I was actually raised in it, and it has naturally been a part of my life. But you know, when you are raised in something you never want to be it. All these years I have been going to events because of my mom, but all of the sudden it was like, "Yes, our people. Yes, our neighborhood." I kind of shocked myself the last couple of years.
You volunteer with an initiative called Beloved Community, tell us more about that.
The Beloved Community is an effort to follow Martin Luther King's vision of a beloved community. We are actually working on building a more beloved community. We are working with a lot of corporations in Atlanta to have what we are calling "Beloved Community 101" to discuss what Martin Luther King talked about around building a beloved community. At this time in our nation, it just seems that this is the perfect time to do this work. It's not about color, it's about people. It's about us all working together.
We are trying to rebuild an old church, St. Marks in English Avenue, to restore it and make it a place for our community where we can always go. We are working with several organizations to stabilize the area. I am working on establishing its historical value for historical preservation.
The resilient communities program with Hands On Atlanta and Southwest was an opportunity to do some work in our community to change a physical space. The corner that St. Mark's is on is one of our highest drug corners, so we wanted to make it different. So I said, I know these guys aren't stupid, it takes a lot of effort to sell drugs. So I decided we should build chess tables for that corner, which we are going to build on Jan. 15 for MLK Day of Service. My goal is to see if we can get a basketball court built inside of St. Marks as part of the stabilization, which would be open to the community.
What is your dream for the next year for this work?
To have St. Mark's fully revitalized and have a place for people in the community to have meetings. Someplace where they can say, this is ours. A year from now, I really want St. Mark's to be done. We have a vision for a shared kitchen and for a food market. That is my dream.
Dr. King's concept of Beloved Community has a lot of interpretations, what does it mean for you and for Atlanta?
For me it means an opportunity for us as people to come together, regardless of our color, our race, our religion or our sexual preference. We are the beloved community. We cannot keep walking around in this world as if we all don't exist. We have to exist together.
Being in the South, you realize how much the residuals of slavery still exist, and some of the fights we have in our community are just that. That we are all equal, that nobody is better than anybody. For our community I just feel that it is a way to bring us back together as whole, with all the different nationalities we have in our neighborhoods. If we become strong as a beloved community in this neighborhood, this is something we could take throughout the country.
What role do volunteers play in addressing chronic community challenges and in making your community more resilient?
Volunteers are working from their hearts, out of love for humanity and their needs. Even if what we do is only making a small change in the overall conditions, we as volunteers believe every little bit helps. And even what seems like a small change in the overall conditions – a small thing can make a huge difference.
How do you think volunteerism helps connect us as neighbors?
It allows the opportunity to bring neighbors together where there is a commonality, a common goal that connects us in a way that is more intimate, and creates relationships that build and strengthen the community as a whole.
Share this post