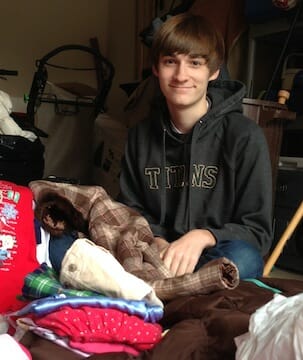 Starting his freshman year of high school in 2012, Luke Donovan of Alpharetta, Ga., learned that the number of local students relying on free school lunch programs was on the rise – 90 percent in some schools. Luke figured he'd start a food drive for a local school. But after talking to the principal of Mimosa Elementary School in the Atlanta suburb of Roswell, he learned that with winter approaching, the students really needed warm clothing.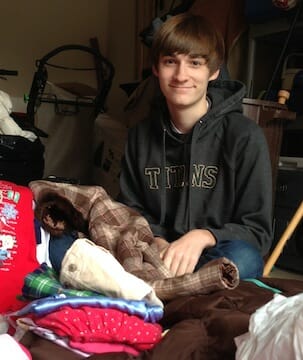 That's all Luke needed to hear. He founded the Warm Clothing Drive with the St. Vincent de Paul club at his school, Blessed Trinity Catholic High School in Roswell; the club develops volunteer projects to serve others. Luke set about contacting schools, churches and individuals to solicit donations of winter clothes for students at Mimosa Elementary.
With some transportation help from his parents and delivery assistance from the St. Vincent de Paul club, Luke collected almost 300 winter clothing items in his first drive. Mimosa Elementary set up its own thrift shop and distributed the clothes to students just before its 2012 Thanksgiving break. Every item was claimed.
In 2013, after learning that Mimosa students needed clothes for other seasons as well, Luke launched a second drive in April for summer clothes and collected 700 items.
"Anyone can make a difference if you really try your hardest," says Luke, who collected almost 1,000 items during his freshman year. "Once I realized how much need there was so close to where we live, I thought, 'How could you not do something about it?'"
This past fall, Luke – now 16 – expanded the Warm Clothing Drive to serve a second school, Roswell North Elementary. This month, he delivered more than 850 winter clothing items to Mimosa and Roswell North – almost tripling last winter's total.
Mary Jo DiLonardo, Luke's mother, is proud of his efforts.
"I am amazed," says DiLonardo. "I don't think he thought it would skyrocket into such a big project that would help so many kids and their families. But I can tell, when we drop off the clothes, that he is really moved by what he has accomplished and can't wait to get started again. Luke has a wonderful heart and is a really great kid."
Looking to the future, Luke is optimistic that once he graduates high school and goes on to college, others will step up to keep the clothing drives going.
"I think the St. Vincent de Paul group at my school will continue collecting warm clothes," Luke says. "Roswell North has asked us to mentor some of their students, so I think this will be a continuing relationship."
Share this post