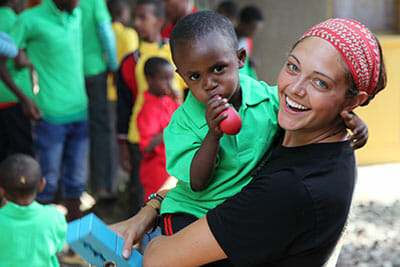 Millennials don't give to charity by writing a check. In fact, more than a fifth of all millennials have never written a physical check to pay a bill, according to global payment technology solutions company First Data.
Mallory Brown gets it. The 29-year-old founder of World Clothes Line, a buy-one-give-one clothing company run on a global philanthropic model, considers herself a flash fundraiser. Through a partnership with Crowdrise, the number one fundraising website for personal causes and charity, Brown raised more than $100,000 in 2015 for seven different charitable projects, from relocating a displaced family to a new house in Haiti to raising money for Nepal earthquake relief to creating a home for CommuniD BBQ, a weekly meal for the homeless run by Elevate Detroit.
Her campaigns typically last 24 hours, a day where, through video, donors meet Mallory, see where she is and what the needs are, and then have the satisfaction of seeing their $5, $20 or $50 put to work to solve the problem.
"Millenials want to feel connected – they don't want a lot of red tape in between them and the good they are trying to do," said the Farmington Hills, Michigan native.
Although she always considered herself a compassionate person, it wasn't until her wanderlust sent her backpacking in Southeast Asia nine years ago that her commitment kicked in. "That was the first time I saw true poverty," she recalled. "And that changed my outlook on life. I wanted to make a difference to the people I met." That led to her founding her company in 2010, but she still wanted to do more.
"So often I'd be traveling and I'd think – if I was rich, I could solve so many problems that I see in front of me." That led to her first effort on Crowdrise, a 24-hour campaign that raised $10,954 for a Haitan family. "I'd hoped to raise $5000," she said. "It was just amazing."
Brown relies on corporate sponsorships to get her on the ground and in the middle of whatever the particular cause or crisis is. Then using high quality video in real time, she makes her case, shows the viewer exactly what she sees and why funds are needed.
"I guess what I do is catchy and people pay attention," she said. "Being able to see results right away – to see the people you are helping, makes all the different. It's a different twist on the traditional form of charity," she said. So successful are her efforts that Brown is now sharing her methodology with others, including big organizations that are intent on reaching the millennial giver. "This is a very engaging way to raise money," she said. "All of what we raise is used for the cause – there are zero administrative costs. That matters to young people. I think it's a good model for the future."
Share this post