Melanie Stevenson and Christine Wright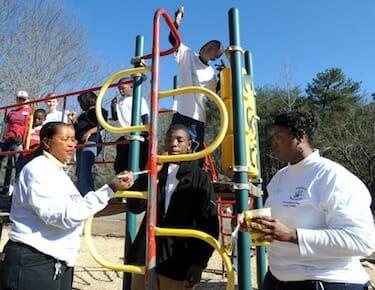 Today, to celebrate the Martin Luther King, Jr. Day of Service, Christine Wright and her daughter, Melanie Stevenson, will continue a family tradition they've treasured for more than a decade – three generations volunteering together.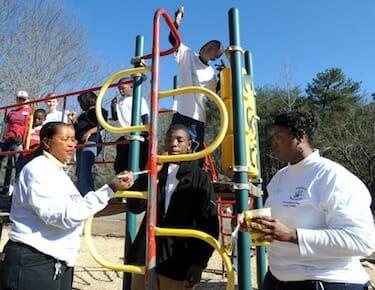 "Mom and I started the tradition with my eldest son, Joel," says Stevenson. "The twins joined in as soon as they were old enough to help."
Saturday, during an early MLK Day event, the women and Stevenson's 12-year-old twin sons, Jacob and Jonah, helped Habitat for Humanity build a house in Birmingham, Ala., for a family who was displaced by a tornado that struck the area three years ago. And today with the volunteer organization HandsOn Birmingham, the family plans to plant shrubs and flowers at Glen Oaks Elementary school outside Birmingham.
"Joel can't participate this time because he's at college, where he's already busy doing new volunteer work," Stevenson says. "But our project this year has a special connection to Joel because Glen Oaks Elementary is his alma mater."
Some past MLK Days have also held personal meaning for the family. One year, they painted and planted flowers at a community center where Stevenson learned to swim as a young girl. And in 2010, the family helped repair and paint a playground at Adamsville Elementary School, where the twins were students.
Throughout the year, everyone in the family stays active in the community. Before 19-year-old Joel Stevenson left for college, he received an award for logging 1,000 hours of volunteer service during high school. The twins, who are both honor role students and active in school sports, also find time for regular community service.
"We're a family of volunteers because we are part of the community and want the community to remain a positive environment for young people," says Wright.
Wright and Stevenson say that though their volunteer work is a year-round commitment, they both wanted to establish a special annual day of family work and fun. MLK Day seemed a natural choice.
"Martin Luther King, Jr. was a great leader with high values and expectations," says Wright. "His life is a good example of why we should help others. He taught that life is not all about self."
Wright emphasizes that fun is always an important part of the family's tradition. "This is a family day, and we all enjoy it," she says. "It's about service, but it's also a celebration, and we usually finish each year's project with a family meal."
Stevenson adds, "I'm very proud of our family tradition. My mom was my most important influence as a volunteer because she taught by example. And now, it makes me proud to know that as a mom, I've raised caring children who are motivated to do right."
Share this post