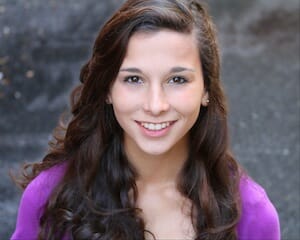 Meet Daily Point of Light Award winner Michaela Coplen. Read her story and nominate someone you know as a Daily Point of Light.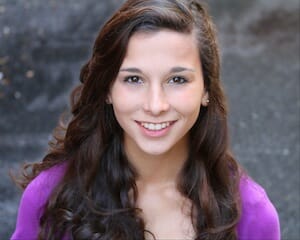 Michaela Coplen (Photo Courtesy of the Alliance for Young Artists & Writers)
Growing up the daughter of two Army officers, 18-year-old Michaela Coplen had to start over every time her family moved, and she struggled during her parents' frequent deployments. But she found a remedy and set out to share it.
"The military is often a very stoic community and so I found it difficult to express myself, leading to feelings of loneliness and isolation," says Coplen, of Carlisle, Pa.
"I knew that I wanted to help alleviate these feelings in other military kids by introducing them to what I eventually found to be the most fulfilling and effective outlet – poetry."
In that medium, her words are honest and raw. She writes: "I told you I was a child of war who never learned to be at peace. I told you that when they asked me what I wanted to be when I grew up, I said `gone.' I told you I saw life through a burgundy kaleidoscope. I told you there were things I couldn't tell you. I told you the truth."
The maturity and rhythm of her poetry led to a special honor – being named a 2013 National Student Poet. Each year, five students who have won national Scholastic Art & Writing Awards are chosen from thousands of outstanding writers as National Student Poets, a distinction that led Coplen and her fellow poets to meet First Lady Michelle Obama at the White House.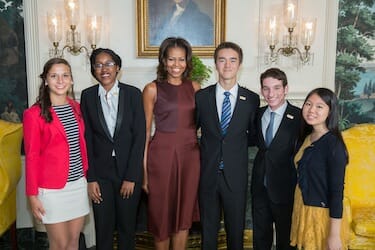 Michaela Coplen, left, poses with First Lady Michelle Obama and Coplen's fellow 2013 National Student Poets. (White House photo by Lawrence Jackson)
The recognition carries a responsibility to promote an appreciation for poetry and creative expression by leading workshops and readings.
"She has been astounding to watch," says Olivia Morgan, a member of the President's Committee on the Arts and the Humanities, who led creation of the National Student Poets Program. "Michaela has this incredible talent and is so mature and responsible in how she lives her life."
Coplen credits her parents – mother, Lorelei, a retired Army colonel, and father, Richard, a retired lieutenant colonel – with deeply instilling in her a sense of service to her community and country.
But while she's grown up in a family that has an extensive history of military service on both sides, she says, "I've realized that the military is not the most effective way for me to serve."
It helped that Coplen's parents taught her about different kinds of service. Both have been active in a variety of nonprofit organizations – her dad was president of the local Rotary Club; her mother has served on a variety of community boards.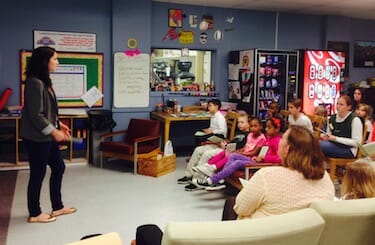 Michaela Coplen, left, presents her poetry workshop to children of military families at Carlisle Barracks.
"We moved around a lot, so it was a little hard to find a good, consistent outlet," Coplen says.
"We served at soup kitchens and through the local church community, but this year as a National Student Poet has really given me a lot of wonderful opportunities. It has opened up a whole new avenue of service and showed me that each person has a unique way to give back."
Coplen volunteered with her Pennsylvania community, conducting two six-week workshop series this spring for students in grades kindergarten through 12 at the U.S. Army War College at the Carlisle Barracks. She developed the workshop to teach military children and teens how to use poetry to release some of the complicated emotions they feel.
"I really liked that these kids had an opportunity to speak about their military upbringing – about what it means to be nomadic – through their poetry," Coplen explains.
The Carlisle Barracks workshops culminated in a community reading and publication of the students' work.
"Oh my gosh, I had tears in my eyes watching them," says Jacqueline Schultz, child liaison for education and outreach services director at the barracks. "It built up their self-esteem to realize they could write things that people would be happy to hear."
Coplen wanted to make sure even more military kids could benefit from the workshop, so she created a guidebook that will enable others to replicate it at other military bases.
Beyond the barracks, Coplen has traveled to Vermont to lead poetry workshops at a women's correctional facility; done virtual workshops for Blue Star Families, an organization that provides resources and programs to military families; and much more.
And this summer, she found another way to serve. She joined a group of volunteers to help dig the foundation of a primary school in a remote Haitian village. The drought-dry rocky ground was difficult to break through. The village had no electricity or running water.
"It was really easy to want to take a break, be sedentary for a few minutes and not get back up," says Blakey Larsen, a volunteer supervisor on the trip. "Michaela was extremely positive and enthusiastic, and always ready to dive in and do whatever had to be done."
Now a freshman at Vassar, Coplen has set a volunteering quota for herself – she wants to serve at least 10 hours a month and is open to possibilities, especially those that can include poetry.
"We should be investing in our brightest lights, and then asking them to pay it forward," says Morgan, of the President's Committee on the Arts and the Humanities. "And Michaela definitely has and is one of the brightest lights."
Share this post