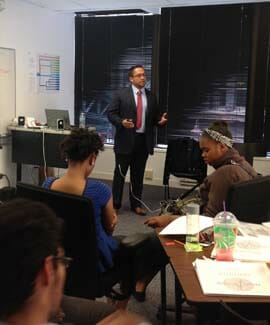 During Pro Bono Week, Oct. 19-25, Points of Light and A Billion + Change are recognizing the exceptional work of skills-based volunteers like Miguel Guerra, today's Daily Point of Light honoree. Read his story and nominate someone you know as a Point of Light.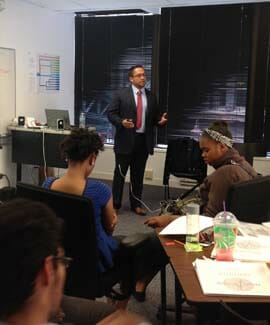 Miguel Guerra gives a motivational speech to young people in Chicago.
Miguel Guerra's information technology career has taken him around the country, working with a team that builds wireless networks for food manufacturers, aerospace firms and professional football stadiums. But perhaps one of the most important destinations to him is a school classroom near the inner-city Chicago neighborhood where he grew up.
Guerra is proof to the students – many of whom live near the edge of poverty, gang influence, crime, drugs, and who lack support – that they can change their circumstances.
"I'm fortunate … because I can now try to reach the younger versions of me who were told to make 'the right choice' but had never been personally exposed to the countless options outside of a four block radius," he says.
Guerra volunteers with a Chicago nonprofit that introduces youth to technology. As a mentor, he relates to his audience like few can. He has experienced firsthand what the students are facing. And he speaks their language. The message strikes a hopeful chord: if you believe in yourself, it's never too late to change your life and get a good job, which can open new doors.
Guerra remembers his life at 26, riding his bicycle through the streets of Chicago at 2 a.m., returning from a second shift job to support three kids, with no car and no money. Back then, he says, "I didn't even know that the place where I am today even existed." Guerra says he came incredibly close to not being able to turn his life around, but he had support from his family.
Young people are captivated by the images he shares of the many places he's been because of his career. There's the family beach vacation and swimming with sharks. And a video clip of Guerra skydiving.
These visuals emerge from Guerra's hobby as a photographer and videographer, and give context to what's attainable through science, technology, engineering and math (STEM) careers.
"I'm inspired every time a student walks up to me after a talk and thanks me … and feels hopeful after what I've shown them," says Guerra. "I think of how important it is to show them what's possible."
Guerra works as a consultant with CDW, a Fortune 500 IT solutions provider. CDW's involvement with Lumity, a Chicago nonprofit that engages volunteers to facilitate college and career readiness as well as technology support for charities, led to Guerra's introduction as a skills-based volunteer in 2013. "It's powerful to hear from somebody who looks like you, grew up in your neighborhood and knows exactly what you're up against," says Lumity Executive Director Kara Kennedy.
CDW supports Guerra's pro-bono work and acknowledges skills-based volunteering as a key driver to creating social and business value.
Guerra encourages other professionals to make time to volunteer.
"Think of your most vulnerable moment and the people that were there for you," he says. "None of us made it on our own. Someone has given us that helpful nudge at some point. It's important to reach back and do the same for someone else."
Share this post