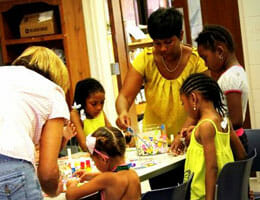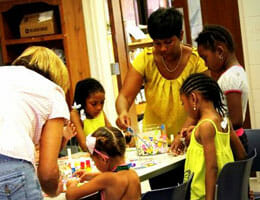 In honor of Family Volunteer Day, Nov. 22, Points of Light and Disney are recognizing the exceptional work of volunteer families with the Daily Point of Light Award. Meet today's winning family, the Moore Family of Philadelphia, PA, and nominate someone in your community.
Like most working families, Khadijah Johnson-Moore and her husband were each trying to balance job commitments and reclaim minutes out of their busy day to bond with their children in their hometown of Philadelphia, PA. When she learned that the afterschool program her four children attended was raising tuition, and the free programs folded because of budget cuts, Khadijah felt called to take action. She saw a way to bring her family and others together to enjoy reading, crafting and being active in the community.
"It had to happen," Khadijah says about getting this program off the ground. "With all the hustle and bustle of everything going on, there was less time to be together. Unless we made the time."
The first order of business was to find a physical space where they could meet. It didn't take Khadijah long to zero in on the perfect place: her local library, which she has supported for years, serving on the Friends committee, a community group that raises funds for the library.
Through RADical Readers, Khadijah and her family merged together literacy, crafting and community service, setting an accessible path for other families to get involved and use the time to bond together. Khadijah plans the activities with older daughters Niemah, 20, and Jaida, 16. Her husband Rodney gathers up materials. The younger Moore Family children – Mia, Olivia, Elaina, all 9-year-olds and Myles, age 6 – help with setting up the room, assist with reading, and lead the service projects with their mom.
"Our library feels like home to my children," says Khadijah. "I used to tell them that the library was for cool kids. RADical Readers kind of validates that & they believe me now."
In November, the group got together to learn about healthy eating. They read a children's book together called "The Sandwich Swap," made an art project out of dry beans and then turned their attention to a community service project to collect children's books and canned goods for The Big Give Philly, a service project in celebration of Family Volunteer Day.
Over three years, the effort Khadijah started with her family has become a fixture on Saturdays each month at the Philadelphia inner-city library. "We see new faces all the time," she says. "And the older children who have been involved with the program are still involved as volunteers to help out."
"The volunteer service projects are great because they show children how they can help their community," Khadijah explains. "These experiences show the kids 'you may be little, but you're powerful.'"
Share this post