New Jersey Volunteer Helps Burn Survivors Realize Their Scars Don't Define Them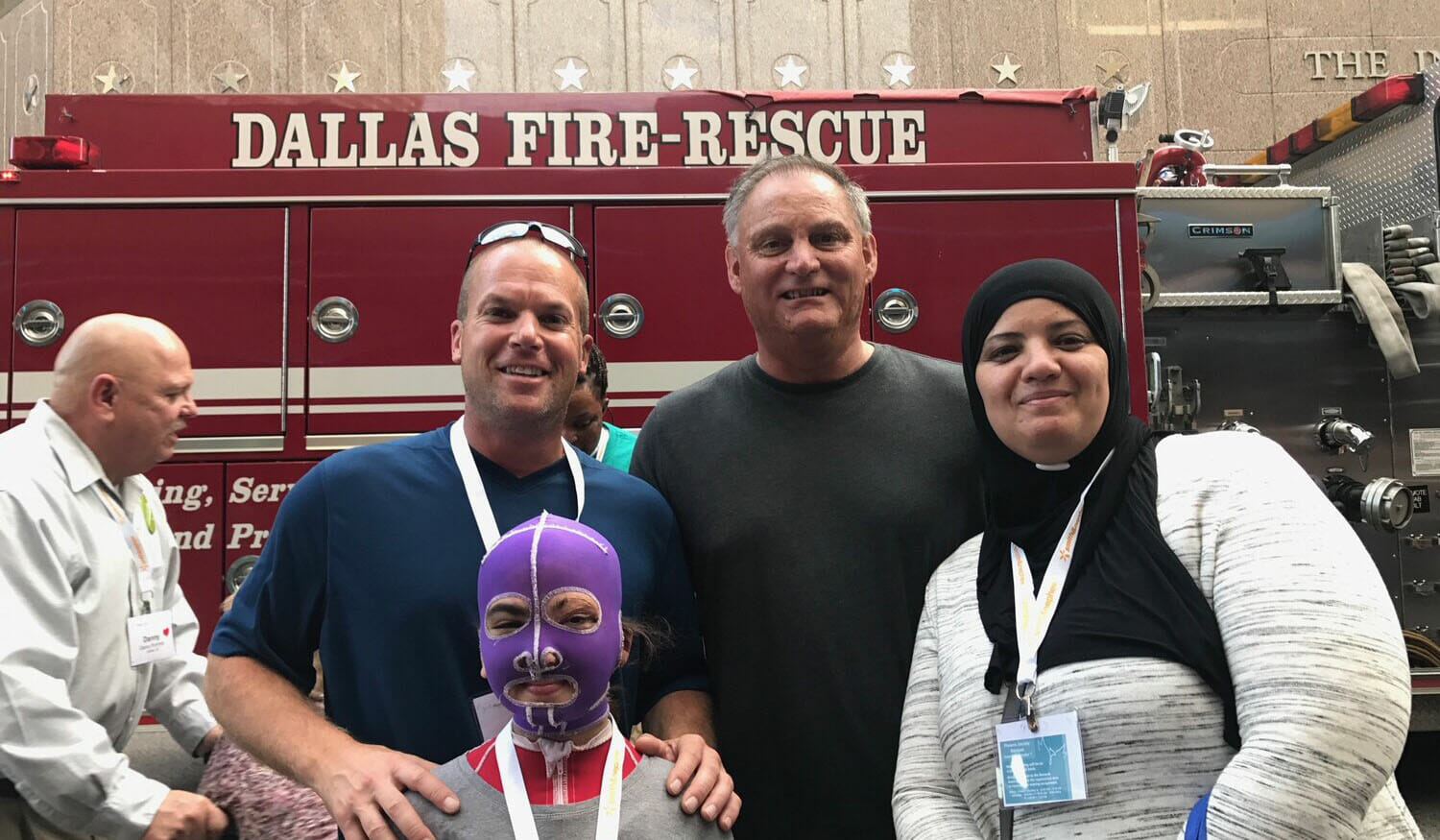 Meet Daily Point of Light Award honoree Drew Sander. Read his story and nominate an outstanding volunteer or family as a Daily Point of Light. 
Drew Sander was just three years old when he, his brother and two other boys were playing "gas station" in the garage. They were filling a car with a five-gallon gas can when one of the boys lit a match, setting the car and garage ablaze. Nearby construction workers heard the explosion and pulled the boys out of the fire, but the damage was already done. Drew suffered severe burns to more than 40% of his body and was constantly in and out of the hospital to receive skin grafts. 
But growing up, Drew didn't let his scars define him and now at age 51, Drew and fellow burn survivor, Joe Matits, have founded The Sander and Matits Burn Foundation, which helps burn survivors, especially young ones, feel accepted and realize there is life after being burned.  
While Drew didn't let his scars get to his self-esteem and he credits his family and friends for creating an environment where he felt accepted, there were still moments in his childhood where he felt discriminated against because of how he looked.  
"I remember as a kid I had very big keloid scars," Drew said. "We were at a pool in Long Island and the life guards asked us to leave because we were scaring the other children."  
Drew says this childhood memory is why he started volunteering. He became certified as a counselor by Phoenix SOAR (Survivors Offering Assistance in Recovery) to meet with burn survivors in the hospital, answering whatever questions they might have and reassuring the parents that a normal life for their child was definitely possible.  
But what really set off Drew's drive to help burn survivors was when he attended his first World Burn Congress where hundreds of burn survivors, their caregivers, burn professionals and firefighters gathered to connect with each other and gain more knowledge and support from this special community.  
"When I went to the World Burn Congress, I saw all of these children and they were kind of lost," Drew said. "I cried like a little baby hearing some of their stories and the struggles they went through. Joe Matits was with me too and I said, 'We've got to do more for these kids. I want to start a foundation and pay for their families to come out here. Help them go to burn camp.' And he said that's a great idea."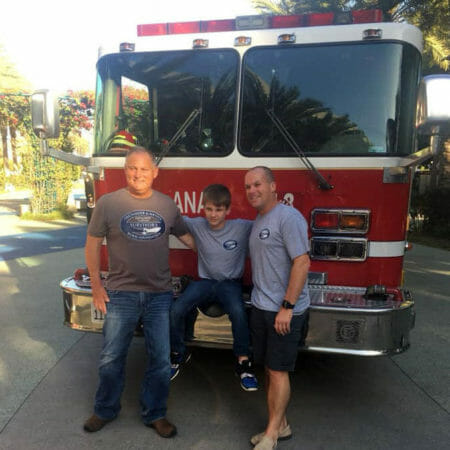 So Drew and Joe established their foundation in 2015 and are providing after-school programs to teach students not to bully their classmates who have burn scars. These after-school programs proved especially beneficial for Munia, who suffered severe burns to her face, back, and hands after a chemical put in her hair to kill lice caught on fire when she walked past a candle.  
"When Munia went back to class, they had a big welcome party for her," Drew said. "She had compact bandages on her face for two years. The day she took her bandages off and went to school without a problem and seeing the smile on her face is what makes it worth it for me."  
The Sander and Matits Foundation also raises money to send a burn survivor and their family to the World Burn Congress every year. This year, Austin Lewis and his parents Greg and Kelli Schneider attended the conference.  
Kelli says her son was so moved after meeting with other burn survivors that it inspired him to take his gloves off that covered his scars.  
"It wasn't just four of five people, but it was hundreds and hundreds of people that didn't have their garments [that cover their scars] on," Kelli said. "Years have gone by and he has never wanted to take his gloves off because he didn't want other people to think he looked gross or anything. So it was really overwhelming to see that."  
Greg says Drew and Joe have become part of their family and that they check up on Austin every week.  
"They have been with us every step of the way," Greg said. "We don't go a week, a week and a half without talking. …We really can't put into words what they mean to us, what they've done for us, but they're really such great people."  
Drew hopes his foundation can eventually run their own camp for burn survivors in New Jersey so that he can tell all burn survivors this:  
"Looks may get you in the door, but it doesn't keep you there. What you do and what value you bring, that's what they're going to judge you on. … There's a full life after a burn injury."  
Do you want to make a difference in your community like Drew? Find local volunteer opportunities.  
Share this post