New York Volunteer Raises Puppies to Become Guide and Service Dogs
Meet Daily Point of Light Award honoree Ruthann Collins. Read her story and nominate an outstanding volunteer or family as a Point of Light.
After medical conditions forced Ruthann Collins to retire from her beloved job as a missioner, she found herself feeling depressed from the abrupt change of completing high-paced work that allowed her to travel the world, to being totally stagnant at her home in Islip, NY. She and her husband had previously floated around the idea of raising puppies one day, so she decided to use her newfound time to start volunteering for the Guide Dog Foundation in nearby Smithtown, NY.
Seven years later, "stagnant" is the last word you could use to describe Ruthann. She is currently raising her third puppy for the Foundation, which trains puppies with the goal of becoming either guide dogs for the visually impaired, or service dogs for partner organization America's VetDogs to place with veterans and first responders. In addition to puppy raising, Ruthann is also a caretaker for one of the Foundation's breeder dogs. She is a volunteer for the Foundation's Speakers Bureau, leading educational tours at their facilities and traveling to various events to raise awareness for their work. For the past three years, she has served on the Dogs on the Catwalk committee, which plans the Foundation's annual fashion show fundraiser.
Describe your volunteer role with the Guide Dog Foundation.
My primary role started out as a puppy raiser. You receive the puppy when they're eight weeks old. It lives with you until they're about a year and four months old. During that time period, we train them the basic things they need to know — socialization, house manners, basic behavioral type things, how to stay, how to walk properly on the leash. The dog and I go to class. We were going twice a month, but with Covid we're doing them virtually once a month. Usually around 12 months, they have to take a YODA test, a Year Old Dog Assessment. Our job is to care for them and do all that basic training so when they're ready to go to whatever discipline they're going, whether they're going as a service dog or a guide dog, all the basics will be taken care of so that the trainers who are going to do the specifics don't have to start with the basics. The dog is ready to go with them to the deeper, more difficult things.
I am also what's called a caretaker for one of the breeder dogs. We raised her from when she was a puppy. When it was time for her to go into training, after she completed her test, the decision was made that because of her lineage and her behavior and all kinds of qualifications they have, they made her a breeder dog. Both dogs live with us 24/7. … We're primarily responsible for keeping her basic trainings up and taking care of her, especially during the pregnancy. She will stay with us until she retires from that. Once she's retired, we have the first option of keeping her, and of course we will after having gone through all the volunteering with her.
What inspired you to start volunteering in this way?
I had to leave my job, which I loved, because of some medical conditions. I was a missioner for the The Domestic and Foreign Missionary Society. Because of my medical conditions, I was not able to continue because it involved a great bit of travel. I was really very ill. When I got to the point where I was able to walk and I was done with my rehab and all kinds of things to get me well, I started to get depressed because I had gone from going 100 miles an hour all over the world, to being totally stagnant. For years, my husband and I had talked about well, maybe someday we'll raise puppies. We made the decision maybe that would be good for me. My first dog probably gave me as much, if not more, than I gave her because having to do the work with the dogs, you have to stay on schedule. You have to be active. It was excellent for my health.
What do you do as a volunteer for the Speakers Bureau?
Every year when New York has Fleet Week at the Intrepid Museum, we have a booth. We'll go there and we'll mingle with people and speak with people. We do schools and community-based organizations that want to find out more about it. We work a lot with the Lions Club and colleges. Sometimes for the colleges, we'll go when they have their stress week. We'll bring the dogs so the students can, in between classes, come and hang out with the dogs and pet them. It's a variety. We also did what were call talking tours, where a Girl Scout or Boy Scout troop would come to the facility in Smithtown and we would do a presentation for them. Everything is pretty much on hold, other than those of us actually handling dogs, because of Covid, so we're not doing the speaking at this point. It was great fun, and it's part of our mission as an organization to educate the community.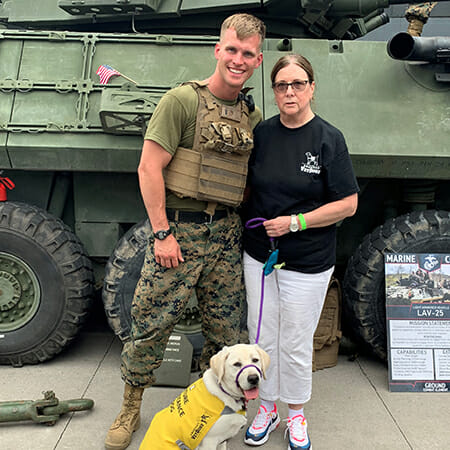 Are there any future partnerships, programs, or events that you are excited about?
The Dogs on the Catwalk, certainly. I've been a committee member for three years. This year, we're doing it as a virtual fashion show. That's a major fundraiser we do for the guide dog side of the program. It's in October.
I know the event will be virtual this year, but what is it like normally?
Anthony Rubio is a top designer who shows at Fashion Week here in New York, Milan, etc. He happens to be a dog lover. He not only designs clothes for women, but he designs clothes for dogs. … We have the event where he brings his models. There's a cocktail hour and all of that. We have puppies there so people can see some of the puppies and hold them when they do the walkabout. It's followed by a full dinner and then the fashion show. His work is really impressive. The models, bless them in their four-inch heels, actually walk down the runway with dogs that are in his designer couture. That's been a major fundraiser. We auction off a few items. We try to get enough money for one or two puppies to be sponsored. A sponsorship is $6,000 and that covers the first year of life for the puppy. It's a really very nice event. It's very, very elegant and it's a really nice evening out.
What would you want someone interested in training guide dogs to know?
Obviously, one would have to love animals to do this kind of volunteer work, but there's so much that needs to be done and it's not just handling the dogs. If you want to learn, you want to grow, and you want to do something exciting, this is the kind of work that does that. I'm a puppy raiser and I work on a committee and I'm on the Speakers Bureau, but we have people who are what we call transportation people, and they volunteer to drive the vans to transport the students around and the dogs around. We have people who just come in when we're doing the fundraisers and stuff envelopes. I believe the last count, we had about 1,500 volunteers. That's the other thing, you wind up with new friends and you get to do really exciting stuff. Other than the Covid situation, we're always out as far as being puppy raisers. We're socializing the animals but we're also getting out and doing different things. Maybe we'll have a class at the aquarium. I remember one class we did at the aquarium, all the dogs were sitting and watching the penguins go around in a circle. It was just so much fun.
What's been the most rewarding part of your work?
I think the rewarding part is when the dogs that you are working with leave you. That's a hard part, but when they eventually finish their training at the facility and you know that someone's life has been changed. … When you've done your job and they've passed their test to go on, and then later on when they're handed off to the person, you know you've been a little part of getting rid of some of the barriers that people have in their lives. Our first dog [Gypsy] that we raised is a guide dog in Tennessee. After her training and she went down and was assigned to the gentlemen she was with, who teaches the blind at the university down there, he asked if he could talk to me. We got on the phone and after about three minutes, he was in tears and I was in tears. As part of their final test down there, he and Gypsy had to get around the entire campus where he had to be around his daily life without any help, and they passed it. I was so proud of her. I felt good that I could tell she was going to a nice guy and his wife.
I'm thankful for my health now. Even though I have some problems, I'm thankful that I don't have the barriers that certainly people who are visually impaired and of course the veterans [have]. When you speak to the veterans who are receiving our dogs or have received dogs, it's an amazing feeling to know you've been able to thank somebody who has gone to war for our country. It's pretty powerful stuff. … The first one with Gypsy, they had to walk around and do their final test without help. He was 33 years old at the time he received her, and he said to me it was the first time in his life that he understood what the word 'independence' meant. That's why you do it, to be able to help somebody else like that.
What do you want people to learn from your story?
I think that as individuals in the kind of country that we live in, we need to give back to each other. We need to do whatever we can to help our community to be healthier and peaceful. I think volunteering is something that is critical for a small community and for our country at large to be healthy. We all have gifts of some kind, and I think we have a personal responsibility to each other, so you find the thing that excites you to do that work. It's ok to say "I want to feel good when I'm done with this work." It's ok to be honest about it. You choose something you have a passion for. I will tell you for the volunteers for the Foundation, we all have a passion for it. Otherwise, you couldn't do this particular kind of work. But whether it's this, or volunteering for Heifer or Habitat for Humanity or a tiny little Boys and Girls' Club in your community, I think the important thing is that it's not only our responsibility. It's a great gift to you as a person and it helps you grow tremendously.
Do you want to make a difference in your community like Ruthann? Find local volunteer opportunities. 
Share this post