Once Homeless, Former Navy Vet Advocates for Tailored Assistance for At-Risk Vets, First Responders
Meet Daily Point of Light Award honoree Stephanie Gattas, who was a 2020 L'Oréal Paris Women of Worth Award. Each year L'Oréal Paris and Points of Light recognize and celebrate Women of Worth who make a beautiful difference in their communities. Ten honorees each receive a $20,000 grant to support their most cherished cause, and an online vote determines one honoree who will receive an additional $25,000 grant. Nominations for 2021 will open on March 1! If you know a woman who works to create lasting and significant change in her community, nominate her to be one of the 2021 Women of Worth.
In a downward spiral after returning to life as a civilian, Stephanie Gattas says it was her mother who first sounded the alarm about Stephanie's deteriorating mental health.
"I don't think I recognized I needed the help myself," says Stephanie. "My mom told me that the military didn't send back her daughter. That was a really tough pill to swallow. I was walking through life trying to establish normalcy, but people on the outside were saying I was not the same."
Joining the Navy straight out of high school, Stephanie Gattas served for years as a seaman, then hospital corpsman, providing medical care alongside health care providers, a job the now 45-year-old San Antonio, Texas mother of three says was very challenging. Compounding the stress of her high stakes job were other service-related issues relating to the continued integration of women into the United States Armed Forces that have only recently been spotlighted, says Stephanie.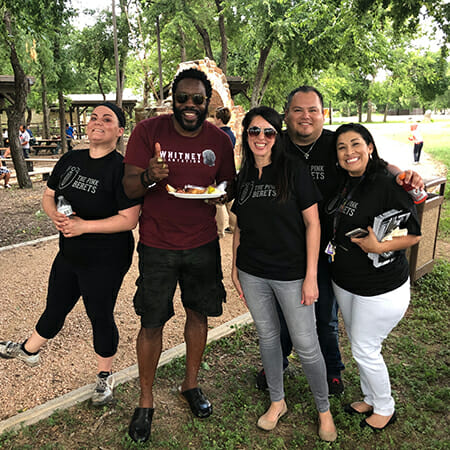 "At that time there wasn't a lot of discussion around post-traumatic stress disorder (PTSD) or military sexual trauma, both of which I was dealing with. When I returned to the U.S., it was shellshock. All of a sudden you are living this fast-paced life again. I went through a period of homelessness. There were times I was ok. And then I would plummet. I got a house and then lost it. I got a car and then I lost it."
Putting in the work to piece her life back together, Stephanie found there was a gap in resources tailored to specific issues female veterans face, and realized she couldn't be alone in needing help. Founding The Pink Berets in 2015, Stephanie provides aid and relief to active duty servicewomen, veterans and first responders who are seeking assistance with 'invisible injuries' like PTSD, military sexual trauma and combat trauma stress. Citing increasing suicide rates for women who have served in the military, Stephanie is using peer-to-peer support as a pathway to healing to address female mental health in an environment that understands their military experience, connecting with more than 1,000 women throughout the United States thus far.
"Every resource I encountered was centered around assisting men. It was very difficult to make you feel like you could put yourself in an environment where you felt understood and not compared. When you talk about these things, there is still a lot of stigma and there hasn't been a lot of research associated with servicewomen. We suppressed things a lot while serving. At least I did."
Stephanie credits the military with teaching her to be of service to country and others, and says she knew her contributions to society weren't over once she disconnected from the Navy. Building back her mental health reignited her passion to help others and the courage she'd once felt entering the military as a teen. Using that same courage to help others confront life-threatening issues is the kind of selfless service Stephanie has become known for, says Alanah Lavinier, program director at Endeavors, an organization that partners with Pink Berets for client care.
"Stephanie goes above and beyond to seek out women in need and find the assistance they need to get better," says Alanah. "She'll burn the midnight oil finding a resource for our women vets, if it's a shelter they need to go to, she'll stay up finding somewhere for them to lay their head at night. She sees the good in everybody and is committed to our female veterans."
The only organization of its kind to offer free therapeutic services through a clinical team, Pink Berets is now providing virtual programs like trauma support, family therapy and experiential therapies including art, equine and culinary, in addition to programs that provide free business attire to veterans transitioning to the workforce post military and self-defense, giving women across America a support system to reignite their own resilience. By raising awareness of military trauma, Stephanie says her volunteerism is almost like looking in a mirror. She is the individual she is helping today.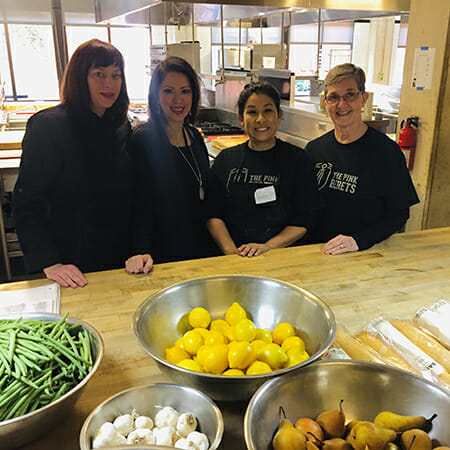 "It's my hope that I inspire other women and possibly men to volunteer. What these (Pink Beret) women don't know is that they have been a continual part of that healing journey for me as well. They want to be a better wife, daughter, sister. Watching them on this journey and seeing the positive aspects of that journey flourish has been a huge part of my healing journey. People believed in the mission enough to get the help they deserve."
Helping to educate and address symptoms for women before they progress to homelessness, unemployment and suicide, Stephanie isn't just helping the individual who put country before self through their service, but their families as well.
"We helped a woman early on who was adamant that our services wouldn't be able to help her. This woman was having suicidal ideations, she'd lost her job, her son was spending the majority of his time with her family. She became very active in therapy including equine therapy, and she showed up. Fast forward a little over one year later, she was preparing to get her first home, and she'd been in a secure job for the last six months, looking at a promotion. She said she was a better mother to her son, and that she was building back that confidence, not allowing the trauma to define her. There's no greater reward to know you've impacted somebody's life in some way because ultimately we're changing her life and her son's life in the process, because now he's got a mom who's healthier for him and those around them."
Do you want to make a difference in your community like Stephanie Gattas? Find local volunteer opportunities.
Share this post
---