Paralympic Athlete Helps Young Amputees Live Active Lifestyles by Providing Specialized Prostheses
Meet Daily Point of Light Award honoree Noelle Lambert, who was a 2020 L'Oréal Paris Women of Worth Award. Each year L'Oréal Paris and Points of Light recognize and celebrate Women of Worth who make a beautiful difference in their communities. Ten honorees each receive a $20,000 grant to support their most cherished cause, and an online vote determines one honoree who will receive an additional $25,000 grant. Nominations for 2021 are now open! If you know a woman who works to create lasting and significant change in her community, nominate her to be one of the 2021 Women of Worth.
When her left leg was amputated after a moped accident, Noelle Lambert received a donation of two specialized prostheses that gave the then-Division I Women's Lacrosse player the ability to run. Those prostheses were so life-changing for Noelle that she decided to start her own foundation to help bring increased mobility to other young amputees.
While still a college junior, Noelle became the founder and president of The Born to Run Foundation, which provides specialized prostheses to children and young adults. Because many insurance policies do not cover athletic prostheses, which can range from $10,000 to $50,000 dollars, the foundation helps to ease the financial burden that would come with being able to continue an active lifestyle as an amputee.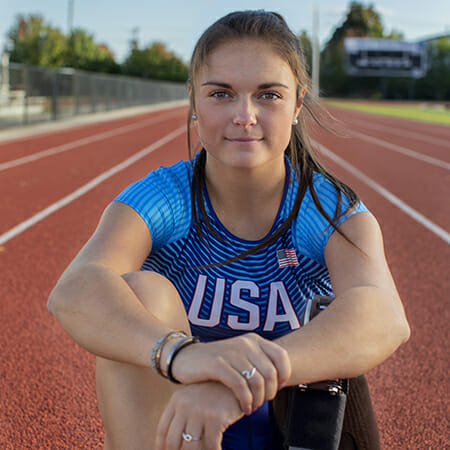 Noelle was inspired to start her own foundation in 2017 as a way to pay forward the help she received from the Challenged Athletes Foundation, which donated her running blade, and The Heather Abbott Foundation, which donated her waterproof prosthesis. Aside from the donations allowing her to achieve her dream of being the first amputee to play Division I Lacrosse, they also help the active young adult do simple activities such as go on vacation or swim in a pool without any limitations.
"Support systems like this are really what makes people think their life is worth living," Noelle said. "Everyone wants to live the lives they want without any limitations, so I think it's very important to have foundations like this so we can help other people."
Since 2018, The Born to Run Foundation has donated 12 prostheses — including running blades, waterproof prostheses, and artificial arms — to amputees ranging from toddlers to adults in their mid-30s. While the focus is currently on young people, Noelle hopes to be able to broaden the age range as the foundation continues to grow.
Noelle, who is a member of the U.S. Paralympic Track and Field Team in addition to working with the foundation, makes it a priority to involve herself in the gifting of each donation. Pre-COVID-19, she would hold a big fundraising event and invite prior donation recipients. For now, the donation gifting is done through Zoom, but regardless of that limitation, Noelle continues to make it clear to each recipient that they can always rely on her.
"It's kind of like joining a family and a community and a support system," Noelle said. "If anybody ever needs help, they can reach out to someone who is going through very similar things."
She said seeing the recipients' and their families' reactions to receiving their donation never gets old, and she looks forward to receiving photos and videos of the recipients using their prostheses to snowboard, kayak, go to the beach, or other activities they had dreamed of being able to do.
Noelle's mother, Judy Lambert, described her daughter as a go-getter who is very involved with both the foundation and the people she is helping.
"She really engages with the recipients. That's what she loves doing the most — connecting to the people we donate to and helping them navigate the process," said Judy, who also serves as a board member for the foundation.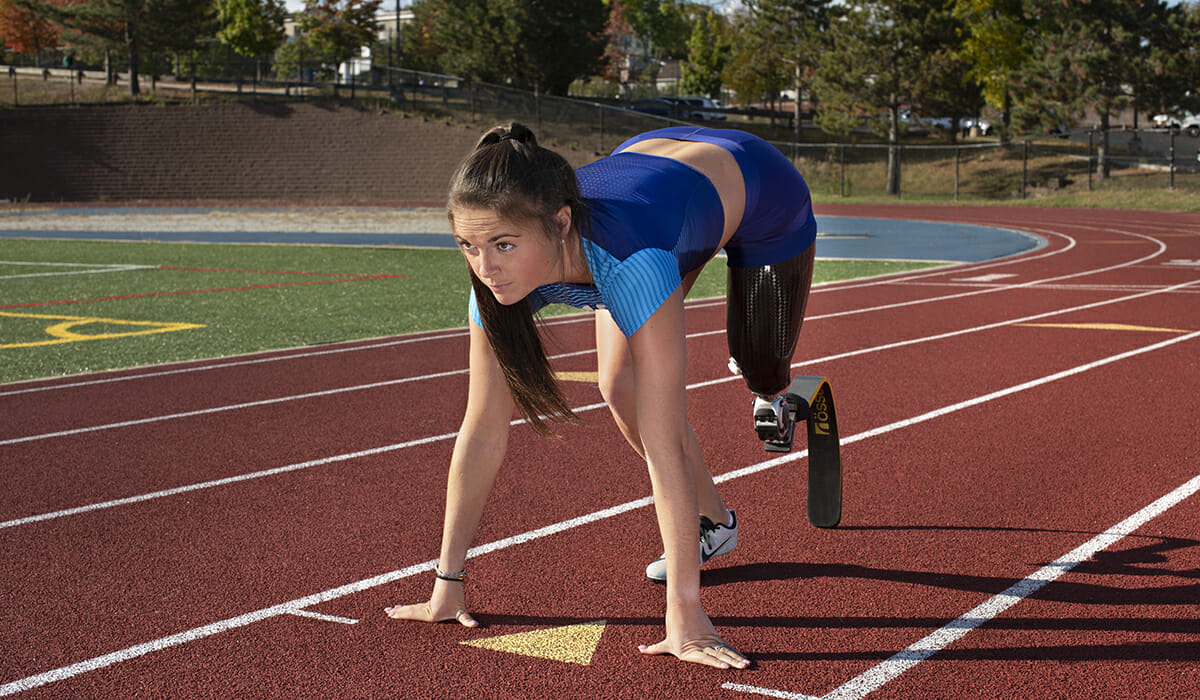 The Born to Run Foundation is currently funded entirely through donations and fundraising events, although they hope to receive sponsorships soon. Next month, they will be holding a virtual fundraiser for a nine-year-old girl who will be receiving a waterproof prosthesis from the foundation. Anyone interested in donating can look out for the fundraiser information on The Born to Run Foundation's social media.
Noelle is trying to grow the foundation as much as possible, and hopes to get to a point where they are able to donate 20 to 30 prostheses a year as opposed to just four or five. She said she thinks that will be an achievable goal in part because The Born to Run Foundation is what she wants to do with her life and career.
"I'm living proof that anything is possible if you put your mind and body into it," Noelle said. "Just because you go through a difficult experience with your life, it doesn't mean your life is over. It's honestly just how you capitalize on it and how you work to make your life the way you want."
Do you want to make a difference in your community like Noelle? Find local volunteer opportunities.
Share this post