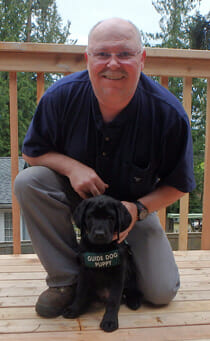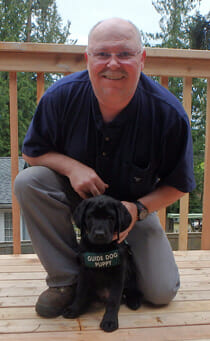 After serving more than 20 years in the U.S. Navy, Patrick Sullivan of Keyport, WA, has now served for nearly 10 years as a volunteer for Guide Dogs for the Blind.
 
For most people, it's hard to imagine living life without the gift of sight. But for more than 6 million people in The United States, that life is a reality. Everyday tasks, like walking to the bus stop, become daunting challenges.
 
Sullivan sought to help makes things a little easier and, following in his wife's footsteps, began volunteering to train guide dogs.
 
 
Sullivan grew up around dogs, but it was through Guide Dogs for the Blind that he realized their immense potential to help others. Sullivan says, "Having been around dogs most of my childhood, I found it very interesting learning to train the dogs for guiding and realizing how different their personalities are."
 
Training a guide dog  entails a lot more than just walking in the park. Sullivan welcomes puppies, usually around eight-ten weeks old, into his home and starts a comprehensive training process until the puppy is 18 months old. Puppy trainers teach their dogs essential obedience skills and commands.
 
Sullivan has trained more than 10 service dogs for Guide Dogs for the Blind.
 
"As soon as we had our first puppy graduate to a certified guide, it was clear to me that I needed to do this to give the vision-impaired people this opportunity to have independence and freedom to do simple errands on their own every day," Sullivan says.
 
Sullivan spends more than 20 hours a week with his guide puppy in training. When spending so much time with an animal, its hard not to grow attached. Sullivan says, "It is very hard giving up the puppies after a year plus of raising one of these dogs, but the reward of helping these people greatly out weighs sadness of giving up the puppy."
 
Sullivan dedicates so much of his spare time to serving the needs of those who have had their sight taken away. Since his retirement in 2006, Sullivan hasn't wasted a moment. After serving the needs of our country, he now helps serve the needs of the blind. He is as a reminder that we can carry a commitment to service throughout our lives. Through his volunteer efforts, Sullivan has changed the lives of so many suffering from blindness by giving them their freedom back.
 
If you know someone like Patrick Sullivan changing the lives of the disabled, nominate them today for the Daily Point of Light Award!
Share this post