Pennsylvania Teen Baking the World a Better Place 
Content Warning: Points of Light is proud to share the following uplifting and inspiring story. However, we acknowledge that a small portion mentions suicide and may be difficult for some readers. We encourage you to please care for your own wellbeing above all. 
Meet Daily Point of Light Award honoree Sophie Fontecchio. Read her story, and nominate an outstanding volunteer or family as a Daily Point of Light. 
Volunteering has been a part of Sophie Fontecchio's life since she was young. Sophie, along with her sister and mother, volunteered for an animal rescue where they would take care of cats up for adoption in pet stores. A close friend's suicide, and the COVID-19 pandemic, sparked a desire to help on a grander scale.   
At age 15, Sophie founded Let's Bake the World a Better Place, which sells home-baked goods to fund a variety of local, national and international organizations. To date, Sophie has raised more than $17,000 through the sale of cinnamon rolls (her signature baked delight), scones, cupcakes and other baked goods.  
What inspires you to volunteer?
I was inspired to start Let's Bake the World a Better Place after a friend of mine died of suicide at age 14. My friend's mother started an organization, Rhy's Above, in his name. The organization opened up the conversation around mental health and funded mental health first aid to train regular community members to spot and help people who are in mental distress. I wanted to help their organization and raise awareness about it.  
I had always loved baking and really started baking a lot throughout the COVID-19 lockdowns. I saw this as an opportunity to help. I did my first bake sale to raise funds for Rhy's Above and it was hugely successful. Then, I had the confidence knowing I could make a difference.  
Tell us about your volunteer role with Let
'
s Bake the World a Better Place.
The organization is founded on three pillars: philanthropy, which is donating funds from our bake sales; advocacy for mental health awareness and the different causes we support through the bake sales; and action in the area of mental health. My focus is baking, but also involving youth and creating the next generation of changemakers.   
We typically do one bake sale each month in support of a local nonprofit. These nonprofits have included Aidan's Heart Foundation, The Fund for Women and Girls, Chester County Food Bank, Home of the Sparrow, To Love a Canine Rescue, the Downingtown Library and Toys for Tots of Chester County, among others. We also participate in service projects. Service projects are mostly around mental health, but we also recently conducted a back-to-school supply drive that includes purchasing school supplies with donated money, assembling backpacks and distributing them.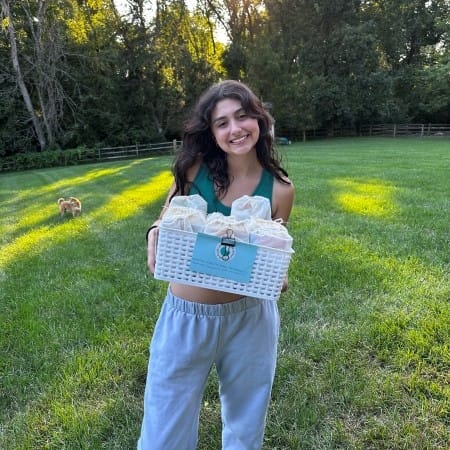 I have received two Hershey Heartwarming Young Heroes grants from the Hershey Company and Youth Service America. I received $250 from the first in 2022. This funded a bake sale to provide opportunities for students and other community members to host their own bake sales and learn about advocacy. This sale raised money for Aidan's Heart and involved local elementary school children including the Quaker Leadership Team from the West Chester Friends School.   
The second grant was in spring of 2023. I received $500, which funded the creation of mental health care packages. These care packages are placed in schools and resource centers where teens might be going if they need some type of mental health support. Care packages show the kids that they aren't alone, that others are going through hard times and there are people who care. Inside the packages there are journals, friendship bracelets created by local elementary school kids, candy and a personalized note of encouragement from a student in the community. The idea behind the packages is to destigmatize getting help in a school setting, where kids may be bullied for seeking mental health help. This fall we are collaborating with Aevidum, a national mental health club, to distribute mental health care package kits to 100 Aevidum high school chapters around the country. They will be able to make 25 kits to distribute in their communities. The care package kit arrived at my high school yesterday. This is one of the best things that's come from this nonprofit so far.   
What inspired you to get started with this initiative?
I've always loved baking, and it became a passion during the Covid pandemic. Also, baked goods are common ground. Food brings people together. Everyone loves baked goods and it's a springboard for conversations. While I was initially motivated by my love of baking and the desire to help improve our county's mental health resources, over time I've been inspired by the idea of motivating young people to serve their communities. I've also realized that my nonprofit can play a direct role in advocacy, whether it's for mental health awareness or the need for AEDs in our schools. AEDs are automated external defibrillators, used to help anyone having a heart attack.  
What are your long-term plans or goals for the organization?
We just established ourselves as a 501(c)(3) organization, which will allow us to apply for funding and expand our reach. It also reduces our costs and allows us to give more to the recipients. We continue to expand the bake sales by including community guest bakers. A long-term goal is to expand the reach of the teen mental health care packages. Finally, I plan on not only continuing to combine baking and philanthropy, but providing other youth a platform for their voice and teaching them about advocacy.  
What's been the most rewarding part of your work?
One of the biggest rewards comes after doing the hard work of baking and that is totaling up the money! It feels so good to be able to donate a lot of money to organizations that might otherwise not receive a lot of funding. Baking used to be a hobby, but now it easily brings in over a thousand dollars per bake sale to an organization in need.  
It is also very rewarding to bring attention to smaller nonprofits that people might not know about. After buying baked goods from our sale and hearing about an organization, they might go on to volunteer with these organizations or help in another way. For example, my neighbor adopted a dog from To Love a Canine Rescue after we held a bake sale for them.   
There is also a lot of joy. Kids who want to help bake and support causes get so excited sharing their baked goods with people while helping. Finally, it is very rewarding to know that our advocacy and action in the area of mental health is making a difference.  
What have you learned through your experiences as a volunteer?
Change can start small. One person can make a big difference. My Grandma used to say that the individual can make a difference. That's definitely been the case for me.  
This past August, our bake sale for the Downingtown Library involved seven youth volunteer bakers and raised $1,672, which was a bake sale record. In October, we held a bake sale for a local animal rescue called To Love a Canine Animal Rescue.  
Tell us about future partnerships, programs or events that you are excited about.
I am working on developing youth baking classes that teach participants about leadership and advocacy. At the end of the class students would host a bake sale for a cause they care about. We have the support of our local YMCA and United Way for this idea, but we are still looking for a professional kitchen where we can host the classes. It all revolves around the common ground of food to do good in their communities.    
Why is it important for others to get involved with causes they care about?
One person can definitely make a difference. When one person gets involved, it can start a chain reaction and inspire others to get involved. It can be something as small as volunteering at an animal shelter, which seems small, but you are impacting the lives of 20+ animals. Every little bit helps. And when you get other people involved, it just grows and grows.  
Any advice for people who want to start volunteering?
Finding something you're passionate about makes volunteering so much fun. When you're passionate about it, you're more likely to follow through and do what needs to be done. I love baking so much, so it's no stretch to bake more for a good cause.  
What do you want people to learn from your story?
I can't say this enough. One person can make a big difference. A small idea can turn into something big. Don't be afraid to take chances. I didn't know if people wanted to buy my baked goods but now I have regulars at every bake sale and it blossomed into this amazing organization.  
Do you want to make a difference in your community like Sophie? Find local volunteer opportunities.  
Share this post