Playful to Powerful: Arizona Couple Fosters Therapy and Service Dogs as They Train to Assist
Meet Daily Point of Light Award honoree Mike and Cindy Sturgill. Read their story and nominate an outstanding volunteer or family as a Daily Point of Light.
Like most couples in the post-work phase of life, Mike, a retired engineer, and Cindy Sturgill, a nearly-retired auditor-turned-business-manager, love travelling and spending time with their friends and grandkids in the endless summer of Arizona. Both are active outdoor enthusiasts who enjoy hiking and cycling, though Mike's passion takes him around the world on ultra-distance rides of 200+ miles a day. While he prefers riding with company, it can be a challenge to find someone with the time and stamina for the task.
It's that same stamina the couple uses for their volunteer work. Since 2018, Mike and Cindy have dedicated their time to Power Paws, an organization that trains dogs to assist disabled adults and children. What began as an expected two-week dogsitting gig turned into a nine-month stint that changed their lives. So far, the Sturgills have placed four dogs and are currently caring for their fifth and sixth, Jami and Coco.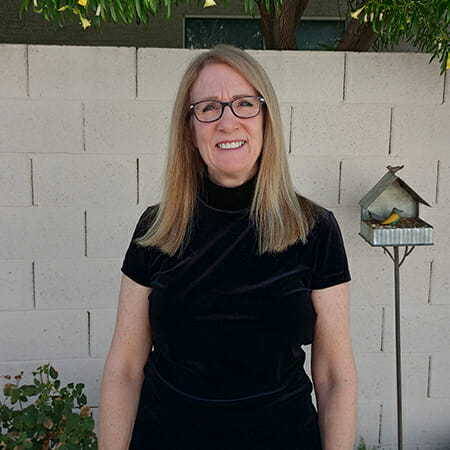 What inspires you to volunteer?
Mike: A friend who trained her dog to become a therapy dog with Gabriel's Angels was taking her into disadvantaged schools to comfort traumatized kids. In order to have the dog with one child at a time, she needed some help. So, we would do activities with the other kids while they took turns working with the dog with Teresa. Eventually, Power Paws sent out an email to the Gabriel's Angels email list asking if anyone would be interested in being a dogsitter.
We had recently lost our dog, so we decided to give it a try. It was supposed to be a two-week gig, and nine months later, Taylor–our first–was placed in the home of a child with Type 1 diabetes as a diabetic-detection dog. Seeing that process, we fell in love with it, and we've been volunteers ever since.
Describe your volunteer role with Power Paws.
Mike: We get a dog that's generally very excitable, normally a Lab or Golden Retriever. Once they're at least 10 months old, and they're potty trained with some other basic training, we take them until they're placed. Vail was with us the shortest amount of time, around six months. And the longest was as Aztec, almost three years.
At that age, they're still babies at heart and just want to play. We provide structure, love, food, housing, etc. We take them everywhere in order to get them used to people, other dogs and noises. We go to all of their vet appointments for shots and everything. We basically have them 24/7 except when we take them into training at Power Paws.
We're not trainers, but we work with the Power Paws trainers to understand what they're working on so that we can reinforce it when the dogs are in our care. We try to mimic the training so that there's consistency with what the dog sees and knows it has to do.
What's been the most rewarding part of your work?
Cindy: Power Paws essentially shut down during the pandemic, so Aztec became our COVID comfort dog. I'm still grieving that loss. No matter how much you prepare yourself, you still miss them when they get placed.
These dogs are very special, well-behaved animals. They're sweet and loving, so I know they'll go on to give that to a person that needs them more than I do. They will be enhancing another life in ways that we can't begin to comprehend. That's what gets me through.
Mike: It's both the most challenging and the most rewarding part. Working with these animals is a fantastic experience. Because of HIPPA regulations, we don't get to hear the specifics of where a dog is going. We know if it's for mobility or diabetes, etc. but we don't know anything about the people. That being said, the lady who took Taylor for her son wrote a story we got to read about how he changed their lives. It's so heartwarming.
What are some examples of people who would be eligible for a dog?
Mike: Power Paws has four different services that they train the dogs for: PTSD, diabetic-detection, mobility-impaired or a facility or comfort dog who would accompany someone in, say, a courtroom or other high stress situation. You may have seen dogs underneath witness stands, especially when children are deposed, who are there for a person who may be afraid.
Before they get to us, all dogs are trained for a general set of commands and activities. Then, they let the dog determine the ultimate direction. Taylor, the diabetic-detection dog, was an absolute nutball personality-wise, but he had the most incredible nose, so Power Paws felt it was worth the additional effort to try to rein him in. Ultimately, he was placed with the 8-year-old boy we mentioned.
What have you learned through your experiences as a volunteer?
Mike: I was heavily involved with Taylor's training. I had seen dogs on TV that could sniff and detect cancer or find bodies hidden in 40 feet of rubble or under avalanches, but I never understood how. That was one of the more interesting things that I learned, how to actually train a dog.
Cindy: One of the most important things that I've learned is the impact that dogs have on people's lives. It transcends having an adorable pet that you love. They're vital to our quality of life.
Mike: Also, dogs can do things that humans can't. When we first walked into those classrooms with Gabriel Angels and the therapy dog, those kids had been abused in any number of deplorable ways. They were so introverted that most of them wouldn't even look up. After two or three visits, they were looking up and getting involved in activities. Seven or eight visits in, the entire class was looking forward to Ellie Mae coming in and working with her. It changed every kid in that classroom in positive ways and was astounding to see.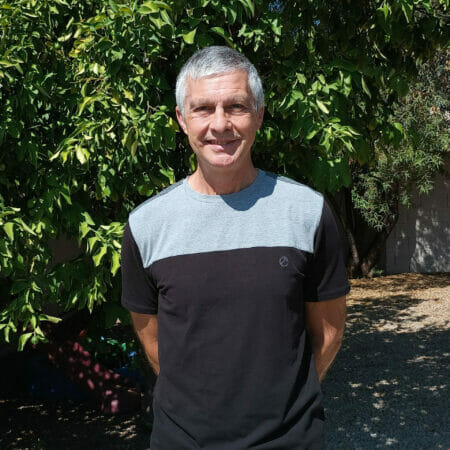 Why is it important for others to get involved in causes they care about?
Cindy: We all have an effect on each other in some way or another. It's important to get involved in something that has a positive impact on people's lives so that it's intentional.
Mike: There are many people in the world with challenges and disadvantages that I don't face on a normal day. Each place I volunteer is out of a desire to fill a need that people either can't afford or don't know how to achieve on their own. For me, it's that feeling of gratification I get when I see the results of the work I do.
What do you want people to learn from your story?
Cindy: Our biggest goal is to encourage other people to help out Power Paws, because they really need more volunteers to do what we do.
Mike: These are long-term investments, not activities that you can just do for an hour and be done, so it's hard to get volunteers. Don't be afraid to share your time with others, to give without expecting something in return. It feels great to make someone happy.
Do you want to make a difference in your community like Mike and Cindy? Find local volunteer opportunities.
Share this post