Portland Teen Starts Nonprofit to Promote Relationship Between Youth and Law Enforcement
Meet Daily Point of Light Award honoree Britt Masback. Read his story and nominate an outstanding volunteer or family as a Daily Point of Light.
In bold numbers marking Youth Educating Police's homepage, three statistics will stand out to visitors of the nonprofit organization's website. Annually in the United States, 3.5% of police interactions involve youth aged 16 to 18, but 30.1% of use-of-force interactions involve youth of that age group, and 81% of use-of-force cases are initiated by police.
While these national statistics are lower for Britt Masback's hometown of Portland, he still recognized the sense of distrust and fear between his community's youth and law enforcement officers. In 2017, he decided to address his community's problem through co-founding Youth Educating Police. The youth-led organization works to promote a positive relationship between police and young people by creating police training specifically for interacting with youth, and by holding discussion forums between youth, law enforcement and community leaders. In 2020, Britt saw his hard work come to fruition when the Portland Police Bureau began implementing Youth Educating Police's training program. Now 18-years-old, Britt hopes to be able to spread the program to other cities around the country as well.
Describe Youth Educating Police.
I and a few of my peers here in Portland started Youth Educating Police to combat apathy and to combat the use of force against young people from police officers. We're working to decrease distrust between both sides and work toward a relationship that is more productive, and that is ultimately more safe for both young people and police officers. We started because of the national awareness around police brutality and around police reform, but also on a local level, looking at the breakdown of trust between police and youth.
What led you to create this organization?
It was a really interesting story. I come from a place of privilege. I've never had an interaction with police officers either positive or negative, but I actually have family members who are either law enforcement officers or involved in the law enforcement community. Then my cofounder [Taji Chesimet] grew up in Portland but across the city. He's grown up with a very different background, where he's grown up fearing the police and fearing even using basic police services. In the spring of 2017, we came together and we realized the need for this on both sides. Not only are young people fearing these services and facing a disproportionate use of force from police officers, which was a clear problem, but also police officers, on the other hand, have a lower life span because of the stresses in the job. There was really a need for this on both sides and we came together in the middle to try to find a solution that would be beneficial for everyone — a training curriculum, basically, that would educate police officers on the youth mindset, explaining where youth are coming from, explaining what needs youth have in certain situations so that ultimately they can be better served. We came together because of our respective backgrounds and then a shared interest for change.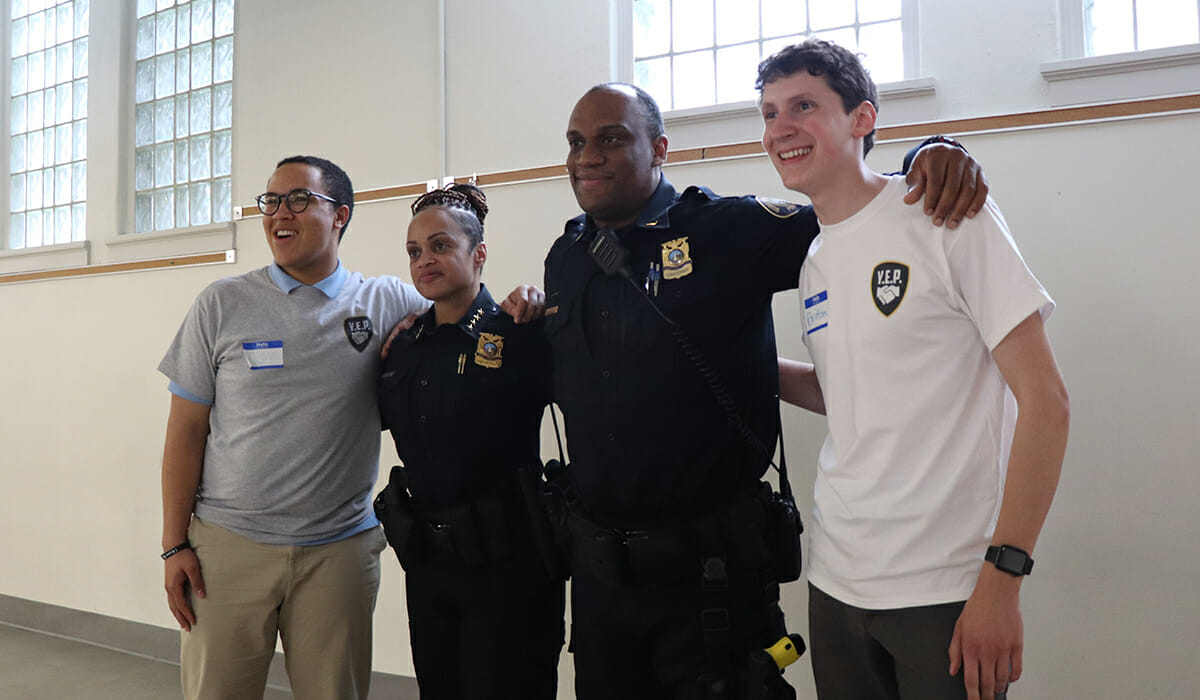 Can you describe Youth Educating Police's programs?
We have three main programs. Our founding mission, again, was to develop a training curriculum. The current iteration, that we actually released to the Portland Police Bureau after two to three years of work on it, is a two-component thing. It's a 15-minute explainer video that we released to all 1,000 [Portland Police] officers. It aggregates voices from young people, from police officers, especially school resource officers, and then also from psychologists and other trained professionals that have expertise in trauma. We bring all these voices together to paint a picture of who young people are today in Generation Z and in Portland, what sorts of stresses because of school, because of family, because of other societal pressures that they face, and also looking at the brain-science component of where developmentally youth are at and what sort of things can influence youth action. It's trying to give police officers a better picture of who youth are, and then an entryway into better interacting with young people. That's the first component of our training, and then the second component is an in-person module where we bring officers in and we test their response to what they learned in the video. It's a school scenario. We bring in youth actors and we test officers to see if they remember things from the video and where there are more areas for improvement. Then we have a debrief after that to talk about things. That's our first and our main program that we really want to scale to other communities. We released it to all 1,000 officers in Portland and it's running from January to June. Throughout this process, we're assessing how things are working, what future changes we can make to make the training even more effective.
The second program that actually really fed into the training is a series of dialogue events we hosted. We call them the Police Peace PDX forums. We hold them every year. It's a time to bring young people together, police officers together, as well as other decision-makers, so for example, legislators in the city and county councils, to talk about and share updates with the community — about here is where police policy is now, [and] from the youth perspective and the police perspective, here is where we want to be going, and talking about some ways to get toward those longer-term goals. That's been a really important program in many ways because it can stand alone as an important way for people to talk to each other, but also inform the training. There's been a lot of important stories and opinions that we heard that can feed into the training, so that sort of served a dual purpose.
The third program that my co-director and I found really important over time is called our Youth Education Initiative. This doesn't even specifically relate to the police [component], but rather, it's sort of a testimony to everything we learned starting a nonprofit as young people. More and more people are doing that. I've met a lot of other cool youth founders. This process has been really important to us for finding our voice and speaking out on an issue that matters to us. The Youth Education Initiative is basically a framework for how we can help other youth start their passion projects and make progress on other social issues. It's really all about social entrepreneurship and social change, where we work with other youth to start their initiatives, either through general knowledge support and then in some cases also through funding.
What kind of feedback have you received from both law enforcement and the youth involved in this?
The feedback has been very positive. From the youth perspective, it's been amazing to see how literally we can bring youth into a room with officers, who previously were really fearing the basic interaction going into the room, but then they come out of that room exchanging phone numbers and really seeing that new relationship with the officer as one of mentorship and community support. On another hand, youth definitely feel empowered by the opportunity to talk to police, and that's been a really important part of what we're doing. Most of our training in some ways is based on brain science and fact, but really it's a way to uplift youth voices and to say here's where youth are at. I know many of our peers have found that empowering.
From the police perspective, there's certainly a lot of bureaucracy in what we do. It's hard to enact change in a system that has been around for so long. But the police leadership, at least in Portland, has put their support behind this. They have acknowledged that it's an important change and that's been really critical to what we've been able to do. It's taken awhile, but throughout all the steps, they stood alongside us on this and that's been really great.
Are there any future partnerships, programs, or events that you are excited about?
We're just finishing up our training here in Portland and now we're really looking at ways to expand this curriculum to other communities. We think this is applicable to any community. Some communities have more of a problem with this than others, but Portland actually interestingly is not reflective of the national statistic. Three-point five percent of all police interactions involve the age group 16 to 19-year-olds, but 30.1% of the same age group involves the use of force, so [there is] a clear disparity there. In Portland, it's actually much less. There aren't exact statistics, but we know the problem isn't as bad. But what the police have told us and what youth have told us is because of what's going on a national landscape, these are still the things that youth believe. They still see officers with that badge representing what is going on nationally. So even though we test this in Portland, we believe it's applicable to pretty much every community, all 18,000 police departments across the country. Now we're really trying to scale it. We're trying to take what we learned and migrate it to other communities. We're actually starting with that right now. We developed a partnership with a local city nearby, directly next to Portland, called Gresham. It's a slightly smaller city but it's also a more diverse city — a lot more youth of color, people we're certainly trying to address through this training. Also, we're trying to bring the training to some other major cities like Philadelphia and Seattle, where we're developing connections. It's definitely an exciting stage for us because we're been so hyper-focused on this local community where we're from, but now we're really trying to say hey, it can be applicable to other people, and we're trying to make that happen.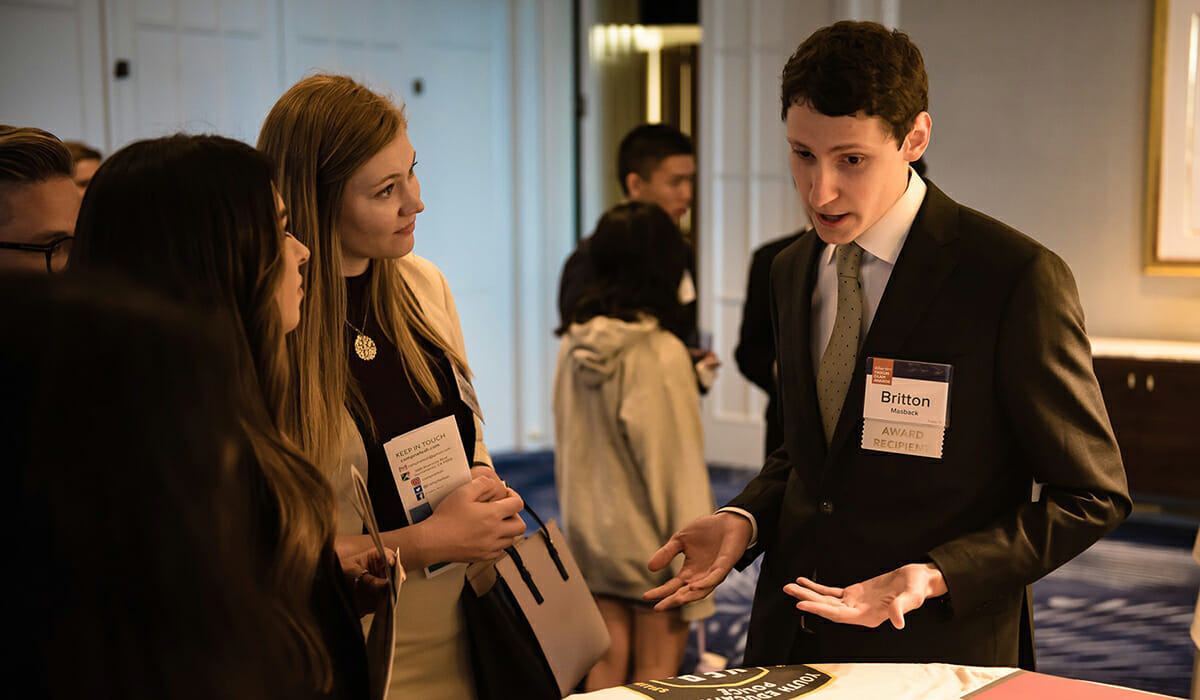 What's been the most rewarding part of your work?
I think honestly just meeting a lot of other passionate young people. I had done some basic political organizing work a few years before I started this, just at the end of middle school and early high school, and that was interesting. I had grown a general interest in politics and government at the time, but doing this work and getting to know young people through something that is so community-driven has been really special to me. I made a lot of friends through it, made a lot of close connections. I think collectively we really feel like we're making a change in our community, so that's probably been the most rewarding part.
What do you want people to learn from your story?
I think that ultimately what I would say to other young people is really to not worry about making a new project or a new idea perfect — not to worry about perfection. When myself and my cofounder started our organization, we had no idea what a 501(c)(3) was, or what writing a grant application looked like, or what working with city officials meant. But we knew that we were passionate about this and we knew there was a need for it, and so we put our heart and soul into it and made it happen. I think that especially for our generation, for Generation Z, it's important that everyone is a part of the social change. That includes youth. I think that sometimes you have to put perfection aside and just go for it, and know that at the end of the day as long as you're coming to the work from a place of passion and need, then eventually you can get there.
Why do you think it's important for others to give back?
It's crucial. I think that either if you feel supported by your community or if you want to fit into your community in a better way, it's important to be part of work that bolsters community, that supports everyone in your community. I come to this work from a place of public service, but I think even if that's not on your mind, even if you're not involved in political work, you have to realize that the community only works for everyone if everyone's voice is accounted for.
Do you want to make a difference in your community like Britt? Find local volunteer opportunities.
Share this post
---