San Antonio Veteran Changes Lives of Senior Veterans, One Flight at a Time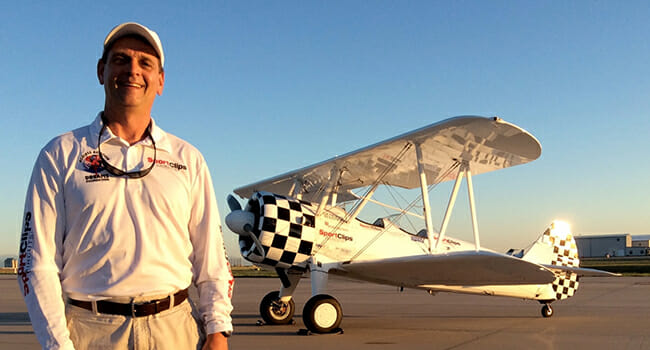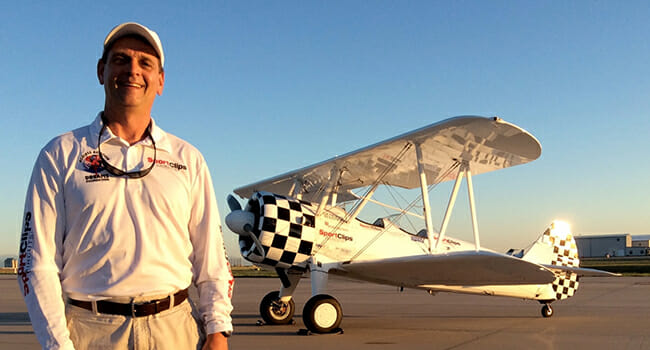 Courtesy: Tim Newton and AADF
Air Force veteran Tim Newton volunteers with Ageless Aviation Dreams Foundation, a nonprofit that gives free flights to seniors and veterans on vintage Boeing Stearman biplanes.
Flying for many, especially in a small aircraft, is a nightmare of nerves and airsickness. But for the veterans that take a dream flight with the Ageless Aviation Dreams Foundation, it's a life-changing experience.
Tim Newton, 53, is a volunteer pilot with AADF, a nonprofit organization that gives free flights to seniors and veterans in a vintage Boeing Stearman biplane.
AADF partners with senior living facilities and retirement communities across the country, where a large percentage of the residents are veterans from World War II, the Korean War and the Vietnam War. The foundation brings one of their three airplanes to the nearest airport and about a dozen veterans get to fly with a pilot for a 15- to 20-minute flight.
"But it's not just all about the flying," Tim said. "It's about the experience. We don't rush them, get them in the airplane, fly them and just kick them out. We spend time with them, we talk with them, we want to hear their stories. We want to treat them as the heroes that they are."
Tim said that these veterans are now in nursing homes and retirement homes, so many have forgotten that they are actual heroes, especially the World War II veterans.
"They saved the world. They really did," Tim said. "If it weren't for them, we would not be doing what we are doing today. So we want to say thank you to them, to all veterans, no matter what their branch of service of what they did."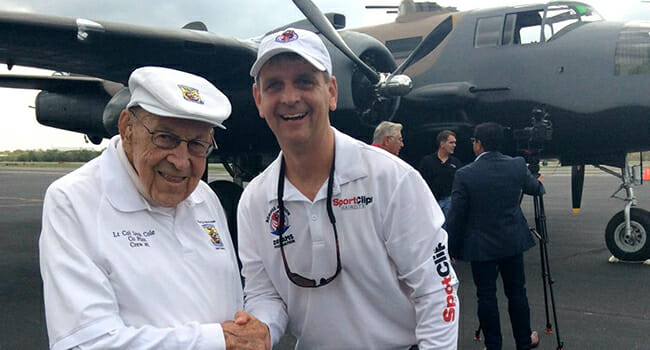 Courtesy: Tim Newton and AADF
Tim Newton and Lt. Col. Dick Cole, the last surviving member of Doolittle's Raiders over Tokyo.
The reactions of the veterans go all across the spectrum. From crying to singing, Tim has seen it all. Some reactions are even miraculous.
"It doesn't happen all the time, but we call it 'seeing the magic,'" Tim said. "For example, we flew a World War II veteran in San Antonio who was an Alzheimer's patient and he hadn't spoken … We took him up flying, he landed, he hasn't shut up since … He's a changed person."
Tim's wife, Grace, who used to be a PR director at a senior living community and now volunteers with AADF, was able to see this transformation first-hand.
"The veterans that I took were former aviators and so a lot of them learned how to fly in this particular airplane … it brought back a lot of memories for them," Grace said. "[The Alzheimer's patient] hadn't spoken a complete sentence in probably a year and after his dream flight, the first thing he said to the pilot was 'Thank you for taking me to my heaven.'"
Another time Tim "saw the magic" was when the family of a World War II veteran signed him up for a flight. The veteran had been in hospice care, in a wheelchair and on oxygen.
"We wheeled him out to the airplane. I turned around to talk to the family. I turned back around. He was out of his wheelchair, taking the oxygen off of him and halfway up the wing, climbing into the airplane by himself. We took him flying. He's not in hospice anymore. He's doing great," Tim said.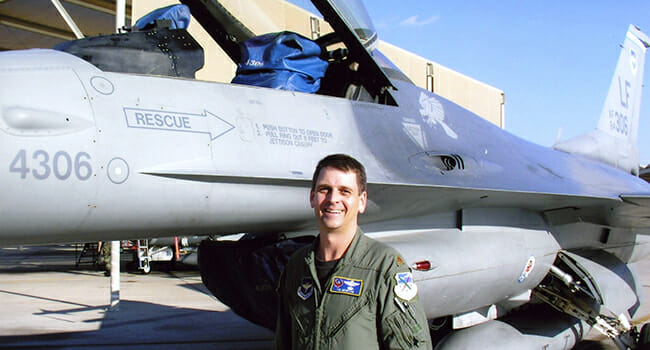 Courtesy: Tim Newton
Tim Newton in front of a F-16 fighter aircraft.
Tim has a special connection with these veterans because Tim is a veteran himself.
Growing up next to a U.S. Air Force base, Tim has had a fascination with planes from a young age. He knew he wanted to fly planes so after graduating from high school, Tim went to college at the Air Force Academy. After graduating from the academy, he went straight into pilot training in the Air Force.
For 26 years, Tim served the country by training other pilots and flying combat missions over Iraq and Bosnia.
"We were carrying bombs and air-to-air missiles, so we were ready to bomb targets or shoot aircrafts out of the sky," Tim said. "It was a lot of work and scary at times, but it was a great job. I absolutely loved it."
Now retired from the military, Tim flies big commercial airplanes for FedEx. While he said it's a different type of flying than flying fighter jets, it gives him the time to volunteer with AADF. He said it is a lot of work and there are some long days, but "it is absolutely well worth it."
"Our saying is that we don't get paid in money. We get paid in satisfaction, and we are overpaid," Tim said. "We are way, way overpaid."
If you are inspired by Tim's story, check out All for Good to find service projects in your area that specifically help veterans.
Share this post