Scientist Sparks Discovery and Spreads Awareness of STEM through Volunteerism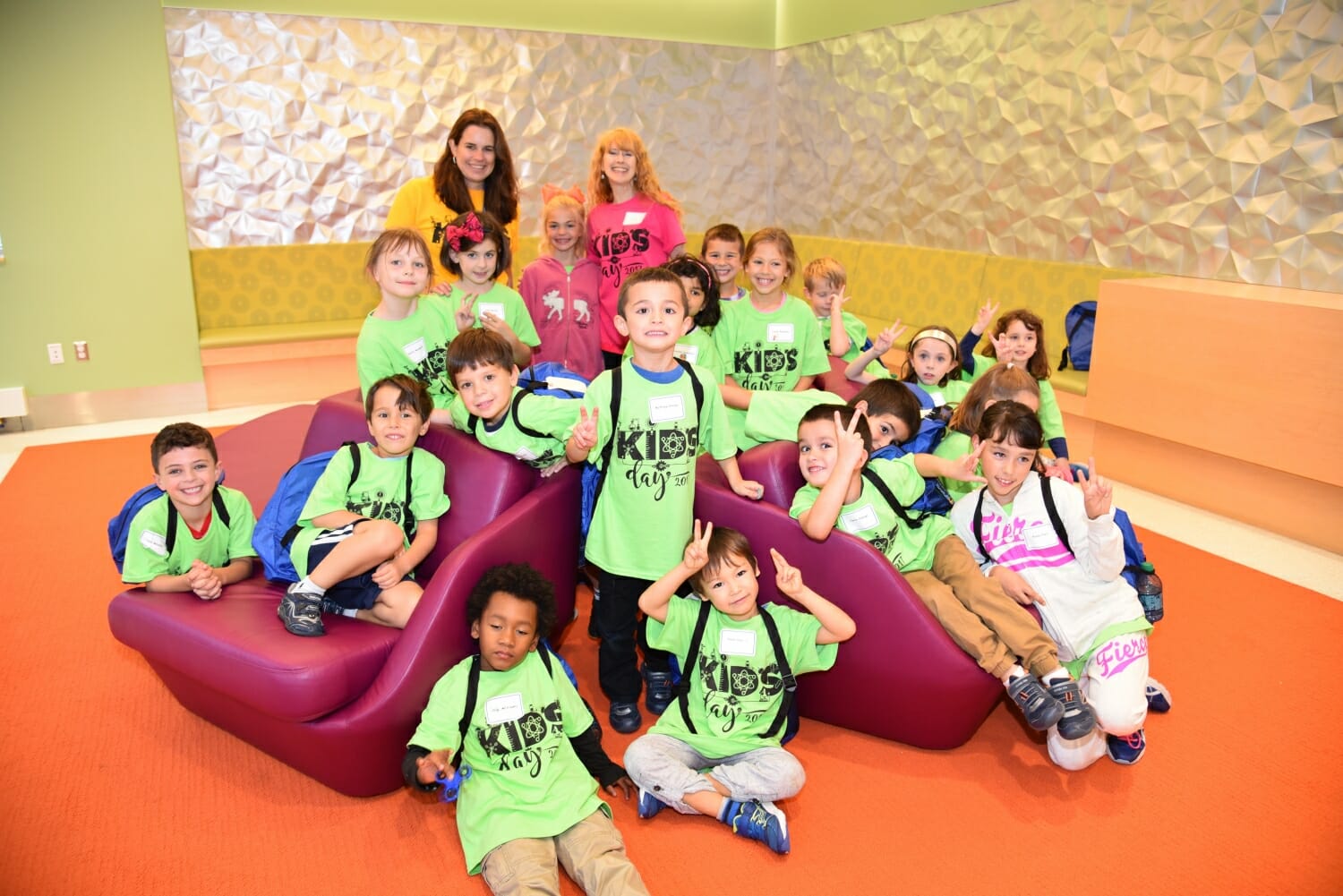 That first spark of amazement in a child's face, Lori Morton says, is what drives her volunteerism day after day. "When a kid looks into a microscope for the first time, and sees an ant, or a bumblebee, at high magnification, and realizes there's this otherworld complexity, and they're seeing it for the first time," Lori says. "Being a part of that moment, is wonderful."
By day, the 47-year-old scientist, who hails from Chappaqua, New York, is vice president of research at a biotechnology company, but her free time is dedicated to providing STEM discovery for kids. Through many community-based organizations and projects, Lori is providing new opportunities for kids to have fun and engage in STEM activities, in addition to underscoring the importance of science with the leaders of tomorrow.
Reaching about 1,000 children annually, Lori is dedicated to educating youth in her community, and is today's Daily Point of Light award honoree. Points of Light spoke to Lori to learn more about her work involving STEM.
What inspires you to volunteer?
I brought some microscopes to my kids' preschool classes, and sharing that spark of discovery with a child – or even with an adult – was really so satisfying and inspiring. You're revealing some science magic in a way that they can understand, and that was so much fun. For kids, their faces light up, the little ones stamp their feet because they're so excited. (Laughs) Being a part of that moment is wonderful.
Explain the importance of service when it comes to STEM education.
I had an advantage because my mother was a science teacher. That idea of, 'let's discover something together', was absolutely a part of my childhood. I maybe even took that for granted as a child, because not everybody has that philosophy of instilling learning and discovery in children. One of the wonderful things about science and STEM education is that it empowers kids and adults to recognize that there's a way to understand how things work if they take the time to observe how things work. I hope I can motivate talented thinkers to pursue STEM careers and provide that moment that drives their motivation and inspiration.
As a female scientist, what role do you play in sharing your talents in service?
As the face of a scientist, and a woman scientist, I feel a responsibility to heighten awareness of the world around us and how things work. Even if they're not destined or inclined to pursue a life in STEM, I'm inspiring a student's energy to learn. When I was a kid, part of my inspiration for thinking I wanted to make medicine was that I had a family friend in my life who did that. I don't know that I would have included medicine in the view of my future if i didn't have an example in my own world. I don't have super powers, I'm just a regular person who chose this profession because it makes me happy, and I'm able to share that with others.
Let's talk about some of your favorite volunteer projects.
Chappaqua Children's Book Festival: I am a board member for this annual book festival, where thousands turn out. We feature around 90 children's book authors and illustrators that attend the festival, and the kids can meet and interact with them. The festival promotes literacy and enthusiasm for reading, and children are introduced to "worthy real live heroes" in the authors and illustrators that bring imagination to life.
Regeneron Kids Day: My company dedicates one day to providing STEM discovery for hundreds of kids, I'm involved in developing curriculum for this day. The annual program means kids come to our campus for a full day of science discovery. The kids are literally cheering for science (laughs).
Chappaqua PTA STEM Committee: I serve as the chair and the founding member for this committee, which is designed to work with the district to provide new opportunities and enhance existing extra-curricular STEM programs and resources for kids to engage in. We host First Lego League (FLL) Robotics and Engineering teams in the district, and the "Hour of Code" event, a hands-on event for hundreds of students and their parents to learn to code. Our cornerstone event is the Chappaqua STEM Fest. This is a non-competitive science and engineering fair that about 300 students participate in annually, as well as local STEM-focused organizations and businesses. Students ranging from kindergarten to 12th grade present their independent research, team discovery projects, engineering innovations, computer science advances, "maker" inventions and wild array of other creative and ingenious pursuits. It's an exciting and inspiring day.
You are the head of cardiovascular research at your company. How do your professional responsibilities intersect with your volunteerism in this capacity?
I have long been a member of the American Heart Association. I was the 2017 Chair of the Westchester AHA Heart Walk, and we raised almost $300,000 for the association, with funds going to support local community resources for heart health, and local grants for research. It's a great cause, and a really fun event with several thousands in attendance.
How can people who don't have direct access to STEM resources learn and teach their children?
Most of the fun things I'm doing at these events are quite simple. You don't need a science background to conduct kitchen chemistry-type activities and experiments. So much material is available online – I suggest checking Pinterest for kids science activities. Search for 'kitchen chemistry projects' or whatever science topic you are interested in. There is a wealth of information available online.
Share one story of an impactful service project you've been involved in.
I grew up at the Jersey Shore and when Superstorm Sandy hit, parts of my hometown and places that were really special to me growing up were devastated. I decided that I had the power to do something and help my community, so I raised over $10,000 in support and truckloads of supplies to put into the hands of people that needed it. Being able to directly help someone with my own hands and make a difference for them was an incredible feeling. It taught me the power of one person.
What's one thing you want readers to take away from your service?
If you make the time to do something that solves a problem you care about, it is incredibly satisfying and you gain so much personally. Not only from the feeling of success in dealing with the problem you care about, but actually doing something about it. You're constantly surprised by what you get back from the people you impact.
What future events do you have coming up that you're excited about?
The Chappaqua STEM Fest is happening on March 23, 2019. Please check our website for more information: https://chappaquapta.membershiptoolkit.com/stem
Do you want to make a difference in your community like Lori Morton? Visit All For Good for local volunteer opportunities.
Post written by Marlena Militana.
Share this post