Service Dogs Bring Joy and Healing to Veterans with PTSD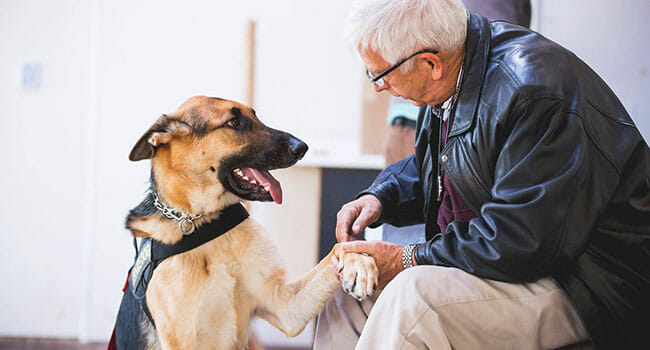 Meet Daily Point of Light Award honoree Angie Pratt, who was a Top 30 finalist for the L'Oreal Paris Women of Worth Award in 2016. Each year L'Oreal Paris and Points of Light recognize and celebrate Women of Worth who make a beautiful difference in their communities. Ten honorees each receive a $10,000 grant to support their most cherished cause, and an online vote determines one honoree who will receive an additional $25,000 grant. Nominations for 2017 are now open! If you know a woman who works to create lasting and significant change in her community, nominate her to be one of the 2017 Women of Worth.
"PTSD is called an invisible injury – to you and me. It's not invisible to a dog." said Angie Pratt. "If your heart rate increases, your breathing increases, you start sweating, you start producing adrenaline, the dog takes these physical manifestations and reacts to them. These physical manifestations are what cues the dog to help."
Angie doesn't raise or train dogs. "My background is as an entrepreneur and venture capitalist," she said. "I know how to put things together, I know how to jump through hoops, I know how to organize, and I know how to get from point A to point B."
But she's also the mother-in-law of a U.S. Marine who was injured in Afghanistan. That sparked Angie's curiosity about veterans' issues. "I came across an article about how service dogs help veterans who have physical injuries, post-traumatic stress disorder, or traumatic brain injuries. I told my daughter maybe they should get one. She called me back a few weeks later and said, 'Mama, you can't just get one that easily.'"
The more Angie looked into it, the more she realized that despite the enormous need for service dogs for veterans, such animals were scarce – only certain dogs have the right temperament, and the specialized training process takes a long time.
So in 2013, Angie started a new venture, Soldier On Service Dogs. She hired professionals to screen dogs for the right characteristics and to train them – along with their prospective owners. Then she provides veterans with the dogs – for free.
The population of Fayetteville, Arkansas, has a relatively high percentage of veterans. Angie estimates there are as many as 14,000 veterans living within a 50-mile radius, including parts of eastern Oklahoma and southwestern Missouri. They range in age from early 20s, veterans who served in the Middle East, to older vets who served in Vietnam, Korea, and World War II. According to some estimates, as many as 20 percent of war veterans have some degree of PTSD, Angie said. While not all veterans want a service dog, or would be able to care for one, Angie estimates that close to 1,000 people in her area would benefit from one.
Angie has noticed the effects of PTSD. One local Vietnam vet remained shaken for decades, choosing to live alone in a cave in the woods rather than socialize. "Social isolation and social anxiety are among those check marks that indicate PTSD," she said.
"Another veteran didn't leave his house by himself for four years," Angie said. "We gave him a dog and a few months later, his wife called, crying. I thought, 'What happened? Did the dog get run over?' but she said, 'No, these are tears of joy.' He had gone to Walmart all by himself. Now, he drives himself back and forth.'"
Bob Grubbs, a Vietnam veteran who suffers from PTSD, said his service dog, Scout, has restored the sense of "purpose and hope" that he lost when spinal injuries from a fall forced him to retire. "I was a graduate geologist, I worked all over the world, but now I can't do that," he said. Bob began to feel as though he were being cast off as old and useless.
Scout, a German shepherd, helps Bob walk with better stability and, "he helps me get up if I fall down." But just as important, Bob said, are the emotional benefits. "He keeps me calm, and he gives me pride, too. I go around showing him off. It's giving me a whole new perspective on life."
Bob now volunteers for Soldier On Service Dogs by giving speeches to veterans groups and other community organizations. "It gives me an opportunity to use my talents and my abilities," he said. "It doesn't bother me to talk to just one person, or to 200 or more."
Since its inception in 2013, Soldier On Service Dogs has trained and placed eight dogs. "We want to do 12 per year," Angie said. "Someday, we'd like to get up to 60 to 70 dogs per year."
Research has shown that the best service dogs for PTSD and brain injury are Labradors, standard poodles, mixes of those two breeds, or either of those breeds mixed with golden retrievers, according to Angie. The ideal dog is sensitive to changes in a veteran's mood, but not so laid back that it won't respond in a crisis.
Dogs with a strong prey drive are flagged as unsuitable. "We can't have any squirrel moments," Angie joked. "They can't be going after the neighbor's cat." Overly protective dogs aren't right either, "We don't want our dogs to scare people," she said.
But dogs that do meet the organization's standards are trained to do some remarkable things.
"Nightmares and flashbacks are extremely real for veterans, which leads to sleep deprivation," Angie said. The dogs are trained to gently wake the vet in such instances, just enough to interrupt the nightmare and allow the veteran to go back to sleep. "We also teach our dogs to turn on the light switch, so that when that veteran does wake up from the nightmare, he's not in the dark."
Dogs are trained to sense the onset of seizures, allowing owners a few seconds to quickly sit or lay down. They help vets in the early stages of dementia remember to take medications or find their way home if they get lost.
Soldier On Service Dogs has successfully recruited a small army of volunteers, including one group that cares for young puppies in their homes, where they teach them basic commands and help the dogs become socialized.
The dogs then are given six months of intensive training, followed by another six months of training with their prospective owners. Volunteers also help Angie raise money for the program in numerous ways. In August, for example, one fundraising event included a 1,000-foot-long "slip and slide" spanning a downtown street in Fayetteville.
Currently, the organization relies on donated dogs or rescue animals. "We need to build up the pipeline of dogs," Angie said, again noting that very few dogs prove to have just the right traits to be PTSD service dogs – Soldier On Service Dogs is also committed to helping unsuitable animals find good homes.
"Too-friendly dogs, we generally give those to folks who want to train therapy dogs," Angie said. "If the prey drive is too high, becoming a search-and-rescue dog might be a good alternative; if they are aggressive, we might call the local police department. The worst thing that can happen is they become pets, and we have a waiting list for dogs that wash out."
Angie estimates she spends 60 to 80 hours per week volunteering. She admits it's a new experience for someone used to owning rental properties, investing in startup businesses, and running her own companies.
"I find myself at a loss for words as to why I do this," she said, "but it's definitely better to give than to receive. I'm now a PTSD advocate and a veterans' advocate. But once you see what these dogs do for these guys, it's life changing."
Do you know an incredible woman like Angie who's making a difference in your community? Nominate her for a 2017 Women of Worth Award!
Share this post