Shelter Volunteer Coordinator Uses Her Resilience to Help Dogs Find Their Home
Meet Daily Point of Light Award honoree Kristy Michalski. Read her story and nominate an outstanding volunteer or family as a Daily Point of Light.
Kristy Michalski's sunshine-filled disposition has fueled her development of resilience, which she uses to help homeless dogs. She serves with Fetching Tails, a small animal shelter that opened in 2015 in the metro Chicago area. As of today, Fetching Tails is the temporary home of 90 dogs waiting for adoption. However, man's best friend is in good hands with Kristy taking the lead with the shelter's volunteer and adoption efforts.
"I've been through some difficult situations but I always had a support system," says Kristy. "I want to be a support system for the dogs, too."
Kristy fosters medically fragile dogs, runs adoption show events with established retail partners, accompanies her parents to drive 100 miles to provide freedom rides for at-risk dogs in high kill animal facilities, coordinates volunteers, plans orientation sessions for prospective volunteers, and takes photos of adoptable dogs.
With her positive can-do attitude, passionate warm listening heart, and her ability to instantly calm a stressed neglected dog, no one would ever suspect that Kristy has endured tremendous physical pain leading up to her recent foot amputation. Having to withdraw from vet tech school because of limitations caused by a serious bone infection, Kristy has directed her energy to join forces with an all-volunteer successful rescue. Her energy and her ability to overcome is a benchmark for all to admire.
Every Saturday, Kristy hosts an adoption event at a local pet owner's business. She assigns each volunteer with a group of dogs to show them to the local community, in the hopes that they will find their furrever home. Each dog gets a green bandana with a little 'adopt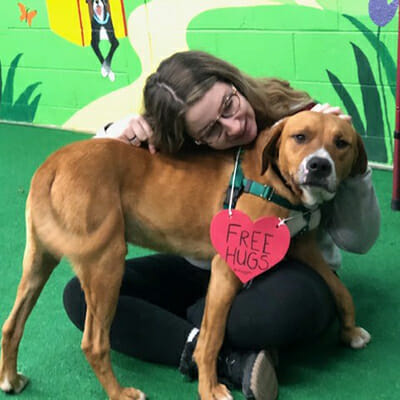 me' slogan written on it. The dogs have a chance to play and socialize with each other and hopefully taken in by a good family.
"Seeing a dog adopted is the most rewarding and challenging part," says Kristy. "On the one hand, it's hard to say goodbye, but we want our dogs to go to a good family and be happy."
Kristy is passionate about helping dogs find their happily ever after. She understands every canine has its quirks, but all dogs are loving and want to be loved.
"Some people stereotype certain breeds of dogs as aggressive," Kristy explains. "But they're not inherently aggressive. They're taught those behaviors, but no dog is born aggressive."
Kristy explains that Fetching Tails accepts all dogs regardless of their medical condition or behaviors. They spend time and resources ensuring dogs receive the training, treatment and attention they need before they're adopted. Most of their dogs have come from animal control, where they take in dogs that are at risk of being euthanized. No matter what their condition or background, Kristy offers support and love to all dogs that come through Fetching Tails. Her favorite rescue story was with Paisley, a deaf dog who she trained using sign language. Paisley was able to understand the sign language and obey accordingly.
"Watching their progress is rewarding," says Kristy.
Kristy loves taking the dogs on field trips, where they get in the car and drive to Starbucks for a "Puppuccino"— a giant dollop of whip cream that is safe for dogs to lap up and enjoy. Kristy says the adoption is the most rewarding part of the work. Having undergone 14 intense medical procedures – including having her leg amputated—she feels a strong kinship with the dogs and their resilience. Kristy gives credit to her volunteer work with dogs helping her stay strong through all of her medical procedures.
"People see me and they tell me to take a break," says Kristy. "But I tell them my hands are full but my heart is more full."
You can help Fetching Tails by making a financial donation or donating items. If you're in the Itsaca area, consider fostering a dog.
Do you want to make a difference in your community like Kristy? Find local volunteer opportunities.
Share this post