Student Creates Consistent and Sustainable Ways to Mentor Youth During the Pandemic and Beyond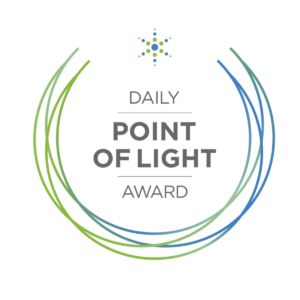 Meet Daily Point of Light Award honoree Sruthi Sentil. Read her story and nominate an outstanding volunteer or family as a Daily Point of Light.
The COVID-19 pandemic quickly made classes virtual for students of all ages during the spring of 2020. During the summer of 2021, Sruthi Sentil began mentoring students in foster care. She soon realized just how many kids were in need of connection to normalcy, and she decided to create BuddyKnit in 2021 to bridge the gap for young people across Florida.  
Peer connection uplifts and supports students of all backgrounds, said Sruthi. Equal access to traditional forms of academic support can be one of the most critical things in a student's life. Sruthi's leadership has impacted more than 250 volunteers and students with 80 long-term mentorship matches. At BuddyKnit, mentors generally meet with one or two mentees weekly or even twice a week — whatever works for both of their schedules.  
"I just needed a volunteer opportunity, which is how I first got into mentoring, but once things picked up for me, I realized that there were so many kids that needed this type of support," Sruthi said. "Case managers always had kids for me to take in, so I realized that there was no organization facilitating this connection between high schoolers and foster kids. I wanted to create that place," she added.  
From foster care kids and youth to students in homeless shelters and Title 1 schools, Sruthi's BuddyKnit connects vulnerable kids in the community to relatable peers eager to provide normalcy and fun. As she enters her sophomore year studying computer science at Cornell University, Sruthi is transitioning out of her role as executive director to hand over more leadership to the organization's executive board, who handle the majority of the day-to-day operations.  
But in the early days of BuddyKnit, Sruthi had around four kids matched up with her as mentees. She also personally recruited mentors, matched high school mentors to youth participants, expanded the program to various school districts and wrote the organization's grant applications. She also developed a web application that can now do the mentor and mentee matching on its own.  
One of Sruthi's grants that she received allowed her to start a robotics exposition initiative at BuddyKnit. Mentors and mentees were invited to spend the day in person at a partner school to create their own finished products. Sruthi hopes this new program will continue in the years to come.  
"Our mentoring isn't limited to just academics. We want to be there for our students in any capacity," said Sruthi.  
BuddyKnit has volunteers who simply play video games with their mentors or do art projects together — anything that makes them feel comfortable and offers them human-to-human connection.  
Sruthi said that the most rewarding part of BuddyKnit so far has been being able to interact with people from diverse backgrounds and ages and that it's prepared her for a future of advocacy. She shared that, while it's not always easy to appreciate the immediate impact of your work when activities and meetings are virtual, seeing the fourth and fifth graders in a school cafeteria for the robotics exposition was a moment she really felt BuddyKnit come together.  
"The BuddyKnit program has been great for my daughter. She's been connected with a mentor who helps her with multiple subjects in school and is also quickly becoming a trusted friend," said Lola G., a parent of a youth involved in Buddy Knit. "The flexibility to meet online has been great for our family. I'd definitely recommend this program."  
The now 18-year-old has learned many lessons throughout growing BuddyKnit, one of the biggest ones being what she calls "effective altruism." It involves being goal oriented, but with character; it's about spending your time and knowing it doesn't have to be particularly productive — it just has to be time spent on becoming a better person. 
Sruthi wants other youth to know that there are many organizations out there to get involved with. Instead of showing up to places out of obligation, she hopes to encourage people to dive deep into volunteering and making a difference in small ways. As a highschooler, it may feel intimidating, but Sruthi knows it can be done in ways that are mutually beneficial for the volunteer and the recipient.  
When Sruthi first started mentoring, she realized that some kids did not want to be there; it was intimidating. But she knew they were going through a lot at home already. Just being a consistent source of support made the world of a difference.  
"Any small step really does matter," Sruthi said. "Even if you don't see the impact at first, just know it's there. Know it's important, and try to push yourself to continue." 
Do you want to make a difference in your community like Sruthi? Find local volunteer opportunities. 
Share this post