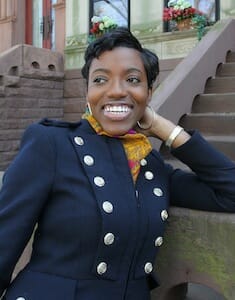 Community activist Syreeta Gates says one of the great joys of volunteerism is being able to explore interests while helping others.
"I like graffiti, so I got involved in a mural project," says Gates, of Queens, N.Y. "I also like hip-hop, so I held a hip-hop conference and started my own hip-hop online radio segment. I'm following my own passions and want to help others do the same."
In, 2007, equipped only with a $1,000 startup grant, Gates founded The SWT (Service We Trust) Life, a social venture aimed at helping young New Yorkers create innovative community service projects. Two years later, The SWT Life partnered with Project SAFE, a program of Lutheran HealthCare, to conduct an HIV/AIDS awareness campaign in Brooklyn. As a result, 500 young people got tested for HIV. The SWT Life and Project SAFE also recruited young people to paint a mural in Brooklyn about HIV/AIDS awareness.
For her work improving life in the community, Gates was named one of Glamour magazine's "Top 20 Under 25" in 2010. By this time, Gates was taking courses at New York's LaGuardia Community College, where she decided she needed to create her own major in "urban youth culture."
"Youth culture and volunteerism are what I'm all about," says Gates. "And when it comes to volunteerism, I believe in the idea of 'giving more' rather than 'giving back.' That's what guides me."
In 2011, The SWT Life held a one-day event in New York called The SWT Life: A Convo on Passions, Strengths & Purpose. Thirty high school students attended workshops and met one on one with coaches to learn about pursuing their dreams – beginning with specific projects they conceived at the conference and implemented during the following 30 days. All the students completed their projects, which included a book manuscript, a mix tape and a design for a line of clothing.
"It was one of the greatest projects I've ever worked on because the ideas were theirs rather than mine," says Gates. "To watch them come up with ideas and to be able to assist them made it very exciting."
Gates, who says she wants community service to be her "lifelong career," makes her living through speaking engagements and consulting for corporations and nonprofits.
This year, Gates published a book aimed at inspiring and empowering Millennials. Titled "Just BE Cause: Ah Ha Moments to Inspire the Next Generation of Change Makers," the book is an anthology of 33 essays by social entrepreneurs who provide guidance to young people for starting enterprises that address society's challenges.
Share this post