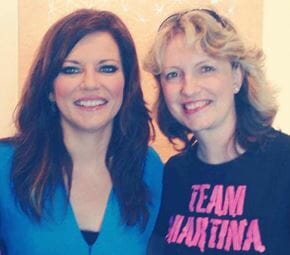 Music has the power to inspire. One song in particular moved Sheila Jones so deeply that the Madison, Ala., woman has made it her mission to help others, namely cancer patients, through volunteerism and the healing power of music.
The song? "I'm Gonna Love You Through It," performed by country singer Martina McBride, about a husband who supports his wife during her bout with breast cancer.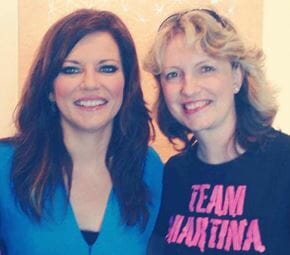 "I had often thought about doing something positive with one of Martina's songs," says Jones, a longtime McBride fan who had worked for years as a fundraiser for cancer research. "Then one day I was listening to 'I'm Gonna Love You Through It' and a light bulb went off in my head. Martina had been active in the fight against cancer, and it was a special cause for me. I decided to reach out to Martina's other fans to see what we could do together."
In 2011, Jones founded Team Martina, primarily using Facebook and other social media channels to recruit volunteers and solicit donations. More than 200 volunteers in 20 states and three countries have joined Team Martina. The organization, which has received McBride's blessing, has raised more than $100,000 for cancer research and treatment.
This year, Team Martina created the Martina McBride Breast Cancer Research Grant at Vanderbilt University. The grant provides funding for research into triple negative breast cancer, an aggressive and rare form of the disease that strikes young women. In just six months, Team Martina volunteers have raised more than $42,000 to fund the grant and created a media campaign to increase awareness of this type of cancer.
"Team Martina is committed to making the world a better place through volunteering and connecting with others," says McBride on her website. "It's a real community, and we are excited about growing it and having more and more people take part."
Since Team Martina was founded, volunteers in various cities across the U.S. have formed about 20 chapters. Members of these local groups have made Christmas visits to more than 1,500 hospital patients receiving chemotherapy. Patients receive gifts as well as special chemotherapy hats made and donated by Halos of Hope. McBride herself joined in one such visit and sang Christmas carols to patients.
"You can just imagine what that was like," says Jones. "Not only did the patients receive gifts, but there's also Martina, a top star, singing just for them."
McBride has also partnered with Team Martina in a fundraising program called "Sound Check For A Cure." These are short performances, during which McBride sings to a small group of donors prior to a concert, when an artist or technicians would normally be testing the sound equipment.
"We limit the audience to 50, so it's a very intimate environment," Jones says. "When Martina finishes, she comes down to greet the audience and pose for photos."
Jones emphasizes that Team Martina is not limiting its efforts to cancer research.
"Part of what we want to be is Martina McBride fans helping the overall community," says Jones. "At one of the Sound Check concerts, we used the money raised to build a children's playground in Atlanta. Also, many of our members have been exposed to domestic violence. Domestic violence is one of Martina's causes, and as Team Martina grows, we'd like it to become one of ours." (Domestic violence is a cause for Jones, too; her mother had been abused.)
Team Martina grew so quickly that Jones now oversees the organization full time, with the support of her husband and 11-year-old daughter.
"It's been a grand adventure," says Jones. "If you have an idea for a volunteer project, definitely go for it. You'll be amazed by the good things that come into your life, and it won't even feel like work."
Share this post