Teen Builds Friendships, Fosters Acceptance Through Inclusive Team Sports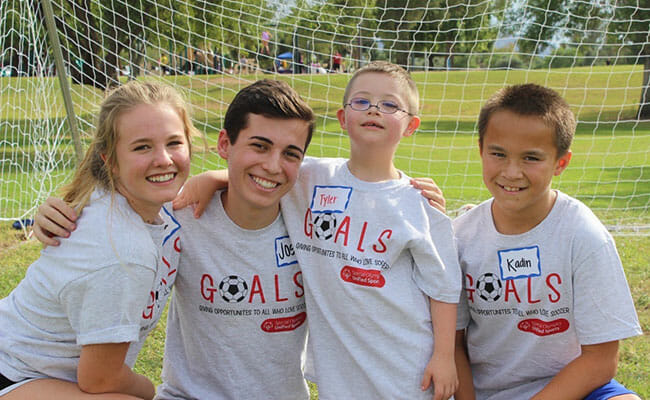 For Josh Kaplan, giving back to the community is part of who he is. Driven by the Jewish concept of Tikkun Olam, or "repairing the world," he believes each of us has the power to create change and participate meaningfully in the world around us.
An avid soccer player, Josh turned his passion into action when he launched GOALS (Giving Opportunities to All who Love Soccer) in his hometown of Phoenix. The program partners young athletes who have intellectual disabilities with neurotypical peer buddies, who then play as unified pairs in small-sided, non-competitive games twice each month. Inspired by a teammate's brother, whose Down syndrome prevented him from joining a soccer team, Josh created GOALS to help break down barriers, build friendships and foster genuine acceptance through the team sport.
Now a freshman at Emory University, Josh continues to lead GOALS and is actively involved in the Atlanta community. He currently serves on the Special Olympics Arizona Youth Activation Committee and as an ambassador for Youth Service America and Special Olympics International.
We spoke with Josh to learn about what drives his passion for service, his dreams for GOALS and why he thinks everyone should get involved in their community.
What have you learned through your experience starting and running GOALS?
Starting GOALS wasn't easy. As I overcame one hurdle after another — finding funding to buy equipment, reserving fields, recruiting athletes and buddies — the sense of accomplishment propelled me forward. I've acquired valuable, real-life skills: budgeting, planning, grant-writing, web design, and communication. But seeing how much being treated as part of the team means to the special needs athletes at GOALS is the real reward. For many kids, GOALS is the first time they experience genuine acceptance.
What is your vision for GOALS in the next five years?
In the next five years, I can see GOALS becoming a national organization, with youth running programs in communities across the country. We're already taking the next step by partnering with Special Olympics Georgia to launch our second chapter here in Atlanta!
How can people get involved with GOALS?
Visit our website, www.kickingoals.org! There, you can find information about our program, its history, and how to volunteer at one of our events. You can also send us an email if you are interested in participating but aren't able to play in one of our scrimmages.
Why do you think it's important for others to get involved and make a difference in their community?
Judaism is fundamental to my identity, and particularly important to me is the Jewish concept of Tikkun Olam, or "repairing the world." Tikkun Olam is the idea that each of us must leave our piece of the world, no matter how small that piece is, better than how we found it. Collectively, we have the power to change the world, so long as we each do what we can to impact what is within our reach. Volunteering allows us each to step outside our bubbles, not just to see the world but to participate meaningfully in it.
What do you hope people take away from your story?
No matter your age, you have the power to make a difference. It is easy for young people to feel disenfranchised because their voices aren't heard. But they also always have creative ideas to solve our world's most pressing issues. So find your passions and talents, and challenge yourself not just to see the world but to participate meaningfully in it. Communities aren't whole until everyone feels not just tolerated, but accepted.
Do you want to make a difference in your community like Josh? Visit All For Good to find local volunteer opportunities.
Share this post