Teen Delivers English Language Books to Create Multicultural Understanding and World Healing
Meet Daily Point of Light Award honoree Jocelyn Greshes. Read her story and nominate an outstanding volunteer or family as a Daily Point of Light. 
Jocelyn Greshes has been volunteering for the past five years at local public libraries in New York. One day, she entered a library storage room and saw carts brimming with books about to be discarded. Jocelyn immediately thought that these books could be donated to orphanages and social welfare institutions in Japan, helping to expand underserved children's worlds through reading. The idea for BookShare was born. 
Jocelyn hopes to pursue a career in diplomacy. Her goal of being a diplomat stems from her belief that multicultural fluency can help the world heal. She hopes to contribute to that healing through cultural understanding, and books, particularly children's books, are the gateway to that understanding. 
What inspires you to volunteer?
I enjoy volunteering at the Mamaroneck Library because the library is a symbol of democracy, where people of all varieties can learn and grow. A library is a safe place to congregate and meet fellow members of the community. Libraries are central to communities, and bind people together. 
Over five years I have compiled over 400 library service hours by cleaning and shelving books, assisting patrons, and supporting children with crafts and readings. I am the President of the Teen Advisory Board. I manage funding and free programs such as tutoring, movie and craft events, all in the name of creating a safe space where people can come together regardless of their socioeconomic status.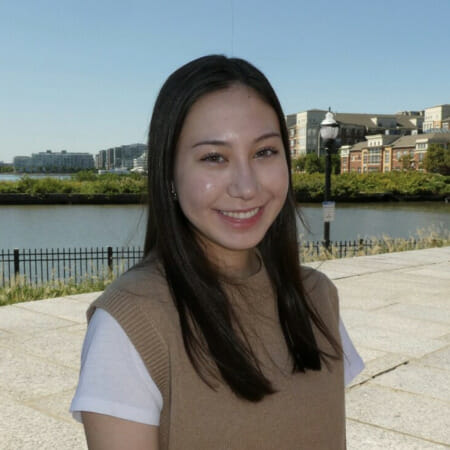 Describe your volunteer role with BookShare.
I founded a service organization called BookShare. I send donated English books to orphanages and other institutions in Japan to improve underprivileged children's English skills and enhance their interest in language acquisition, as foreign language resources are scarce. English is mandatory in Japanese schools. BookShare prepares these children for future success by introducing them to foreign cultures and the magic of reading.  
I pack and ship the books, and communicate in Japanese with the institutions' managers. To finance the shipments, I donate 100% of my pay as a library page on the children's floor. I have delivered books to over 10,000 children and raised more than $3,000 in donations. As I am half Japanese, this is an initiative very close to my heart. 
What's been the most rewarding part of your work?
I regularly communicate with the children and have formed special friendships and I receive hand-written letters of gratitude from them. The children received opportunities to explore English and new horizons of learning, and I got a great sense of satisfaction in return. Physical distance and cultural differences need not separate us! Kindness can eliminate such boundaries. 
What have you learned through your experiences as a volunteer?
You don't have to start a nonprofit or ship packages across the ocean to make a positive change in someone's life. The act of giving is neither an obligation nor a chore. It sparks joy, and in my case, international understanding and connectedness. 
Are there any future partnerships, programs, or events that you are excited about?
I eventually want to pursue a career in diplomacy. I want to earn a graduate degree in International Relations. I want to work with governments, nonprofits, or companies specializing in geopolitical strategy.  
Why is it important for others to get involved with causes they care about?
A simple, selfless act could mean the world to those in vulnerable situations, and with the COVID pandemic, vulnerability has seemingly become the norm rather than the exception. More than ever before, the world needs compassion, and that is something that every one of us is capable of providing. It is time we start taking matters into our own hands and being the "friends in need" that we all need at times. Giving is a dual blessing: it benefits the giver as much as it helps the receiver. 
What do you want people to learn from your story?
Donating a bit of your time and of yourself to help plant a smile on someone's face can mean the world to those in need. A simple act of caring in any form can transform, empower, and invigorate a life and you will wholeheartedly love doing so. There is an indescribable beauty in being a friend to others, and it is time we all explore it! 
Do you want to make a difference in your community like Jocelyn? Find local volunteer opportunities. 
Share this post