Teen Serves Seniors in Need the Gift of Birthdays
Meet Daily Point of Light Award honoree Rinna Talwar. Read her story and nominate an outstanding volunteer or family as a Daily Point of Light.
As a 2nd generation American, 15-year-old Rinna Talwar says her family, who arrived in the U.S. from India in the 1950s, has always put an emphasis on uniting their community. Now, the high school sophomore is bringing together seniors and veterans in her own way, by celebrating their birthdays.
As the founder of the Senior Citizen Division of The Birthday Giving Program, Rinna says about 80% of individuals living in nursing homes don't receive regular visitors, often struggling with loneliness. Changing lives one birthday at a time, the Roselle, Illinois teen provides birthday bags and cakes to in need senior citizens and veterans. Since 2017, Rinna has celebrated hundreds of birthdays with seniors and veterans, her volunteerism serving as a reminder that they are not alone.
What inspires you to volunteer?
My cousin Sonika Menon founded The Birthday Giving Program, and her volunteerism has inspired mine. We are serving seniors and veterans who sometimes don't have anyone in their lives to celebrate a birthday with. When my family first immigrated to the U.S., my grandfather founded a temple in Illinois and he was able to bring many people together. Our birthday parties facilitate that same togetherness, so that everyone feels included.
Describe your role with The Birthday Giving Program.
As the founder of the Senior Citizen Division of The Birthday Giving Program, I am in charge of collecting supplies and then assembling the birthday bags. My younger sister, Anya, and I pack bags for each birthday party. I am also in charge of hosting the birthday parties and celebrating with attendees.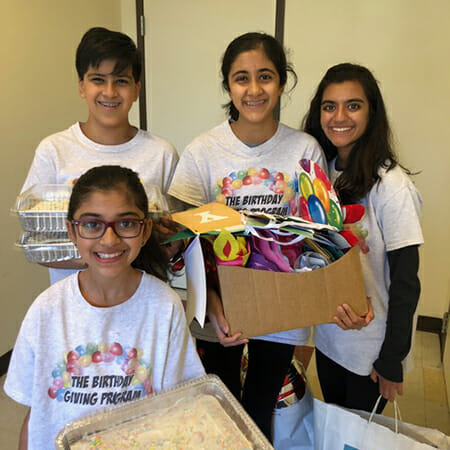 Tell me more about these birthday bags.
We try to customize the bags as much as possible. In addition to our bags for seniors and veterans, we also distribute birthday bags to hospitalized children. We'll make or buy cakes and also include candles, plates and party hats to celebrate a true birthday party. We include crossword puzzles, socks, hats, toiletries, snacks and other items in the bags, and as a finishing touch, a balloon is attached to a teddy bear to go along with the bag. We'll even customize the items by month – in February we have heart-shaped items, and we celebrate Veterans Day for our vets because of how much they've given to us. If we can't celebrate in-person, we'll include cake mix and frosting in the bag.
Your birthday parties also feature entertainment, right?
Yes, we play the song "Happy Birthday" for our party attendees and my sister and I both play piano. The music is a really important aspect because it brings seniors and veterans together.
Share one personal story with me from your volunteerism.
Some of the seniors I work with have Alzheimer's or Parkinson's disease, and it's not always easy to communicate with these individuals. We hosted a birthday party at Lakeview Memory Care Community in Illinois, and my sister and I started playing "Don't Stop Believin'" on the piano by Journey. This man was listening to us play the song and he began crying. The director of the facility told us that the man used to sing that exact song together with his wife, and his wife had just passed away. It was an inspiring moment for me because I was bringing back a memory to this man that was so important.
What's been the most rewarding part of your service?
It's been rewarding to spend time with seniors and veterans through my volunteering. People don't realize the importance of giving back. It's not about money but instead, sitting down and getting to know these people personally.
In one word, what does volunteering mean to you?
Togetherness.
What's your favorite birthday cake flavor?
(Laughs). Mine is vanilla cake with chocolate frosting.
How can readers help?
We are not able to distribute birthday bags due to the coronavirus pandemic, but we're setting up a GoFundMe page for donations so that when we are able to host birthday parties again, we have enough supplies. Please visit our website for more information.
Do you want to make a difference in your community like Rinna Talwar? Find local volunteer opportunities.
Share this post
---