Teen Volunteer Fights Infant Heroin Addiction with "LOVE" Blankets
Meet Daily Point of Light Award honoree Sidney Depp. Read her story and nominate an outstanding volunteer or family as a Daily Point of Light.
Tremors, fussiness and fever are just some of the symptoms babies experience as they go through newborn drug withdrawal. When Sidney Depp personally witnessed a baby struggling through these heartbreaking side effects, she knew she wanted to help infants and mothers whose lives have been torn apart by the opioid epidemic.
Sidney launched "The Love Project; Helping Heroin Babies get Addicted to LOVE" in 2016, an initiative to fight addiction and comfort babies during the withdrawal process. Discovering that Ohio has the second highest number of fatal drug overdoses in the country, the now 17-year-old Springboro, Ohio resident donates swaddling blankets to babies going through withdrawal. Providing 4,000 blankets across her community thus far, Sidney is spreading a message of hope and love to mothers struggling with addiction and their babies.
What inspires you to volunteer?
I'm a strong Christian, and I feel called to serve. I believe that's how we should live our lives. I believe in the statement that God is first, others are second, and I'm third. As I was researching more about addiction, I discovered that every 19 minutes, a baby is born addicted to drugs. Addiction isn't happening far away – it's happening in cities 20 minutes away from my home. We help to comfort these babies with our swaddling blankets, and also, spread awareness about this issue.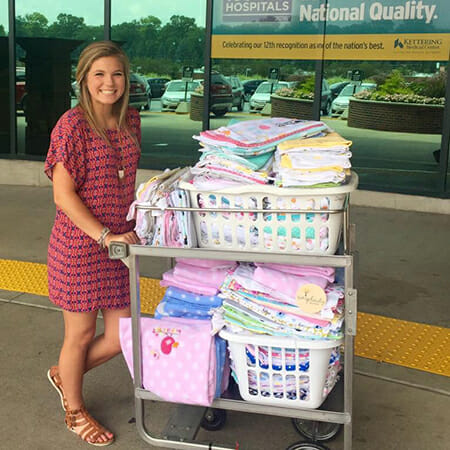 Describe your role with "The Love Project; Helping Heroin Babies get Addicted to LOVE".
As the founder of The Love Project, I receive donations of unopened blankets from around the country – South Carolina, Texas, Montana – that we donate to babies in need. I also fundraise for supplies and coordinate with organizations who can receive our swaddling blankets, including hospitals. I'll assemble and customize up to 300 blankets per donation. We heat press a special message of love onto each blanket for the mothers and babies, and we print "Jeremiah 29:11" on each to remind these mothers to stay hopeful, and that God has a plan.
Share one personal story with me from your volunteerism.
I've received quite a few messages from mothers who have received these blankets. I remember one little baby – not a little baby anymore – (laughs), his mother messaged me a few months after receiving the blanket with an update on the baby. She let me know that she'd been in rehab and was six months clean. It's really cool to hear from these mothers that I gave them a little message of hope and love during such a difficult time.
What's been the most rewarding part of your service?
I am making a difference, and I am inspiring other young people. No matter your age, whether you're 14-years-old or 45-years-old, you can use your gifts and skills to make a positive impact in your community, state, or country.
What have you learned through your experiences as a volunteer?
It can be hard to step outside of your comfort zone and start a project that you might not have experience with, but it's great knowing that if you take that leap of faith, your community will get behind you.
What's your personal motto?
Do unto others as you would have them do unto you.
When you're not busy volunteering or at school, what do you do for fun?
I am a varsity sideline cheerleader. I love my church. I'm currently a senior in high school, and I'm doing a lot of college visits on the weekends. I also work as a sales associate and a spokesmodel at a local dress shop.
How can readers help?
Please visit our Facebook page for more information about how you can help.
Do you want to make a difference in your community like Sidney Depp? Find local volunteer opportunities.
Share this post