Teen Volunteer is Loyal Companion to Neglected Senior Dogs
Meet Daily Point of Light Award honoree Meena Kumar. Read her story and nominate an outstanding volunteer or family as a Daily Point of Light.
It's been said that "a true friend leaves paw prints on your heart." 14-year-old Meena Kumar is showing the world that all dogs, no matter their age or breed, deserve a forever home in return for their unconditional love, bettering her community by demonstrating the acceptance and love the San Jose, California teen has personally experienced.
Abandoned as a baby, Meena was just nine-months when she was found in a basket on a college campus in Pune, India. The infant was then taken to an orphanage, before she was adopted by a couple in Mumbai and raised in San Jose. Meena's harrowing beginnings have made her acutely empathetic to others in need of love and care.
"I was abandoned, but It feels amazing that I was able to join this wonderful family and have so many opportunities," says Meena. "I am inspired to help others find their passion, and make their dreams come true."
Helping those who have been left behind like she was all those years ago, Meena is volunteering to give senior dogs a second chance at life, through Muttville Senior Dogs Rescue, which rescues about 1,000 dogs each year. First offering to volunteer at Muttville at the ripe old age of nine, Meena also pet sits to raise money for man's best friend, often older, passed over for puppies and left behind in shelters. She owes the special connection to senior dogs because of her devotion to her grandfather, who she lost last year.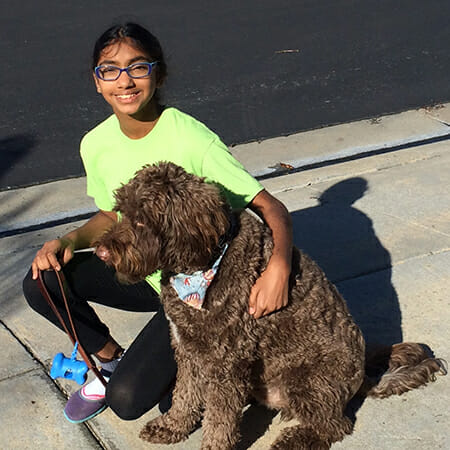 "It's important that we give back to people or animals that have given us so much love. I have a special connection to older dogs because of my connection to my grandpa. Senior dogs out there deserve a loving home. They've given us so much love and they deserve a loving home just like I found mine. Just like I was abandoned, the senior dogs were also abandoned. I am grateful, and want to give dogs the same amazing life I got."
That shared experience of being left behind makes her service even more sincere, says Sherri Franklin, founder and CEO of Muttville, who says the teen is paying it forward in more ways than one.
"All living beings need to be loved and cared for," says Sherri. "(Meena) found purpose in coming to Muttville, seeing these abandoned, sometimes discarded, neglected dogs that are now getting a second chance at Muttville to have a loving family. Nothing could touch you more deeply than having that empathy and compassion around another being that had a similar past. And then she found a way to work and benefit these animals (through her pet sitting). She's paying it forward."
With her own adopted dog, Bambie, a Chihuahua, Terrier, Border Collie and Dalmatian mix, at home, Meena offers services including dog walking and boarding to her neighborhood, taking her earnings and donating them to Muttville. Inspiring others through her giving spirit, Meena isn't just giving back to dogs in need, she's strengthening bonds in her neighborhood, bringing her community together in a time of uncertainty and distance.
"We have this really close customer," says Meena. "She brings her pug, named Bocci, over for me to babysit, and now she has a puppy named Cannoli. It's special, because I feel like we've gotten to see the pug grow up and now the puppy. It's really cool. My business is all about a trust-based relationship. I'm getting to know people in the community by being a friend and supporting a good cause."
Raising close to $25,000 for Muttville, Meena hopes that more people will adopt older mutts during the COVID-19 pandemic. Her particularly prescient life motto, "Always care about others because you never know what they might be going through," is demonstrative of her service, which is having an impact that will ripple beyond just her singular actions, says Sherri.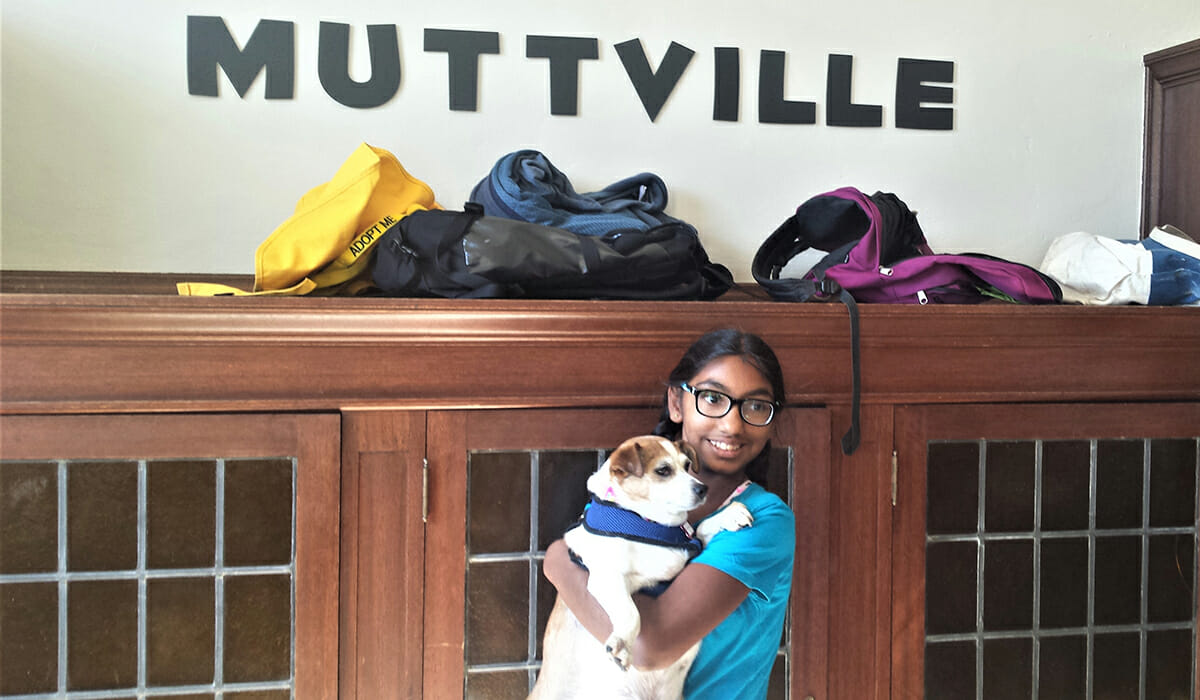 "She's been a spokesperson to her friends, community and because of that, her impact is much greater than financial. The impact of community, education, of youth telling other youth about what she's doing, How one (now 14-year-old) could make a huge impact, shows other kids that they can also do the same kind of thing. Her work loving senior dogs and for our mission to mean so much to somebody so young is so beautiful, and I know that the impact will spread and grow the more she talks about it and the more she lives it."
Because of the pandemic, Meena has not had as many pet sitting customers, but she's joined the team at Pebble Naturals, advocating for better pet health, particularly amongst senior dogs, who can be saddled with serious medical conditions. In spite of her young age, Meena's dedication to four-legged friends in the winter of their lives is evidence that the teen is wise beyond her years. The future entrepreneur, who plans to expand upon her pet services business to give back, says age doesn't define ability, no matter how old or young.
"It's never too young or too old to volunteer. As long as you have the passion and dreams, you can really make a change in this world, at any age."
Do you want to make a difference in your community like Meena Kumar? Find local volunteer opportunities.
Share this post