Teen Volunteer Promotes Environmental Conservation with "Plastic Free NC"
Meet Daily Point of Light Award honoree David Yoon. During the third annual Global Volunteer Month, we celebrate the power of people who tackle society's greatest challenges, and build stronger, more vibrant communities through volunteerism and everyday actions, like David. Read his story, and join the Global Volunteer Month celebration.
As a volunteer with Love A Sea Turtle (LAST), David Yoon engaged in environmental stewardship in his community and had the opportunity to impact many youth through his service, an effort that has since grown through his own initiative within LAST, Plastic Free NC.  
Founding Plastic Free NC, a youth-led conservation and awareness initiative, David, a 16-year-old Greenville, North Carolina, student, is helping to reduce, remove and provide alternatives to single-use plastics and decrease the quantity of plastic waste by advocating alternatives such as metal straws, reusable water bottles and biodegradable or reusable bags. Beyond its environmental goals, David's service is uniting his community and opening the doors to volunteerism for others.  
What inspires you to volunteer?
My inspiration comes from my love for my community. Regardless of background, age or gender, everyone can inspire change. I want to be that example for people, so my peers know that anyone can do what I do. 
Describe your volunteerism with Plastic Free NC.
As founder and executive director of Plastic Free NC, I mentor our volunteer student leaders from around the state and organize initiatives to make sure we're meeting our goals and educating the public. We focus our efforts around Greenville, and then students extend that impact across the country with their own initiatives.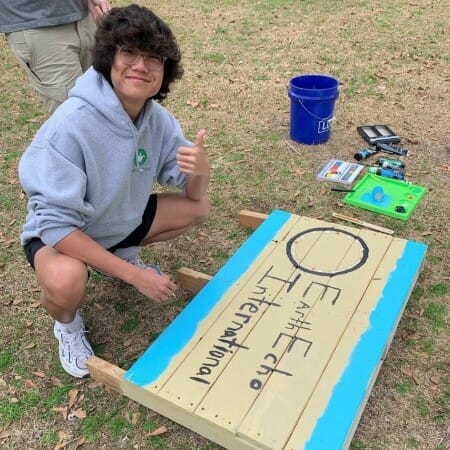 Share one personal story with me from your volunteerism. 
Two years ago we held a camp for underserved youth, and I met a kid who didn't know how to ride a bike. While I was teaching him how to ride, he started crying saying he didn't have a father growing up, and he'd always wanted to learn. During the week he learned how to ride and his mother learned to ride with him. We formed a bond, and we talked about how when I was a child I'd ride my bike around mountains, so we dreamed that we'd ride bikes together around mountains someday. That showed me I made an impact and was changing lives for the better.
Why do you think it's important for others to give back?
We have so much to give back to people who don't have much or anything at all. That is one of the main ways we can create impact in our community. Volunteers or leaders who are giving back need to utilize their talents and resources to help others progress. 
How have you continued to volunteer throughout the COVID-19 pandemic?
We were a very face-to-face organization. We'd visit businesses and discuss conservation methods, including switching from single-use plastic items. Because of the pandemic, people were afraid of using recyclable and renewable utensils. That was a big obstacle but we overcame it by writing letters to local newspapers and staying engaged with the community virtually. The pandemic slowed us down, but it did not stop us. 
What do you want people to learn from your story?
Don't be afraid to be the change you want to see, or don't be afraid to take the risk and fix a problem in your community, even if you don't know how to solve it.  
In one word, what does volunteering mean to you?
Leadership. 
When you're not busy with school or volunteering, what do you do for fun?
I love listening to music, and I love playing tennis. 
How can readers help?
Please visit the Plastic Free NC website for more information about how you can help.  
Do you want to make a difference in your community like David Yoon? Find local volunteer opportunities. 
Share this post