Teens Come Together for Education, Coding and STEM Skill-Building
Meet Daily Point of Light Award honoree Lalitha Gunturi. Read her story and nominate an outstanding volunteer or family as a Daily Point of Light.
Teens coming together to help foster a love of learning: that's the basis for CREATE Tutoring, an educational organization founded by 16-year-old Lalitha Gunturi from Eden Prairie, Minnesota.  
Lalitha grew up in a family that valued education. During the pandemic, she noticed that motivation and interest in learning — including her own — dropped significantly because everything was online.  
Students were struggling without a teacher's hands-on classroom approach. Some families hired tutors, but tutoring was financially inaccessible for many students. Lalitha felt that a new approach was needed to keep kids engaged with education. In March of 2021, Lalitha and a childhood friend launched CREATE Tutoring, an innovative free virtual tutoring program for K-5 students. The program is staffed entirely by high school student volunteers. 
As of May, CREATE has offered 2,000 hours of tutoring, taught 1,300 lessons, run three workshops and organized numerous events. The tutoring network ranges from 50 to 100 active high school volunteers. 
The CREATE mission is to help students create a brighter academic future for themselves by fostering healthy study habits, learning accelerated educational content, exploring personal interests through workshops and finding an engaging relationship with education. The organization's objective is to make kids feel confident and supported in their educational journey.  
What inspires you to volunteer?
There are a plethora of reasons as to why I enjoy volunteering. First off, volunteering gives me the opportunity to contribute to my community and make a difference for the people around me. Seeing kids at our workshop and events with big smiles and laughter makes me so happy and motivates me to continue doing what I do.  
Additionally, volunteering allows me to build on my current experiences and learn many new skills. Volunteering also connects me to new people all the time that impact my perspective and leave an impact on me.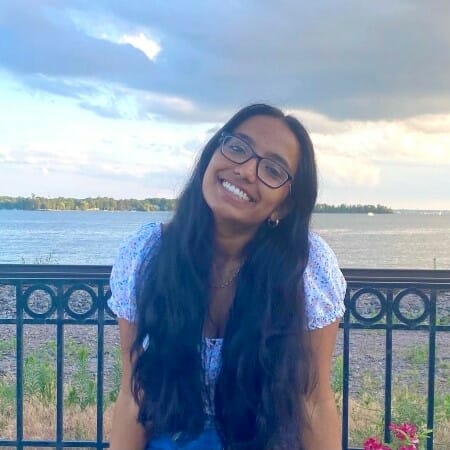 Describe your volunteer role with CREATE.
I co-founded CREATE Tutoring in March 2021, with a childhood friend. Since then, I have taken a leadership position in the organization. Along with my friend, I lead and manage CREATE Tutoring. My work deals with a lot of admin work, along with leading meetings with our board of officers, running our social media pages and communicating with anyone who wants to work with CREATE.  
Through my role, I feel like I have a lot of creativity and freedom. I get to put a hint of my own personality into everything, from our social media posts to our workshop curriculum. Furthermore, I work to develop a majority of the content for our technology/STEM-related workshops and advocate for an increase in female diversity in the tech/STEM fields. 
We also strive to help make sure all students have equal access to our program and would love to help close education gaps in our communities. 
What's been the most rewarding part of your work?
The most rewarding part is to see the kids see themselves start doing better in school, seeing their enthusiasm to learn new things grow and overall be excited to attend our events. One particular memory that really makes me feel like I am making a difference is when a girl came up to me after our workshop and said, "OMG, I didn't even know you could do that. I am going to go home and build another website!" This really made me feel like I was making an impact since now this girl has her eyes opened to a whole new world of opportunity.  
Getting comments like this inspires me to continue doing what I do. This shows that what we are doing is making a direct impact. We've also had many parents contact us with positive feedback explaining how their children love their experiences through CREATE. 
What have you learned through your experiences as a volunteer?
I have learned so much from founding CREATE. As a founder and leader, I have gained crucial leadership skills. Through working with a board of officers and hosting multiple workshops, I have strengthened my communication and collaboration skills. Furthermore, to take a more innovative approach, CREATE builds its own curriculum for each workshop so that the content is developed specifically for its audience/age group. Through doing this, I have learned what education styles tend to work better for younger students, what methods of presenting information are the most effective and how to create lesson plans and educational activities. 
I could not be happier about how much of a success this organization has become. What started off as just a simple idea has now grown into a full-blown organization! I have put so much time and effort into CREATE and am happy to see what it's become and where it's going to go in the future.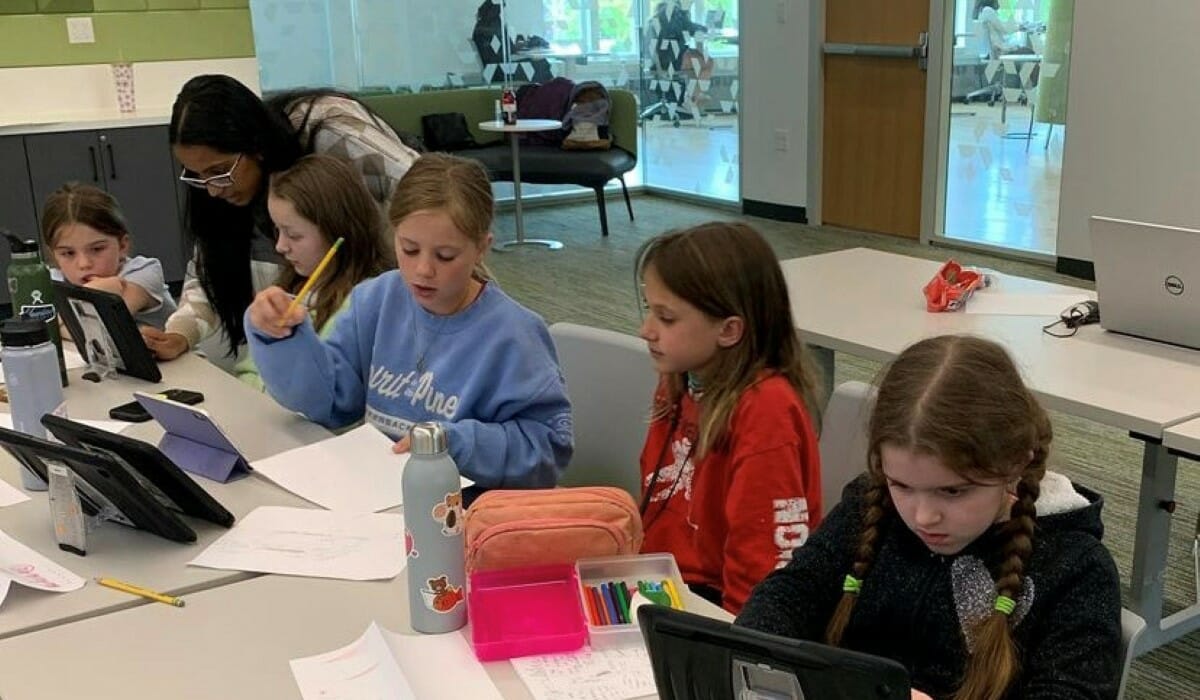 Are there any future partnerships, programs, or events that you are excited about?
I am super excited for our next workshop called "Introduction to Block Coding Workshop." This workshop really resonates with me because my love for coding started with block coding on Code.org. I cannot wait to host this workshop and see the reactions from all the participants. The curriculum for this workshop is still in the works but we plan to host it sometime in early September. 
Why do you think it's important for others to get involved?
I believe that getting involved in your community can be a very rewarding activity. It also connects you with a variety of people that you can learn from and be inspired from as well. It opens up a multitude of new experiences and activities. Lots of times volunteering and contributing to your community makes those who are impacted happy. I'll be the first to say that happiness and laughter are contagious and volunteering helps put smiles on everyone's faces. I like to think that more smiles means a stronger community! 
What do you want people to learn from your story?
I want people to learn that you are never too young to get involved with your community. There is always a way to volunteer and if there isn't, then you create an opportunity. Speaking from experience, creating your own way of giving back to your community is incredibly rewarding and something you will never regret. I always thought I couldn't make an impact because I was only 14 at the time, but it is never too early to start. On the other end of the spectrum, it is also never too late to start with volunteering. The beauty behind volunteering is that it can be done at any time, by anyone, about anything. The possibilities are endless! 
Do you want to make a difference in your community like Lalitha? Find local volunteer opportunities. 
Share this post