Ten-Year-Old Starts Recycling Company to Help Save Environment
Meet Daily Point of Light Award honoree Ryan Hickman. Read his story and nominate an outstanding volunteer or family as a Daily Point of Light.
Ryan Hickman may be the ultimate example of proving you can make a difference no matter your age. When he was just three and a half years old, he was so inspired by a visit to a local recycling center with his dad that he decided to start recycling for his neighbors as well. Now ten, Ryan has translated his passion for recycling to Ryan's Recycling Company. He travels around his Orange County, Calif. community picking up neighbors' cans and bottles, which he then sorts and delivers to a recycling center.
Ryan's passion for recycling has led him to travel the world in order to raise awareness on saving the planet. He also participates in beach cleanups and sells Ryan's Recycling Company T-shirts, donating all of the proceeds to the Pacific Marine Mammal Center in Laguna Beach. Since its inception in 2012, Ryan's Recycling Company has recycled over 800,000 cans and bottles and raised over $10,000 for the Pacific Marine Mammal Center.
Points of Light spoke with Ryan as well as his dad, Damion Hickman.
Describe your volunteer role with Ryan's Recycling.
Ryan's Recycling is a recyclable company that recycles cans, bottles and glass. I've recycled since I was three and a half, when my dad took me to a recycling center. I just loved it and I wanted to keep recycling.
Why is recycling important to you?
I like recycling because it's really fun and I love saving the environment and saving animals so they don't get sick and die.
Where do the proceeds of your recycling shirts go?
All of the money for my Ryan's Recycling shirts I donate to the Pacific Marine Mammal Center in Laguna Beach. I thought it would be a great charity to donate money to, plus I really like sea animals.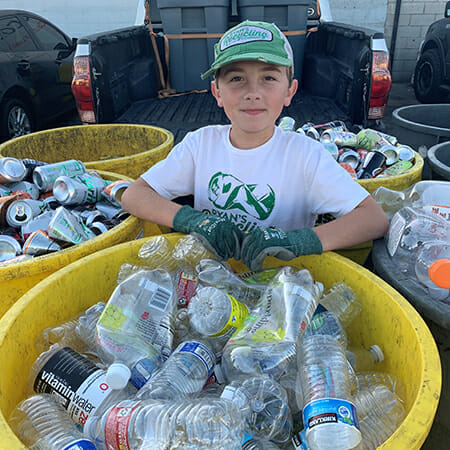 Are there any future partnerships, programs, or events that you are excited about?
I am going to be going to New Orleans, San Jose, and Budapest, Hungary. I'm going to speak in San Jose talking at a recycling center that just opened up, New Orleans at a waste expo conference for people who recycle, and Hungary, I'm going to be speaking to a bunch of people. And [in] Virginia, I'm going to be having two events back to back, day after day, speaking to people for two hours each which is very fun.
When you speak to people around the world, what do you tell them?
I tell them how important it is to recycle and and also what they could do to make a difference.
what is something that people could do to make a difference?
Something they could do is probably pick up trash if they see it on the ground. If they're drinking Coke, make sure they recycle the beverage container instead of throwing it away. Maybe do a beach cleanup. Help a local charity. Things like that.
What would you want the people who are throwing trash on the ground, or anyone who doesn't think recycling is important, to know?
I think they should know it's really easy because I started when I was three and a half and they're way older than me, like really older than me. I'm ten and I've recycled almost a million cans and bottles. They could be saving the planet too, but they just aren't trying. They should really try to help save their planet.
Do you have a favorite memory from your time volunteering?
People in Belize recognized me from all the beverage glass containers we had. We found a recycling center there and when we went to recycle them, a lady was cashing in her bottles and the guys that worked there recognized me, like 'Hey, you're the kid from Youtube!' We gave them some shirts and some hats. The next day, we saw them on the island wearing my shirt, because the island was pretty small that we were staying on off of Belize.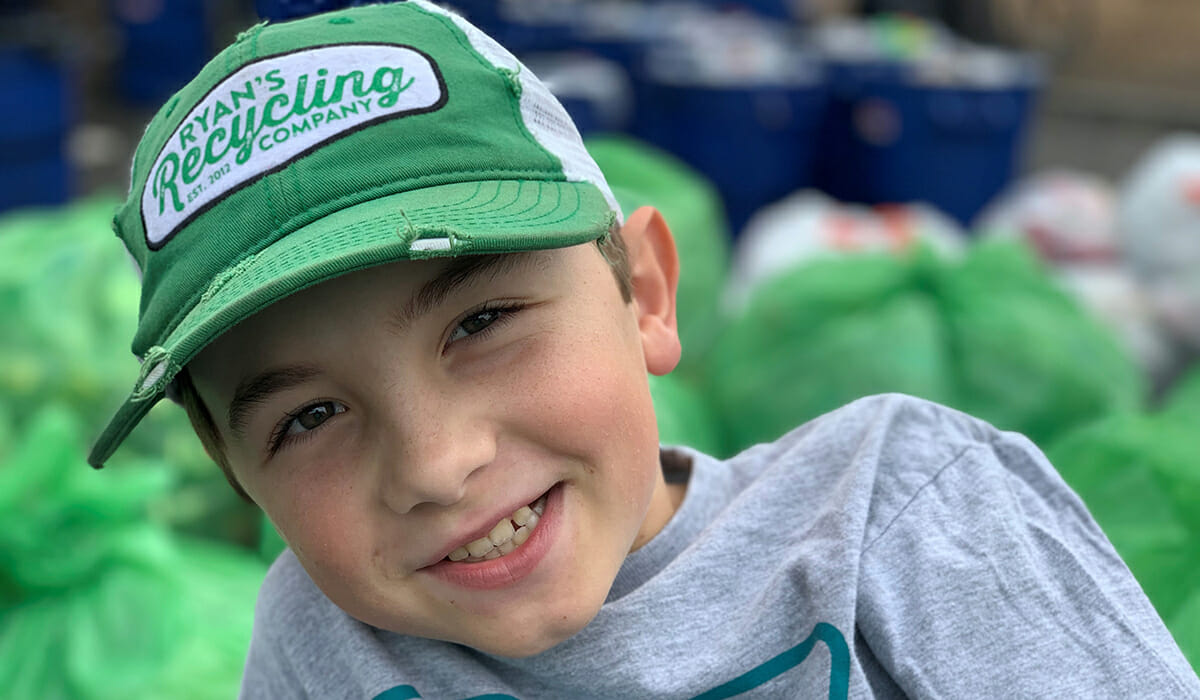 Do you have any plans for your future when it comes to your volunteer work?
Ryan: I'm starting a nonprofit coming up, probably in a few months. [It's] recycling awareness. … I just want to start it because I feel like the beach cleanups do that, and people could donate money to help me get equipment for beach cleanups and stuff separate to Ryan's Recycling. Also, to travel all the way around the world to teach people about recycling. The name is probably going to be Project 3R.
Damion: We're in the middle of registering that right now so there is a slim chance that we might have to change the name, but we're pretty sure that's it. Ryan gets hundreds of emails a day from around the world from all other countries — people asking how can they recycle in India, Africa, all sorts of places. Ryan already goes around the country here talking to people about recycling and what they can do better, and kind of the next step for him is having the resources to potentially go to other countries and maybe help them set up recycling centers and education [for] countries that don't have the infrastructure.
What's been the most rewarding part of your work?
The most rewarding probably is being able to save the environment and not have animals get sick and die, and inspiring kids all around the world.
Why do you think it's important for others to give back?
I think it's important for others to give back to their community because it's good for the environment. Whatever they're doing, it will make a big difference in the environment and their community.
Do you want to make a difference in your community like Ryan? Find local volunteer opportunities.
Share this post