Tennis Lover Buddies Up to Bring Opportunity to the Upper Valley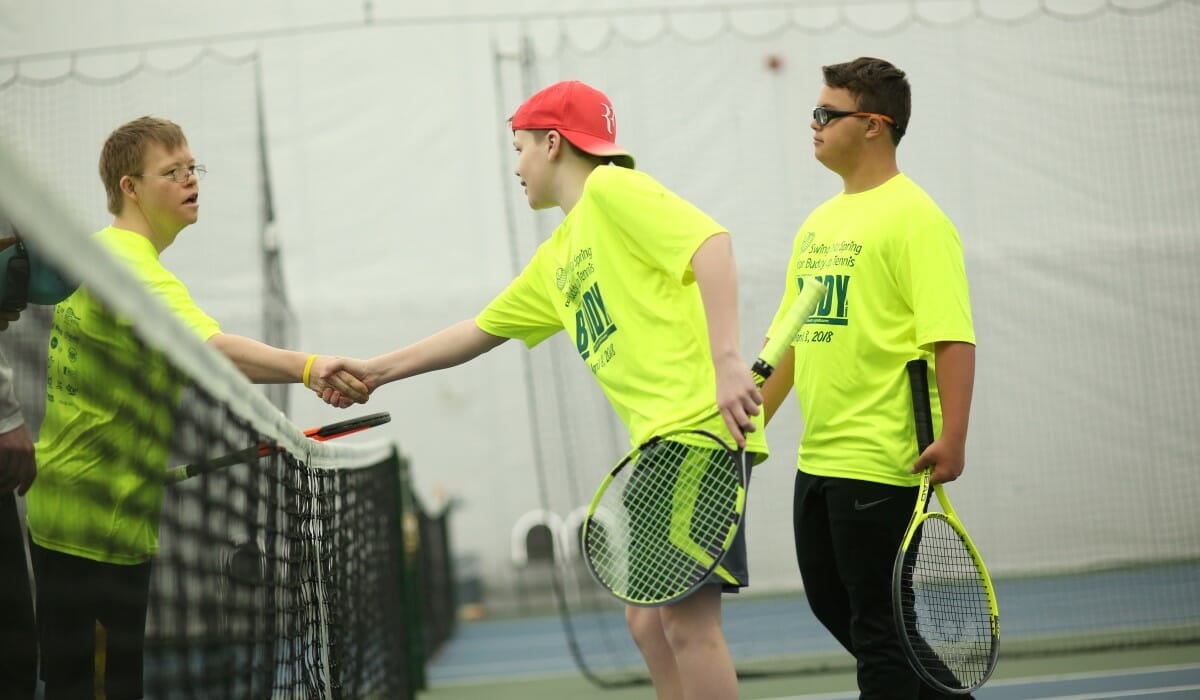 Meet Daily Point of Light Award honoree Gianluca Audia. Read his story and nominate an outstanding volunteer or family as a Daily Point of Light.
After returning from a recent educational trip to Rome, Gianluca Audia, 18, was reinvigorated with an interest in classics. Latin, history and archaeology. Connecting with the people of the past is an interest for Gianluca, but connecting with those in the present is his passion.
Gianluca is an only child whose involvement in sports has been a way to build friendships alongside skills and fitness. Tennis, specifically, has been a point of joy since he started playing at age five. Not only does he love the sport, but he loves the welcoming community built around it. In seventh or eighth grade, realizing that not everyone had access to such a privilege, he discovered Buddy Up, a national organization that creates adaptive tennis programs for people with Down Syndrome.
After raising over $23,000 through tennis fundraising event Swing into Spring, Gianluca was able to bring the first Buddy Up Tennis program in New England to his hometown tennis club. These days, 12-18 athletes participate in the tennis clinic every weekend. Even more take on-site classes to learn life and fitness skills. And still more are paired with buddies to stay active, have fun and build friendships. Gianluca looks forward to continuing to make those connections as he attends college at Dartmouth this fall.
What inspires you to volunteer?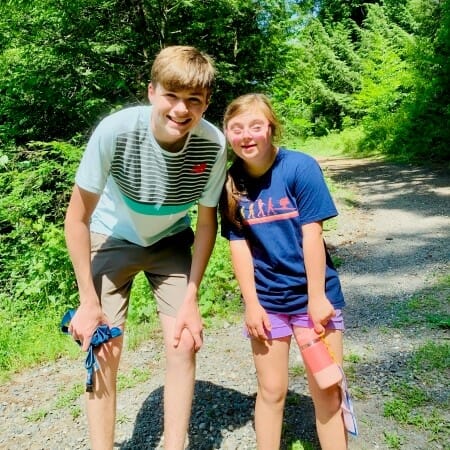 One of my favorite memories as a kid is giving to others and seeing a need. I remember telling my mom in second grade that I was sad the Easter Bunny wouldn't be able to visit kids at the hospital. So, we brought packaged eggs, candies and paper airplanes to the Children's Hospital in Hanover. My mom has always fostered this idea of helping others and being appreciative of the opportunities that I have. 
Describe your volunteer role with Swing into Spring and Buddy Up.
I organized the Spring into Spring event to raise money and awareness about the need for adaptive sports. We got to really take advantage of the amazing tennis community of Upper Valley as we also rallied behind this cause to bring a Buddy Up clinic to our community. I leave the tennis and fitness clinics to the coaches and staff at River Valley Club–it's been running for about five years now—but I love being a buddy to athletes Ellie and David and helping out.  
In 2021, I was the Northeast Regional Coordinator for Buddy Up and spearheaded the launch of Buddy Up For Life across New England, a program that offers life skills classes to people with Down Syndrome. I go to boarding school, so I'm not able to go every week but I love going back on breaks. It's grown from just tennis to multiple other programs. 
Another of those has been Buddy Up Connections, which was born out of COVID when we couldn't hold tennis clinics. Buddy Up Connections got us active and together over Zoom. Then, as quarantine got relaxed, we met in person.  
Can you expand on Buddy Up Connections?
We structured hour to hour-and-a-half meetings over Zoom with a 30-minute fun workout and an activity. Then we could just talk afterwards. Some of the activities were home stuff like building a baking soda volcano or making cupcakes. My buddy Ellie and I had a lot of fun that summer paddleboarding, hiking, playing tennis and just walking my dog after we could meet up in person. 
I helped bring Buddy Up Connections Club to Phillips Exeter, my high school, too. I connected students with athletes from all over the nation in areas that had a local Buddy Up program but, due to COVID, were taking some time to restart. We provided them with another Buddy Up program to keep them active and connected. I coach and mentor the buddies and oversee logistics. 
What is the age range of people who can participate?
There was one session where we had one athlete who was three or four years old. We were helping him hold the racket and just running around a bit, keeping him active and entertained. In that same session, we had another athlete who was 55. We accommodate all ages. For buddies, too, of course. The more the merrier.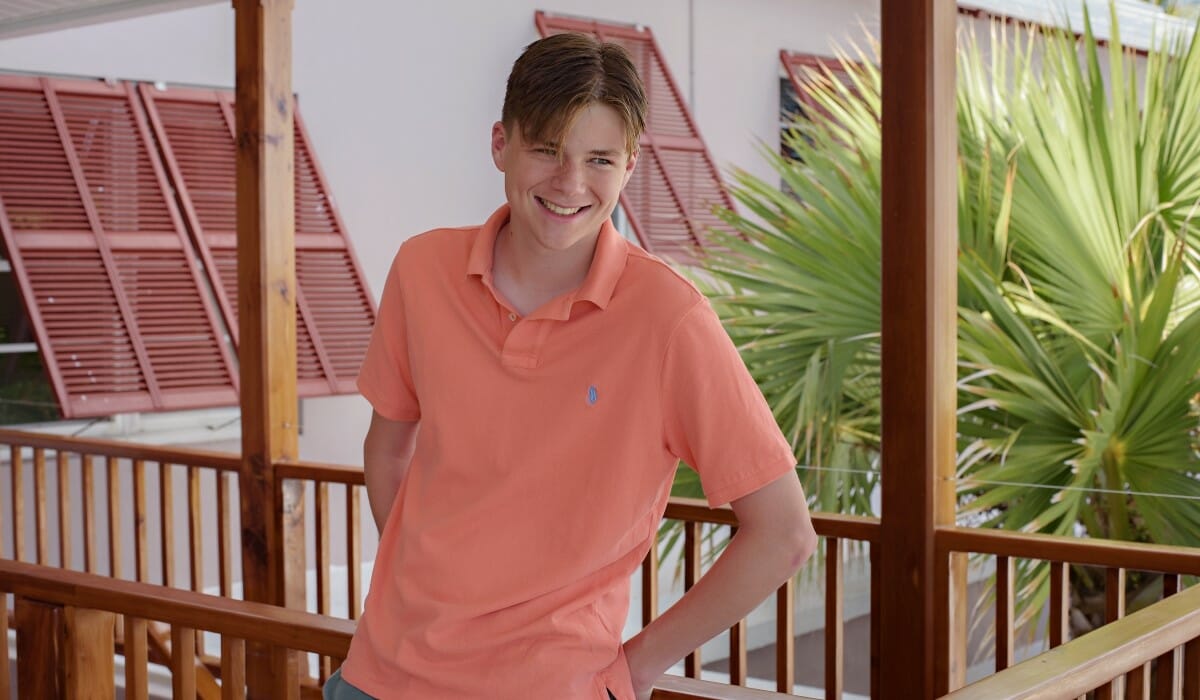 What's been the most rewarding part of your work? 
It's seeing the smiles and the laughter; everyone is so happy. And seeing the community that has formed around Buddy Up in the Upper Valley. I went to preschool with Ellie, so I had the pleasure of knowing her before this started, but I've been able to meet so many other people and their families that the program has helped. Being able to share something I love with others, especially others who wouldn't be able to do it otherwise, is very fulfilling. 
What have you learned through your experiences as a volunteer? 
I've really learned how to make others feel more comfortable and connected with me. One thing that I struggled with at the start was when the athletes were a little hesitant or weren't feeling like they wanted to play tennis or do pushups that day.  
The music and keeping everything fun helps that, but oftentimes, you need to be a little inventive. One of my favorite memories with David was one day he didn't want to run. A lot of these athletes are uncomfortable with touch, so I couldn't just grab his hand and take him out onto the court. 
Instead, I grabbed towels, and I told him we'd race as superheroes, using the towels as capes. The Flash is one of his favorite superheroes, and he was immediately a lot more excited. It's small moments like that. It's been something I've really enjoyed and that has really helped me grow. 
Why is it important for others to get involved in causes they care about? 
There are a lot of unexpected moments of growth that will come from whatever you do, but especially from helping and connecting with others. You get a very special opportunity to learn from other people. 
What do you want people to learn from your story?
Take a chance, and don't take anything for granted. With tennis, for example, I'm very grateful that I'm able to play. But I also took a chance. I had never interacted with anyone from Buddy Up before I reached out to them on a whim. And look how far it's gone. Just take a shot. 
Will you be playing tennis in college?
I'm definitely looking forward to joining the club team. I'm just super happy with the journey that I've been on and where it's taken me, and I'm looking forward to continuing my work with Buddy Up. 
Do you want to make a difference in your community like Gianluca? Find local volunteer opportunities. 
Share this post