In honor of Family Volunteer Day, Nov. 23, Points of Light and Disney are recognizing families with the Daily Point of Light Award. Meet today's winning family, the Kaos of Texas, and nomimate someone in your community.
In the mid-1990s, when Mandy Kao began overseeing a number of apartment properties, she was troubled to discover that many tenants – often immigrants and refugees – were struggling with poverty, surrounded by crime and drugs.
Mandy her husband, William, quickly took action. The couple, who own a real estate development and management company in Houston, created after-school programs for kids in all the apartment buildings they managed. Mandy helped kids with homework and gave them snacks, while William took boys to ballgames and other activities. The couple also began contributing to area charities that supported children, immigrants, low-income families and the homeless.
"William and I started using our business as a ministry of love," says Mandy.
Mandy, an immigrant herself born in Hong Kong and raised in Canada, wanted to do more to help break cycles of poverty in Houston. Five years ago, she created the Mandy Kao Foundation to expand on the work she and William had started and also to leave a legacy that would teach the importance of giving to their three sons, Tyler, Ethan and Ashton.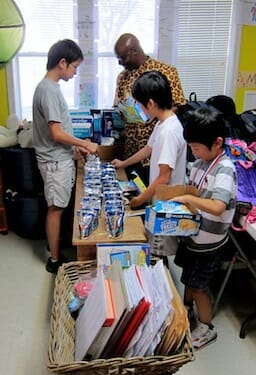 "Love and giving are very important things to pass on to my children," says Mandy. "I can give them an education and money, but a loving heart is the greatest gift because that's what will give them happy lives."
While the mostly self-funded Mandy Kao Foundation donates to a wide range of civic-oriented charities throughout the Houston area, it focuses on supporting children and young adults and helping struggling adults to become self-sufficient. The foundation has also expanded its after-school program, launched a college scholarship fund and organized an annual "free bookstore" aimed at keeping kids reading during the summer by letting them choose up to 10 books to take home. Thousands of children have benefited from these programs.
Mandy has a special interest in helping girls and young women, and offers programs for them directly through the foundation and by partnering with Girls Inc. of Greater Houston, a nonprofit that participates in the foundation's after-school programs.
The foundation's outreach to the immigrant and refugee communities includes partnership with Asian American Family Services, where Mandy has created her own classes in art and etiquette for middle school girls. The foundation also started several projects at a local refugee resettlement agency, including one to find careers for women with tailoring skills.
All three of the Kao children are active in the Mandy Kao Foundation. Tyler, 13, even sits on the board. He and brothers Ethan, 11, and Ashton, 8, help out with existing foundation programs, but also launched one of their own. By offering to donate the money they would have spent on Christmas presents, and by setting up a lemonade stand to bring in more money, the boys won a matching grant from the school district that enabled the foundation to build a playground at Treasure Forest Elementary School. This project was Tyler's favorite.
"It made me feel great," says Tyler. "There were young boys and girls with no playground. They were playing in the mud. It was fun to see them enjoying the new playground when it was finished."
Adds Ethan, "My favorite was giving money from a lemonade stand to Angie's Angels, which helps pets. But I enjoy all of the work. It makes me feel good to see smiles on people's faces."
Ashton recently recruited some of his friends to make sandwiches and collect socks for the homeless.
"It made me feel generous," says Ashton, "but I feel bad that there are still so many people who don't have enough."
Share this post