Eight-year-old Martin Richard became a symbol of what was lost after the Boston Marathon bombings a year ago. The Dorchester, Mass., boy had gone with his family to see the end of the race and was killed by one of the blasts.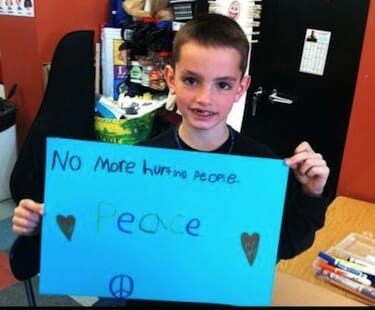 Martin Richard holds up a sign he made that reads, "No more hurting people. Peace."
In the days that followed, a photo that appeared widely in the media of Martin holding up a poster he'd made as a school project became a heart-wrenching remembrance. The poster read, "No more hurting people. Peace."
As the city of Boston mourned the three people who died, including Martin, the Richard family suffered overwhelming personal losses. Bill and Denise Richard had lost a son. Their daughter, 7-year-old Jane, lost a leg. And they, themselves, suffered serious permanent injuries – among the more than 250 people hurt at the scene.
As part of their effort to heal, the family created the Martin W. Richard Charitable Foundation this year. Its broad mission is to spread Martin's message of peace by investing in education, athletics and community.
"Martin was a true peacemaker," says Larry Marchese, a longtime friend of the Richards who volunteers as a spokesperson for the family. "He was an outdoorsy and athletic little boy with a high appreciation for fairness. He looked out for other kids, tried to make sure everyone was included in games and other activities, and it was common for him to moderate disputes on the playground. His school even honored him with the designation 'peacemaker' when he was in second grade."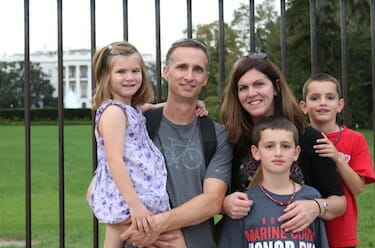 The Richard family during a 2012 visit to Washington, D.C.; Henry is in the front and in the back, from left, are Jane, Bill, Denise and Martin.
While the family foundation is still in the early stages of development, its first major initiative will culminate at the running of the 2014 Boston Marathon, April 21. Team MR8 (Martin's initials and age), a group of 100 runners personally selected by the Richards from a large group of applicants, has been holding fundraisers since January and will compete in the marathon on behalf of the Richards' foundation.
Team MR8 members have raised more than $800,000 for the group. The team actually has a 101st member, a U.S. serviceman stationed at an Air Force base in Afghanistan, who will run the marathon distance of 26.2 miles in the desert.
Other team members include a U.S. representative from Arizona, first responders, doctors and nurses, corporate CEOs, teachers, two wounded veterans, and a woman traveling from Shanghai, China. Fifty of the runners are from Massachusetts.
The Richards are already planning the first programs they would like to launch with funds raised by Team MR8.
"As the education component, the family is looking at creating 'peace corners' in school libraries, with books about famous peace figures and other relevant subjects," says Marchese. "They also aspire to work with educators and other nonprofit organizations to develop a curriculum for peace education in schools."
In the area of athletics, which Martin loved, the Richards would like to create social athletic competitions that emphasize giving participants the chance to get to know each other and inspire both kids and adults to come together to make change.
"The family is also coming up with ideas for programs that would bring people out of the house to get to know their neighbors and contribute together to the quality of life in the community," says Marchese.
While the Richards are still not ready to speak publicly, the family makes regular posts to a blog to provide friends and supporters with both news of the foundation and personal family updates. According to a recent post, Jane is progressing well "on what has been a long and difficult road to recovery." She is currently learning to use a new prosthetic running leg donated by the organization Wiggle Your Toes, which supports people who have lost limbs.
"Our gratitude will never diminish for the support and love we have received," the blog post continues. "As the next few weeks come and go, we will be thinking about all of the families that have been impacted by the senseless events of last April, and proud of the way the community around us has persevered."
Share this post