Through Crafting, Georgia Woman Helps Homeless Get a Good Night's Sleep
An avid quilter, Cheryl Milton says she wanted to find a use for the fabric scraps she had on hand after completing one blanket after another, sewn with love, for organizations serving the homeless.
Realizing that pillows are one of the most expensive items for homeless shelters to purchase, the Warner Robins, Georgia resident says she made it her mission to provide easily portable and washable pillows for those most in need of a soft place to lay their head at night.
Impacting her community by identifying a gap in needs, and filling it with an item of comfort, Cheryl has donated over 2,000 handmade pillows for underserved in her area to date, and is today's Daily Point of Light award honoree. Points of Light spoke to Cheryl to learn more about her volunteerism.
What inspires you to volunteer?
I get a lot of satisfaction out of volunteering. I tell people all the time that you get more from giving than you do from getting. By day, I am the Mental Health Division Chief at the Office of the Circuit Public Defender in Macon, Georgia, so my volunteerism at times intersects with my day job. I'm seeing people who are mentally ill or poor each day who need way more help than just legal assistance. And there are so many ways to help an individual that doesn't cost any money.
You've made quilts and pillows for numerous organizations in your area. Tell me more.
I started quilting about ten years ago because my job is pretty stressful, and quilting relaxes me. I craft for my satisfaction, but also as a ministry. I give to many organizations in my area, but had asked our local Salvation Army what items they were in need of, and they'd mentioned that pillows were one of the most expensive items to buy for homeless individuals. Using fabric scraps from my quilting, I'll make a few pillows every weekend. These pillows and quilts are going to veterans or recovering substance abusers, children in foster care or at-risk youth.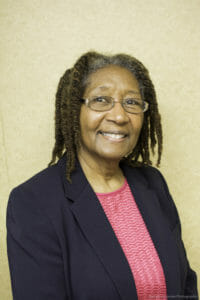 Share one impactful story with me from your volunteerism.
Last year I made "pillow case dresses" – literally, dresses made out of pillow cases, for an upcoming medical mission trip my friends were going on. Fast and easy to make – these dresses were another way for me to recycle material and donate items to people in need. I met a lady online who makes dresses, it was by divine intervention. I told her I wanted to make 700 dresses to send to Jamaica and Uganda. Keep in mind, I've never met this woman – but she rounded up a group of friends in her home state of Washington, and I had friends sewing to help as well. We made 750 dresses to send for that medical mission trip. I find that when you ask people to help, they're usually more than happy to lend a hand.
How did you decide quilts and pillows were the way you'd help underserved in your community?
I believe everyone has an artistic talent of some kind. This was a way for me to calm down, turn off electronics and just think about the task at hand. People that you donate things to, they're so grateful that you took the time to give them something that's just for them. They're not looking at my quilt to see if any stitches are off or anything like that.
Tell me more about these pillows.
I was looking for a charitable project and pillows came about because quilters have so many scraps when they make quilts. I thought homeless people could probably use pillows in a size that could fit in their sleeping bag. The pillows are made of scraps that are totally washable, and it's an item that the individual can take with them when they leave the shelter.
What's your life's motto?
Everyday, do something nice for somebody. And it's not even hard. It can be something as easy as a smile.
What's one thing you want readers to take away from your service?
That we all matter. We all have a gift that we can share. Even people who don't have money. My clients who are mentally ill, they are the most generous people in the world. They'll share anything they have. We all can make a difference in the world, no matter your talent or treasure.
Tell me about an upcoming event that you are excited about.
Genesis Joy House in Georgia is an organization that I've donated handmade quilts to. Please check their website for upcoming events, and how you can help: http://www.genesisjoyhouse.com/.
Do you want to make a difference in your community like Cheryl Milton? Click here to find local volunteer opportunities.
Post written by Marlena Militana.
Share this post