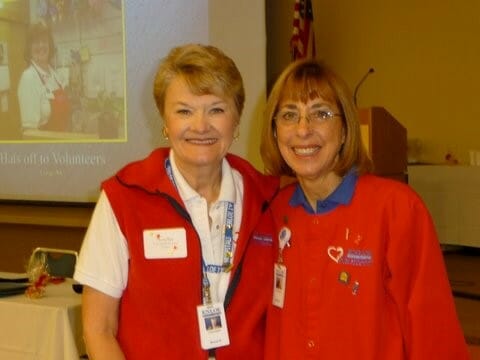 When Veronica (Ronnie) Campbell emigrated from South Africa to Chico, Calif., in 1979, she wasn't accustomed to volunteering. For her, it meant shuttling candy and magazines around to patients who needed a distraction.
But, when she volunteered at Enloe Hospital in Gift Services, she discovered that wasn't the case.
"Chico introduced me to the volunteer opportunity at Enloe," she said. "It's what I'd been looking for, and I've been at it for the past 17 years."
In her role in Gift Services, she directs visitors to find patients in the hospital, she transports medications, and she works in the gift shop. Most significantly, though, she's able to offer support to patients' family and friends.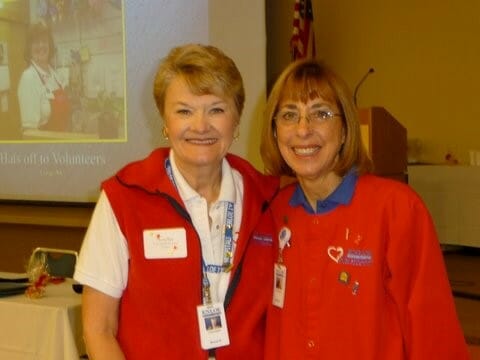 Campbell, right, at the Enloe Volunteer Appreciation.
For example, she said, she once sat with a gravely-ill man while his wife – who was reluctant to leave him – went home for a quick shower. Upon returning, Campbell said, the wife expressed her gratitude her husband, who later died that night, hadn't been alone.
As part of her responsibilities, Campbell is also integrally involved with Enloe's fundraising. Currently, the major focus is the new cancer care clinic. Recently, she organized all volunteers to host a gala that raised $172,000 for the endeavor. She also led another celebration that funded breast cancer services for survivors, such as providing for needed medications or hysterectomies.
But, Campbell doesn't need an event or specific cause to gather money for Enloe. By talking with her fellow volunteers, she raised $5,000 to support patient services.
Volunteering at Enloe is easy, and there are many avenues for interesting parties, she said. Individuals can fill out an application, and they'll also receive education and training to maximize their abilities to make a difference with patients. Being able to make a difference for patients on a daily basis is extremely rewarding, Campbell said, and she encouraged others to get involved.
"I've been retired since I started volunteering with Enloe, and my life is extremely fulfilling," she said. "It's a way to help patients and their families on a daily basis, and it fills my heart with joy and wonder."
Share this post