Veteran Sets Out to Educate, Empower Fellow Vets and Entrepreneurs to Find Business Success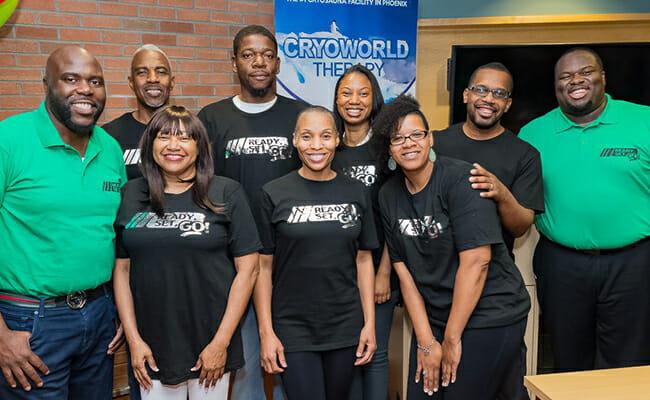 U.S. Army veteran OD Harris co-founded the Ready Set Go Foundation in 2014 to provide veterans and disadvantaged entrepreneurs with the tools for business success. OD was frustrated by a lack of real support and mentorship for entrepreneurs to establish their businesses. Drawing on OD's own experience as an entrepreneur, Ready Set Go has helped more than 700 veterans and other individuals, and given out more than $1 million in financial scholarships to start-ups.
In 2015, OD was honored as the Entrepreneur of the Year by Black Wall Street Phoenix. He has served as vice president of NBMBAA Phoenix, vice president of Lansing Youth Organization, and currently serves on the board of Arizona Black Philanthropy Initiative, dedicating more than 4,000 hours to the community.
We spoke with OD about Ready Set Go and his passion for empowering entrepreneurs.
The mission of Ready Set Go is to educate and empower disadvantaged and veteran entrepreneurs. How does the program give participants the tools to be successful?  
Educate. Empower. Execute. This is indeed our mission for Ready Set Go. First, we educate our participants with relevant information in the marketplace. So often, we see many veterans and entrepreneurs who are not privy to current information or advancements in technology, so it is our goal to give them the knowledge needed. As we gain knowledge, we become empowered. Once the participants have an education and understanding, then they develop confidence in themselves and in their ability. This empowerment develops intrinsically, as well as from those who provide mentorship. Once they are empowered, then they execute. By offering financial support and one-on-one support to each participant, execution of businesses is inevitable. Through this three-step process, Ready Set Go has allowed many to execute the startup of their businesses.
What inspired you to start Ready Set Go?
Ready Set Go was established 2014 by me and Ja'Meen Oliver. After accepting many invitations to various networking events that promised to offer support to entrepreneurs, we learned they yielded great social interaction but very little substance. There was a genuine need for entrepreneurs to be educated on the process of business development, and be assisted with resources to help establish their business, eventually allowing them to execute their plan, and make their stamp in today's marketplace.
There are many ways to measure success, how do you define Ready Set Go's impact? 
Ready Set Go offers a five-week program with the partnership of several city and state organizations, free of charge to entrepreneurs and veterans. Participants are provided a comfortable and resource-rich environment as well as the necessary tools needed to develop and deliver their business. Ready Set Go has given more than $1 million in financial scholarships to assist with necessary requirements for business start-up, we have 63 graduates of our entrepreneurial program, and we've helped more than 700 entrepreneurs and veterans execute their businesses. To see the growth in participants from week one to week five is what I call success. Knowing that we have helped someone by giving them knowledge needed to be successful will have a lifelong impact on every person who participates.
What have you learned through your experience starting Ready Set Go?
I have learned that many entrepreneurs have amazing ideas but lack the support to have confidence in their ability to execute. Relationships and resources are two key things needed to successfully launch a business. There is also a great need for assistance with business development; getting the idea from your head (or heart) into a working plan. When you have a program that will fill in the gap through education, empowering, and execution by harnessing passion, doing the work required to walk in purpose, that is freedom. People are seeking independence and freedom to do what they love to do.
What is your favorite memory from your work with Ready Set Go?
I have several, but all have a central theme of empowerment. It's the 68-year-old woman who had a dream for many years, all the details meticulously captured in her spiral-bound notebook but no direction on how to materialize her vision. Or, the veteran who, after having been deployed for several years, was devoid of direction in his life but had a business that was growing inside of him. Or, even the child who had an innovative idea, but had been waived off by older people because of their age or social economic status. Providing the resources and access to education on how to bring these ideas to fruition – these are my fondest memories. We are birthed with vision, ideas, plans, purpose; we sometimes need access to the tools to help deliver that purpose to the world. To be able to see those people obtain what is needed to launch their business, whether it is financial support, moral support, emotional support or spiritual – whatever it takes, that is Ready Set Go.
What is your dream for Ready Set Go in five years?
My plan is to have Ready Set Go established in under-resourced inner city schools. The children are our future and they have ideas today. To have access to knowledge is key. Through education, we empower and they execute. Also, to partner with veterans to assist with their transition back into civilian life. To give them the tools needed to be successful. Lastly, to have multiple chapters in various states.
Why do you think it is important for others to get involved and make a difference in their community?
Community is key. When you get involved with your community you can feel the pulse and know how to invest your time, talents and treasure. Working with members of your community builds connections, and provides opportunities to collaborate and become agents of change. This opens the door to personal and professional growth, and to strengthen the community at large.
Share this post