"Visiting Wizard" Encourages Future Generation of STEM Lovers
Over 80,000 students and adults have witnessed the power of Jeff Payne's "wizard"-ry, a magical fusion of cryogenics, liquid nitrogen and countless other science and technology experiments. And this "Visiting Wizard" is looking to put even more under his STEM spell.
Through the 3M Visiting Wizards program, which is a 3M science encouragement program, volunteers visit local schools, community events and other groups to conduct STEM-related demonstrations. Jeff, a St. Paul, Minnesota resident and 3M employee, is one of those wizards. The 58-year-old, who has been chair of the program since 2005, is an analytical chemist by day, and a STEM wizard by service, encouraging children and adults to become interested in science and technology, and raising interest in STEM.
Through fun and interesting science demonstrations and hands-on experiments on a variety of topics, Jeff is helping people understand how science impacts daily life, and is today's Daily Point of Light award honoree. Points of Light spoke to Jeff to learn more about his volunteerism with 3M Visiting Wizards.
What inspires you to volunteer?
I really believe that science is important, and companies like 3M need to be out in the community giving back. I started working for 3M in 1987, and that need for community outreach resonated with me even back then. We've all had mentors over the years that have been impactful, and I am looking to do the same.
Describe your role with Visiting Wizards.
The program started in 1985, and I began my career at 3M shortly after that. I currently serve as the chair for the organization, so day-to-day, I am planning for our bigger activities, recruiting volunteers, and handling budget items. The program's main initiative is to visit students, so I put on demonstrations at schools, community events, even museums. I average about 100 presentations annually to local schools and public venues, and have presented to over 80,000 students and adults since 1998, when our electronic recording started.
You're training the next generation of STEM educators, too. Explain.
The 3M Visiting Wizards have partnered with the University of Wisconsin-River Falls to facilitate a STEMteach program, which enables people with STEM-based educations to qualify for teaching licenses after taking a one-year program. I organize 3M volunteers for this program, in addition to coordinating and delivering presentations. The 3M Visiting Wizards pair up with future teachers to put on science demonstrations in the local schools. Through my volunteerism, I am helping kids and adults become the next generation of STEM educators.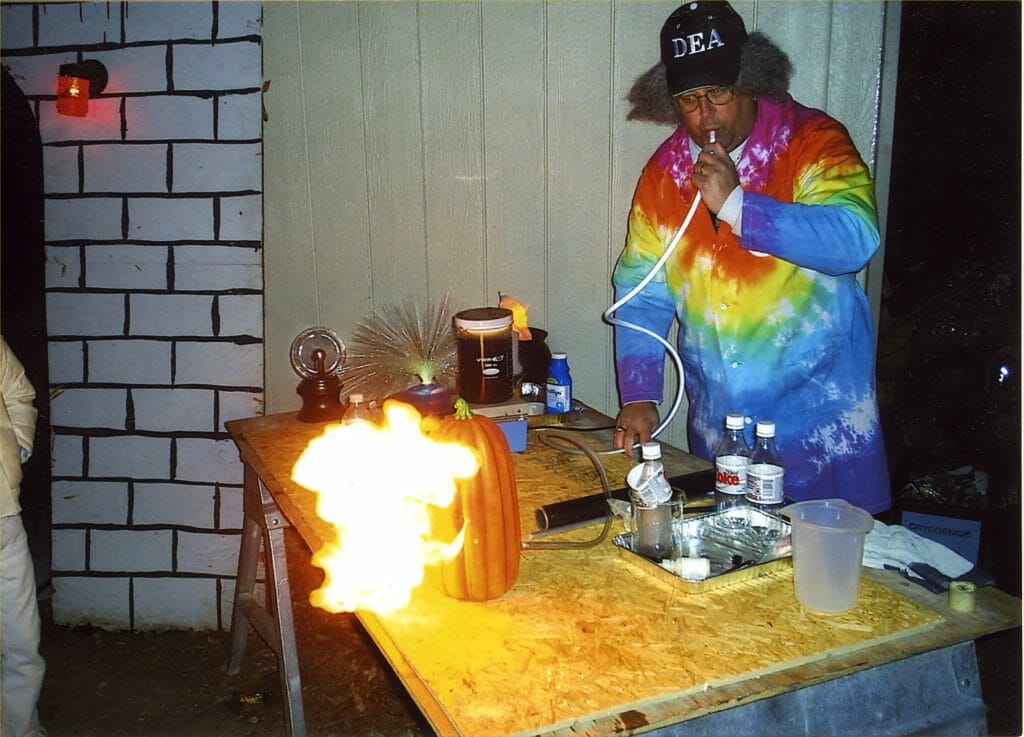 What's your life motto?
My first motto is "willing to do a presentation at any place, at any time! But beyond our presentations, I believe it's very important to give back. Nobody gets where they get without help from somebody at some certain level. When you've got skills to help someone improve, or show someone something they wouldn't see otherwise, I think it's important to do that.
Share some of your favorite STEM experiments with me.
Our cryogenics demonstration is the one I do the most. It's the science of the ultra cold. We conduct experiments with liquid nitrogen. We can deflate a balloon by cooling it off. We can make a hammer out of a banana. We're up to 27 different kit topics now, people will get a great idea and put it into a box for teaching.
What have you learned through your experiences as a volunteer?
You take for granted that a lot of the things we were exposed to as kids are happening in schools today. That may or may not be the case. It's even fun when we put on public demonstrations, because there will be adults that haven't seen the experiment before. It's fun to watch their reactions as well as the children.
What does it mean to know that you are having an impact?
Part of the reason why our experiments are so fun is because you see the instant feedback. The students are smiling and the experiment is resonating with them. The kids will give the volunteers a hug once you're done, and you know you've made an impact. It's great.
What do you want people to learn from your story?
You don't have to reinvent the wheel. There are lots of organizations out there that need help. If you like to do carpentry, you can volunteer with Habitat for Humanity. Once you jump into an organization, you can let your skills get right to work.
How can readers help?
We sponsor a Teachers Workshop and Super Science Saturday weekend held every fall at 3M's world headquarters. About 400 teachers attend the Teachers Workshop on Friday afternoon and a similar number of 3M volunteers and their families attend the event on Saturday. The events consist of 3M exhibits and other community resources exhibiting STEM related activities. Check our website for more information: https://www.3m.com/3M/en_US/gives-us/education/visiting-wizards/.
Do you want to make a difference in your community like Jeff Payne? Click here for local volunteer opportunities.
Share this post