Volunteer Brings Together Massachusetts Community to Make Masks for Healthcare Professionals
Meet Daily Point of Light Award honoree Heather Staples-Heitke. Read her story and nominate an outstanding volunteer or family as a Point of Light.
At the start of the COVID-19 pandemic in March, Heather Staples-Heitke was upset to hear about the lack of personal protective equipment for healthcare workers in her Beverly, Mass. community — including her wife, brother and sister-in-law, who all work at their local hospital. She said her brother, who was transferred to work on a COVID floor, was told to bring in whatever he could to cover his face because there were not enough masks to go around.
Wanting to help out and having sewn for over a decade, Heather made masks for her family members. She was inspired to take it a step further by creating a Facebook group, North Shore Fabric Masks for Health Professionals, in case there were people in her community who wanted to help make masks for other frontline workers as well.
Her instinct proved to be right. There are currently at least 1,200 volunteers in the group who have helped provide over 20,000 masks to close to 100 different organizations. They've also donated scrubs caps, ear savers, isolation gowns, and care packages filled with snacks, cards, and hand-drawn pictures from local kids.
"I think people just felt really helpless, and they wanted to find a way to help and feel like they're doing something when everything felt so out of control," Heather said.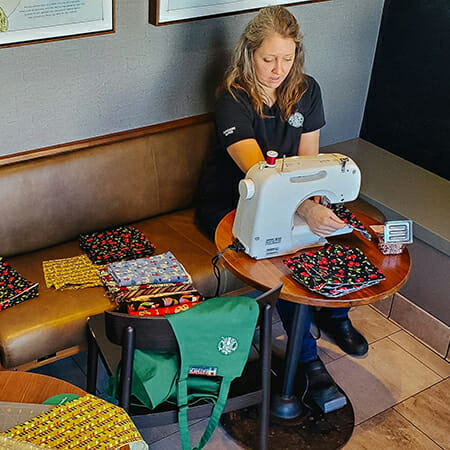 After the group made enough masks and other personal protective equipment for local hospital and nursing home workers in need, they started sending masks to other at-risk people, including nursing home residents, migrant workers, members of the homeless population, and families of students in school lunch and YMCA programs. The group currently gets requests to make about 300 masks per week, but at their busiest point were making close to 1,000 masks a day.
"It's been humbling to see how big it's gotten and how much we were able to do in a few short months," Heather said. "I think it really speaks to the fact that people ultimately want to do good and want to help if they can. A lot of them just don't know how to start."
The Facebook group consists of sewers as well as volunteers who wash and cut the fabric, transport materials, and deliver the packages. Aside from a main donation drop location in Beverly, there are five others in the surrounding cities. North Shore Fabric Masks for Health Professionals has turned into a community-wide affair, with multiple generations of families sewing together and local high school students volunteering each weekend to organize the upcoming week's orders.
One of the drop box locations is at the home of Randy and Lori Reinbold, who were looking for a way to help healthcare workers themselves when a Facebook friend of Lori's shared the link to North Shore Fabric Masks for Health Professionals. The couple now help organize the donations, and Randy runs the group's website. Their teenaged son also helps out by bundling the bags of masks and keeping track of all of the material going in and out.
"I think for my husband and I, it's just been one small beacon of hope," Lori said.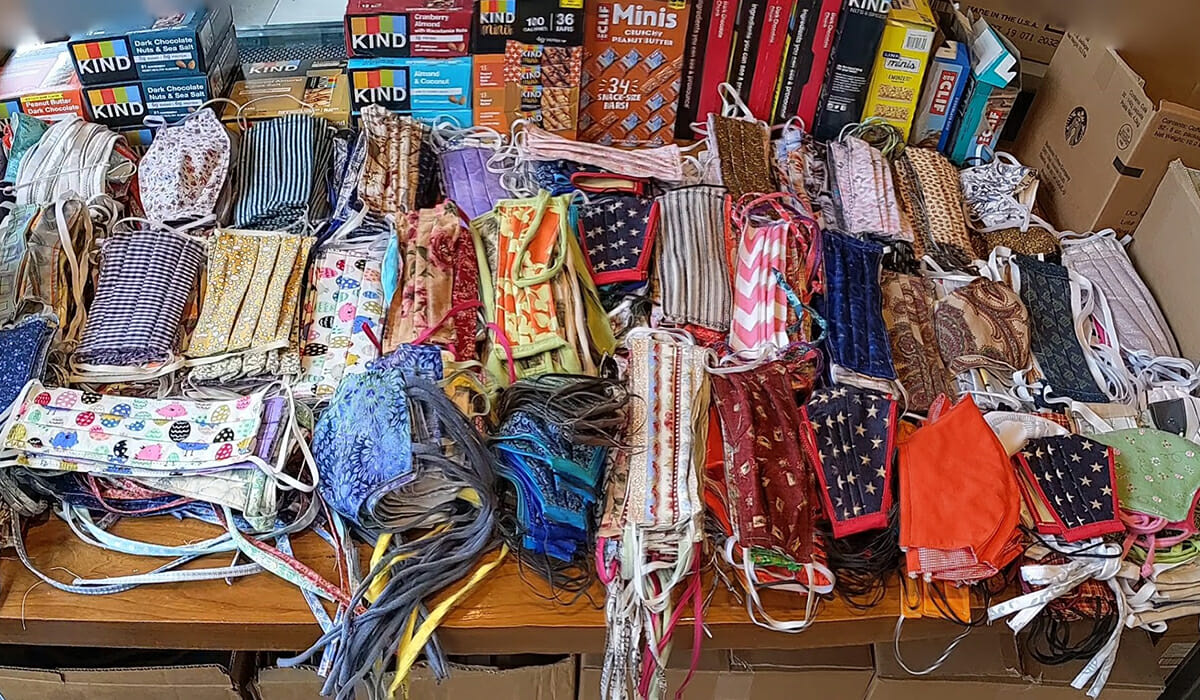 Heather said while ideally there won't be a need for North Shore Fabric Masks for Health Professionals, the group doesn't expect that to happen anytime soon. They plan on collecting masks even when the pandemic slows down in case there are additional waves of COVID cases. And because the group have become like a virtual family to one another, Heather and the moderators have discussed finding ways to continue bringing the group together once the pandemic is officially over. They've thrown around ideas such as starting quilting groups or visiting nursing homes together.
"I think the coolest part of it is how the community came together, and such a diverse population and so many different age groups and everything," Heather said. "We all came together and did what we could. If everyone does their little piece, big things can happen."
Do you want to make a difference in your community like Heather? Find local volunteer opportunities.
Share this post