Volunteer Duo Combat Food Insecurity and Teach Healthy Eating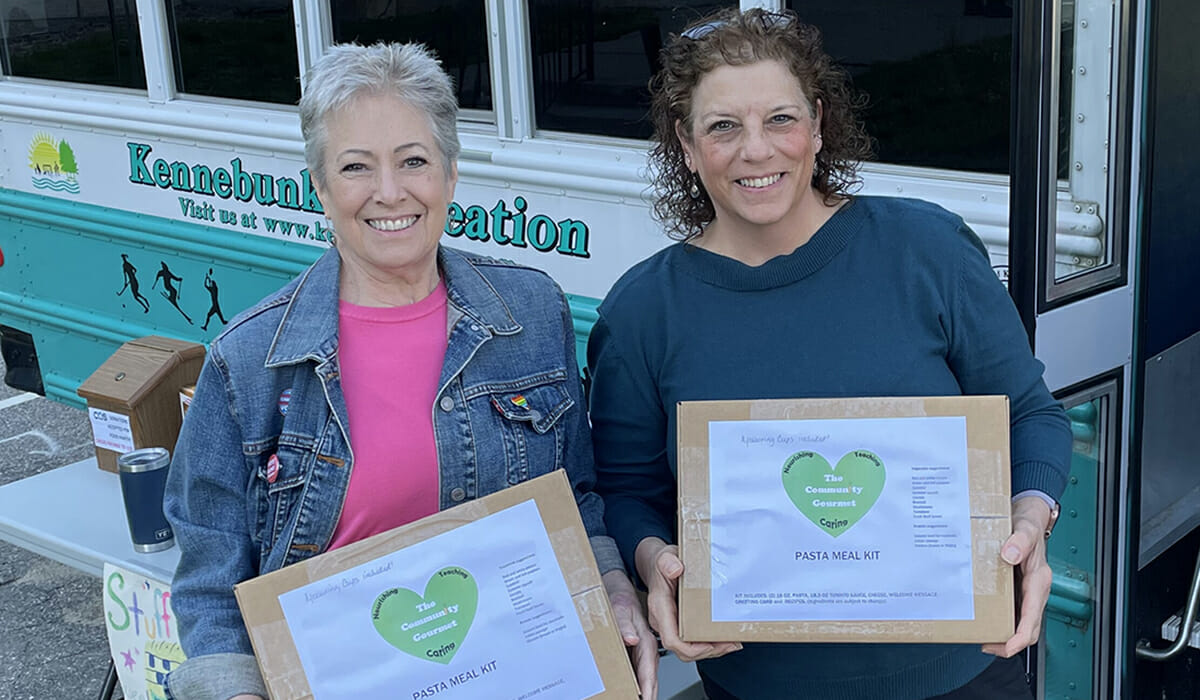 Meet Daily Point of Light Award honorees Traci Anello and Debbie Hall. Read their story and nominate an outstanding volunteer or family as a Daily Point of Light.
It was the silver lining of the pandemic, according to Traci Anello and Debbie Hall. They'd originally wanted to bring healthy food and cooking lessons to community spaces, but when COVID-19 restrictions went into effect, the two shifted their plans to get food and instruction directly into homes.
Launching The Community Gourmet in January 2022, Debbie, of Arundel, Maine and Traci, a resident of Kennebunkport, Maine, have provided meal kits for more than 1,000 people experiencing food insecurity to prepare healthy meals, with the goal of helping teach basic cooking skills as well as providing nutritious meals. Leveraging their skills for good, the two colleagues at Southern Maine Health Care are filling bellies and filling a need in their community, one meal kit at a time.
What inspires you to volunteer?
Traci: We think cooking creates confidence. I'm inspired knowing that we can teach people basic cooking skills which in turn can be inspirational for them. We hope that by teaching people they become inspired, and will have the confidence to not only cook food for the family but to have the confidence to do other things.
Why this cause?
Debbie: We know food insecurity is a huge issue in the state of Maine. Often, when people go to the food pantry, they get random ingredients they don't know how to put together. We thought we'd add recipes to the kits and teach people how to cook.
Describe your volunteerism with The Community Gourmet.
Debbie: We are the co-founders of the organization, Traci serves as executive director and chairperson of the board and I am vice president and vice chair. We both bring very different skills to the organization. I write letters asking for donations, keep the books and come up with ideas for the meal kits.
Traci: I am a chef by trade for 35 years, and I create the recipes and prepare the meal kits. I also do the deliveries to the pantries. These are teaching kits, we're not just handing out food, we're handing out lessons on how to cook and shop for healthy food. For example, people could receive a pasta kit that feeds a family of four that includes pasta, tomato sauce, cheese, mayonnaise. The kits teach people there are cooking options — that you can make pasta salad, not just spaghetti and meatballs. Each kit also has a pound of coffee in it, and every kit includes an essential kitchen tool. We also hold fundraisers and I bake baked goods for the fundraisers. Our meal kits are available at organizations around the community, including: The Little Pantry, York County Shelter Pantry, Saint Mary's Church in Wells, Maine and Big Love One Community.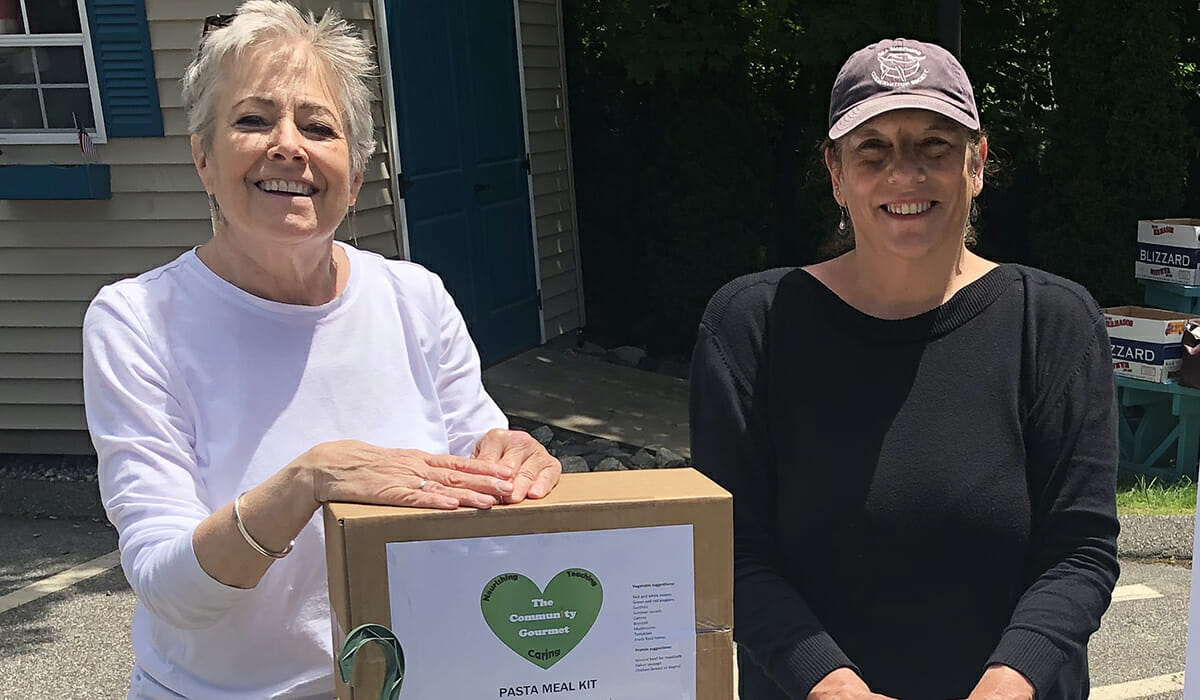 Share one personal story with me from your volunteerism.
Traci: A woman approached us during a fundraiser and said she was worried about the food being served to her daughter, who lived in a group home. We asked her to take a meal kit to the home for the workers. The following fundraiser, she showed up and couldn't thank us enough. The workers had used the recipe, followed the directions and they not only enjoyed cooking, but the food is now much better. People from food insecure homes sometimes don't know how to cook at home, and it's not that they don't want to learn. This is proof that the kits work the way we hoped they would and it's also validation for why we're doing it. It warms my heart to know that I can teach someone to cook, and I know it's going to be a better day for the family because they're going to start eating better food and they'll be more inspired. Knowing that is the best feeling in the world.
Why do you think it's important for others to get involved?
Debbie: There's a saying — to those whom much is given, much is required. I'd never experienced food insecurity. We grew up eating family dinners. We know that not all people can do that. It's so special for us to be able to teach people and then maybe people will start having family meals together.
Traci: I did experience food insecurity as a teenager. It's the reason I am so passionate about helping others to not have to go through this. I don't talk about it but (this interview) has helped me to realize that it's nothing to be ashamed of. On the contrary, telling my story could actually be helpful to someone.
What's been the most rewarding part of your service?
Traci: We include a self-addressed postcard with a survey in our kits. When I receive the postcards back and see how grateful and thankful people are, it makes me feel good to know we're doing the right thing. We want people to know they are being heard. That's really important to me.
In one word, what does volunteering mean to you?
Debbie: Two words. Giving back.
Traci: Love.
How can readers help?
We maintain an Amazon Wish List that we rely on for donations. Please visit our website for more information about how you can help.
Do you want to make a difference in your community like Traci Anello and Debbie Hall? Find local volunteer opportunities.
Share this post