Volunteer Shows Her Love of Parks and Plants Through Service
Meet Daily Point of Light Award honoree Dawn Isbell. Read her story and nominate an outstanding volunteer or family as a Daily Point of Light.  
San Diego resident Dawn Isbell has been volunteering with Forever Balboa Park since September 2020, contributing over 385 hours of volunteer service. Dawn volunteers as a member of the Rose Garden Corps and Visitor Services team.  
As a Rose Garden Corps member, Dawn cares for the park's award-winning Inez Grant Parker Memorial Rose Garden. Her duties include pruning, weeding, fertilizing and much more. Dawn is also a Botanical Building Ambassador, greeting visitors of the Botanical Building and providing information and directions.  
Helping people find their way and plan their visits, Dawn is a valued volunteer throughout the park. Read on to find out what inspires her to dedicate her time and talent to Forever Balboa Park. 
What inspires you to volunteer?
Well, I've always loved going to Forever Balboa Park. I've spent a lot of time there and my kids loved going there when they were little. We'd go to the museums and the gardens, and they learned how to ride their bikes there, had their birthdays in the playgrounds. We always loved the place.   
In the summer of 2020, the San Diego Rose Society, which I've been involved in, put out a call that the garden needed volunteers at the park. I didn't know you could do that. I'd stepped away from some other work I was doing and my kids were older so I had some time. It sounded like a lot of fun so I started volunteering working at the rose garden. It's a beautiful place, people stop by and enjoy the roses. They come and take pictures in the garden. I had a really good time and did that for about a year.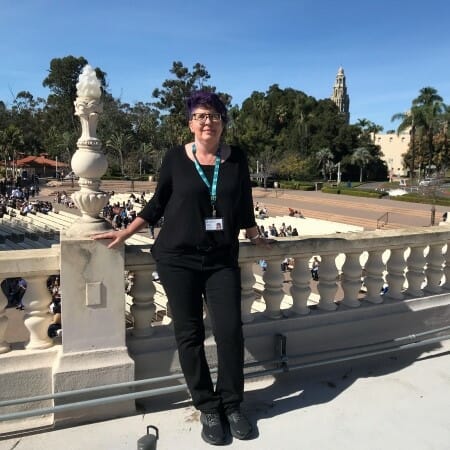 In fall of 2021, they invited some of the garden volunteers to work in the historic botanical building. They asked for people to come in and host, to be park ambassadors. This means being a friendly face, answering questions, talking about the history. And I fell in love with it! It was the most fun thing I had done in a long time and I wanted to keep going. The botanical building closed for renovations. And I missed it! Then, they put out a call for park ambassadors at the visitors' center, work the information center, to be tour guides. I signed up for all of it.  
It's so much fun to share such a wonderful place with people. You meet people from all over the world, all over the country, and some who've grown up their whole lives in San Diego. Everyone has their favorite thing to see and do, and it's just such a joyful place. People ask me, "How's your day?" And I say, "I work at a park and talk to friendly people. It does not get better than this! I have one of the best jobs around." I haven't had a bad day there since I started. 
What's your favorite part of your work?
My heart really lies in the rose garden. I have a very small garden of my own at home and have been doing rose gardening since I move here. So I've always been interested in that. Going out there about once a week or so and making some friends out there has been so enjoyable. It's just growth and peace and little kids walking around. There are bird watchers and so many people who really love the garden. I have baby pictures of my kids in that garden! It's really my favorite place. I do miss the botanical building too, and once it opens back up I'll be signing up for volunteering there again. 
Any rewarding stories from your volunteering? 
It's hard to pick because everyone's really interesting. But one of my favorite groups of visitors was in the botanical building. This big group of 10 or 12 older people came in wearing Winnie the Pooh and Tigger T-shirts, hats and scarves. This older gentleman was celebrating a milestone birthday and his nickname was Tigger. He had a big Tigger hat on. All his kids and kids-in-law had come to San Diego and they had one day in town before going on a cruise. They came to Balboa Park on that day. I have a soft spot for Tigger, so I had fun meeting them and chatting with them!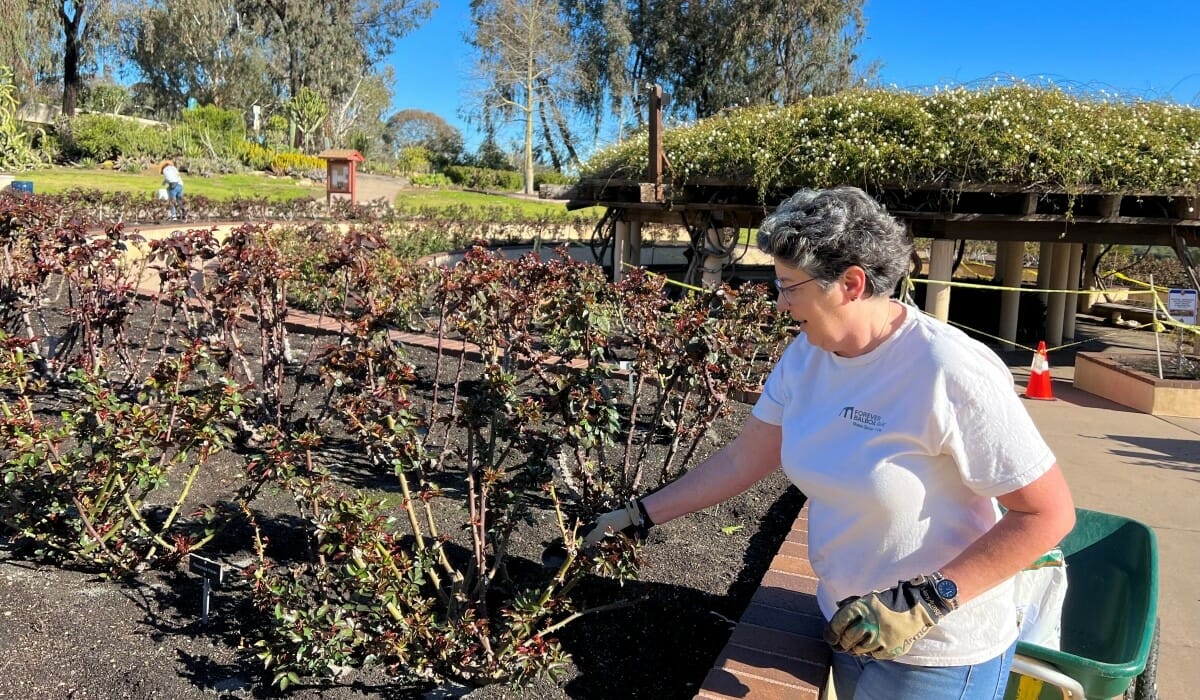 Why is it important for people to get involved with the causes they care about?
I think about "giving back" more as sharing. If you really enjoy something, don't you want to share it with people, if and when you can? Like I said, I have good memories of the park and have enjoyed learning things about it. My kids are grown now, and I enjoy going back in a different way, seeing things differently.  
I'm always learning something new. We have over 100 years of history but there's always something new as well. I'm learning and it's fascinating. I enjoy it so much and have the opportunity and ability to share it with people, so I like doing that. Everyone comes away with something new. 
What's your advice for people who want to start volunteering?
I would say start with a small commitment. I started with the rose garden one morning a week and a meeting once a month. I already had some familiarity with it.  
Part of what makes volunteering with these organizations really nice is that everyone is really friendly and helpful. They go out of their way to ensure volunteers have what they need. Our CEO walks around the park, learns everyone's name and wishes them a happy birthday. There's a lady who's been working at the rose garden for 40 years and helps train you. It's wonderful. 
So start small, find a group that's welcoming and friendly and will teach you what you need to know. Then you'll know whether it's for you. If it is, that's great. If it's not, it always gets your foot in the door. 
I want to give a shoutout to the rest of the volunteers – especially the Wednesday afternoon crew, they're the best! We have over 300 volunteers in the gardens, visitors' center and trails. They're friendly, they're helpful, they're a great bunch of people to work with. 
Do you want to make a difference in your community like Dawn? Find local volunteer opportunities.  
Share this post