Volunteering Since She Was 5 Years Old, Florida Teen Works to End Hunger in Her Community
Meet Daily Point of Light Award honoree Charlotte Krass. Read her story and nominate an outstanding volunteer or family as a Daily Point of Light.
Ever since Charlotte Krass was five years old, she possessed a heart to serve others. After hearing the founder of The Joshua's Heart Foundation, Joshua Williams, speak to her school, Charlotte joined the movement to help end hunger in her community alongside other kids and teens her age. From mobile food drives to art supplies collections, Charlotte has no plans of changing her busy volunteer schedule to ensure her community has everything they need to live happy and healthy lives.  
What inspires you to volunteer? 
When I was younger, I heard Joshua, the founder of the Joshua's Heart Foundation nonprofit organization, speak when I was around five years old. Its mission is to solve hunger. We host food drives in our community where we put together bags of food and groceries for people who can't afford to buy their own. The organization is run by people around my age, so that really inspired me to be surrounded by a group of people like me who aspire to do the same thing.  
Describe your volunteer role with
the Joshua's Heart Foundation.
My twin sister Julia and I, and our friend Sydney, fundraised for a refrigerated truck. During the COVID-19 pandemic we led mobile food drives, since it was hard for a lot of people to get food because they didn't have access to a vehicle. We fundraised for this truck by selling bracelets and we also wrote to local corporations and supermarkets asking if they could help us out.  We partnered up with our local grocery store and they did a "roundup donation" drive, where they ask the person who's shopping if they want to round up and donate to our project. That helped us out a lot. The grocery store also wrote us a check. I also saved up birthday money and sold clothes to fundraise for this project.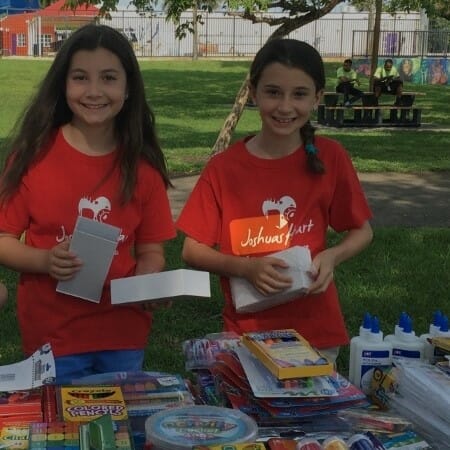 When I was younger, I led a project called the I Heart Art program. A lot of local schools cut their curriculum because they didn't have enough money to pay for art supplies. So, during a school day, my sister and I posted flyers around school asking people to bring in art supplies. We collected a bunch of art supplies from people at our school and we handed them out to the people at our food drives.  We felt that it was really important for people to use their creativity and to make art. The kids were so happy and it was an amazing experience. 
What's been the most rewarding part of your work? 
I've been able to meet a lot of people while handing out food at the food drives. I feel like the most rewarding thing is just seeing people be happy. Sometimes we give them hugs or we'll write letters and put them in with the donated food, encouraging notes like "you are loved" or "have a great day."  
What have you learned through your experiences as a volunteer? 
I've learned a lot about collaboration. Since I work with people around my age, I learned how to work on a team. Management was something that I've also learned because we had to send out all those letters, make time to fundraise and manage the project. 
Are there any future partnerships, programs, or events that you are excited about?
We don't have any new projects planned right now, but we're planning more things for the future. As a member of the Joshua's Heart Foundation Junior Advisory Board, I help lead weekly food drives. We will be using the truck we fundraised for to help with those. We also are remodeling our job board, which is the board of Joshua's Heart with people my age. We're remodeling it and trying to make the most out of it. 
Why is it important for others to get involved in causes they care about? 
If you care about something, it's really important to go for it. Even the smallest things can make such a big change. Even if you're just helping out people in your community, that still has a domino effect and it's going to make a greater impact. 
What do you want people to learn from your story?
I want them to learn that it's easy to get involved. You can start little projects within your community. For me, I was able to sell bracelets and sell clothes. Doing little things like that can help you get involved and it shows that anyone at any age can make a difference. 
Do you want to make a difference in your community like Charlotte? Find local volunteer opportunities. 
Share this post