Waterloo Community School District: Reconnect To Graduate Volunteers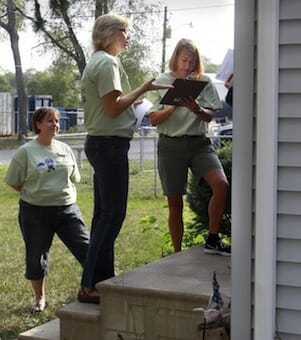 Concerned about high school dropout rates, Waterloo, Iowa, school officials decided to plead their case to dropouts face-to-face by going door-to-door.
Last year, the school district partnered with a variety of community organizations and local businesses to form Reconnect to Graduate, a program designed to engage community members in reaching out to high school dropouts ages 16 to 21 and help them find ways to return to school.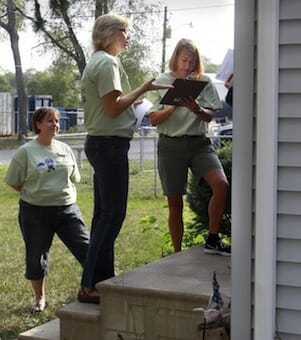 From left, Kelly Knott, Jane Lindaman and Sue
Flynn visit the home of a former high school
student. (Waterloo Cedar Falls Courier)
This past summer, 90 Reconnect to Graduate volunteers – divided into 25 teams of school district workers, translators, community activists and city government representatives, including the police chief and the mayor–made personal visits to 170 homes in a day. As a result, 60 former Waterloo students re-enrolled in high school as of Oct. 1.
"We re-enrolled twice as many students as we did in our first year," says Ellen Vanderloo, who is a mentor and volunteer coordinator for the school district.
Reconnect to Graduate had its genesis when Vanderloo read articles about similar programs in Des Moines, Iowa, and Houston. She brought the idea to district administrators, then lined up support from businesses and civic organizations.
"I believed we could succeed, but I knew it would be very difficult," says Vanderloo. "We have one of the most diverse school district populations in Iowa, including many immigrants with language barriers. Our teams this year included translators fluent in Spanish, Bosnian and Marshallese (spoken on the North Pacific Marshall Islands)."
According to Adriane Carlson, a school district student services specialist active in Reconnect to Graduate, the program must prove to families that it can help students overcome a host of other barriers as well.
"These kids have heard many people tell them to get back in school," says Carlson. "But they've left school for reasons. Some are working to help support their families. Some are taking care of children at home. We have to convince them that we have programs in place to eliminate these barriers – programs that will allow them to work and earn a diploma at the same time."
The Expo Alternative Learning Center, for example, offers online learning and a school based at a local shopping mall teaches courses after hours and on weekends. Forty-three of the 60 students who re-enrolled this year will attend Expo.
"I'm excited about getting the new students into our programs," says Kory Kelchen, dean of students at Expo. "They will have unique needs, but we're never afraid to start new programs or take on new challenges. We're always looking to expand and to see more students graduate."
After seeing the success of this year's program, Vanderloo is not only excited about the future of Reconnect to Graduate, but is eager to see more school districts launch similar programs.
"This program can be replicated anywhere," says Vanderloo. "We had just one staff member, Lindsey Jackson, who oversaw the job of matching the right translators and teams with the right neighborhoods. Once our teams hit the streets, they finished making all their visits in three hours. They succeeded so well because they were from the community. Any district can duplicate Reconnect to Graduate – if they make it a community effort."
Share this post