With a dream of ending homelessness, 12-year-old starts volunteer organization to provide 'Blessing Bags' to those in need
Meet Daily Point of Light Award honoree Jahkil Jackson. Read his story and nominate an outstanding volunteer or family as a Daily Point of Light.
When Jahkil Jackson was just five years old, he experienced a scene so shocking that it stayed with him for years to come.
Jahkil was with his aunt, helping distribute food to the homeless in his city of Chicago during a cold winter. But for the young boy, this was the first time he had even realized that homelessness existed.
"I thought everybody had a home," Jahkil said. "I didn't understand at all why they were out there. But that moment made me want to do something about it."
He approached his parents, saying that he wanted to get every homeless person a house. But with that feat infeasible, he and his parents came up with "Blessing Bags."
By the time Jahkil was eight, he and his Blessing Bags hit the ground running. He and his friends filled dozens of bags with hand warmers, wipes, socks, deodorant, hand sanitizer, granola bars, toothbrushes, toothpaste and bottled water. Then he took to the streets, handing out the bags to the homeless in Chicago.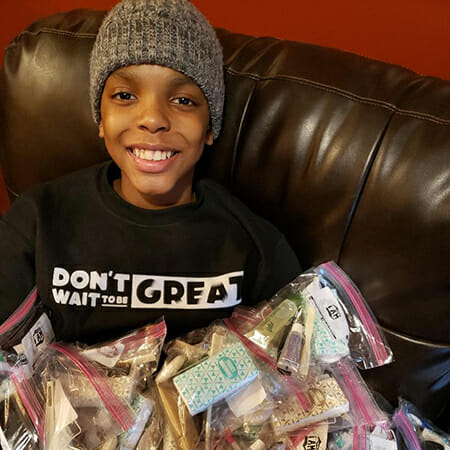 One homeless shelter that receives the bags every year is Cornerstone Community Outreach in Chicago, which serves about 300 men, women and children.
"(Jahkil) brought in these Ziploc bags filled with hygiene products, which to the people we serve is like gold because you go through them so quickly," Sandra Ramsey, executive director of the shelter, said.
"Not only are they homeless, but they usually come with barely anything. They come with the clothes on their backs," she added. "So (the Blessing Bags) really help them get started in their new world of homelessness."
In just a few years, Jahkil's Blessing Bags turned into something greater than he ever imagined. He made the project official by founding a nonprofit called Project I Am, and he organized different drop-off sites and a GoFundMe so people could donate supplies and money.
Jahkil, now 12, has helped provide nearly 40,000 Blessing Bags to people across the nation in Los Angeles, Oklahoma, Atlanta, and more. His efforts have also gone global after he provided Blessing Bags to orphans in Mbabane, Swaziland, volcano victims in Guatemala, and hurricane survivors in Puerto Rico and the Bahamas.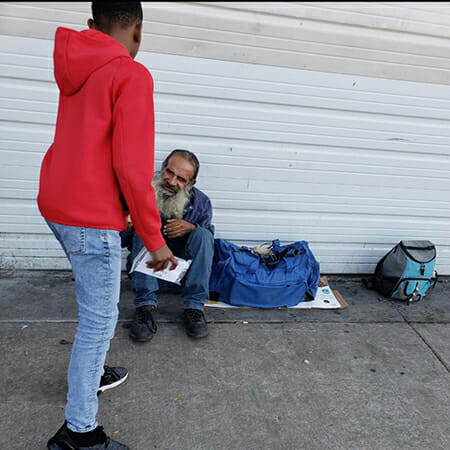 "It makes me feel really joyful to know that I am affecting other people's lives and making them happy," Jahkil said. "So that makes me really grateful to see that."
The ongoing coronavirus pandemic has put much of the world on hold, but not for Jahkil. He might have had to cancel his large "Blessing Bag packing parties," but the 12-year-old continued producing Blessing Bags at home with his family.
Knowing that senior citizens were most at risk and unable to go out into the public during the pandemic, Jahkil decided to start giving out Blessing Bags — complete with face masks and gloves — to senior living homes.
On top of his work with Project I Am, Jahkil is a motivational speaker, inspiring other young children around the country to get involved in their communities.
Jahkil's passion for volunteerism and helping the homeless has received national acclaim. He was recognized as one of CNN Heroes' Young Wonders and got his own comic book after being named a Marvel Hero in 2019. Most notably, he was acknowledged as one of the three influential people by 2017 by President Barack Obama and the Obama Foundation.
Jahkil said he's never going to stop helping others because "it's my passion, it's what I do." And if there's a lesson for others to learn from his story, he said it's his personal motto he lives by every day:
"Don't wait to be great."
Do you want to make a difference in your community like Jahkil? Find local volunteer opportunities.
Share this post